Park Theater joins a crowded 'sweet spot' for concert stars taking over the Strip
October 30, 2016 - 7:17 am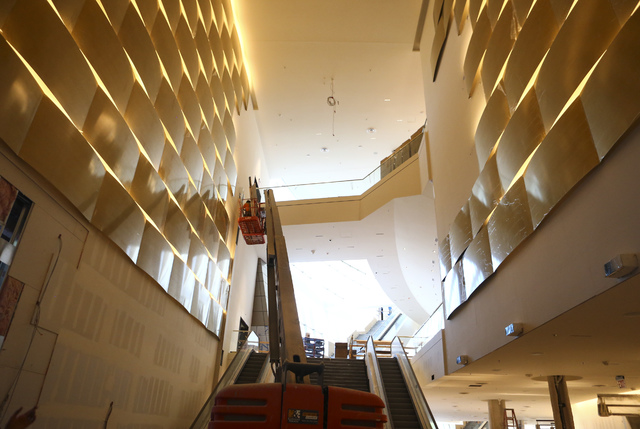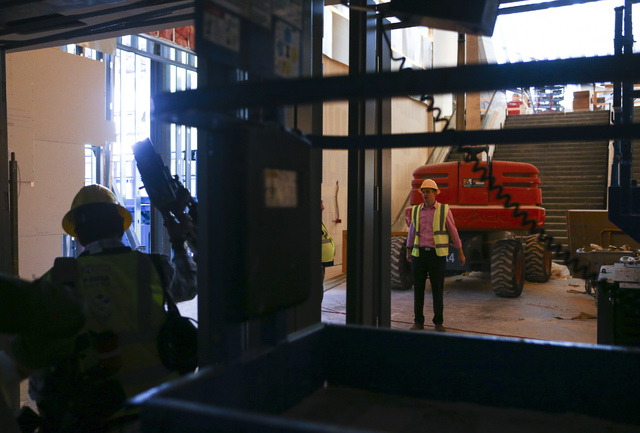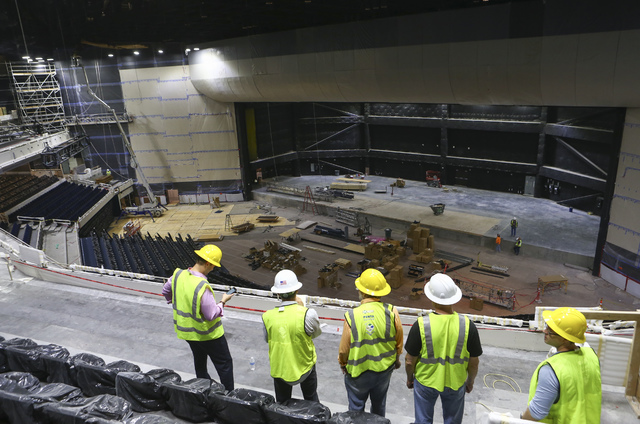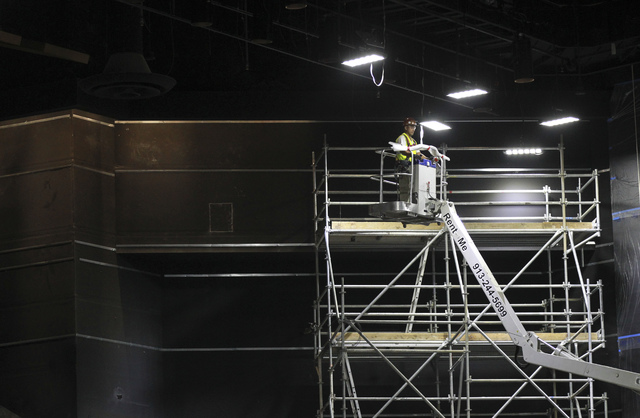 It's pretty easy to see what is happening with Las Vegas entertainment. Just look to the south side of the Monte Carlo to the new Park Theater.
But Daniel Bernbach also has a reason why.
"We're finding the type of artists we want to get to perform in our venue, that A-list talent, they want something different," says the general manager of the new theater, which will be MGM Resorts International's answer to the Colosseum at Caesars Palace and three similar venues when it opens in December.
"They've played our arenas," Bernbach adds, but artists and fans are both looking for a change. "We found there's this sweet spot where artists want to create something new and innovative for their fans. And we're able to kind of create that."
That sweet spot seems to hover between a seating capacity of 3,200 people (The Chelsea at The Cosmopolitan of Las Vegas) to 7,000 (the Axis at Planet Hollywood, if the seldom-used balcony is in play).
With a flexible setup and a top capacity of 6,400, The Park Theater will join a trend that's starting to dominate Las Vegas entertainment: recurring "resident" concert headliners, or limited engagements by big names.
The idea that took root with Celine Dion at the Colosseum now fills the Axis with the likes of Britney Spears and Pitbull. The Chelsea and The Joint at the Hard Rock Hotel also book multi-night engagements but favor single-night concerts.
In May, Las Vegas Sands Corp. and The Madison Square Garden Co. announced plans to build still another and perhaps larger arena-theater hybrid, near the Palazzo. However, a spokesperson last week had no update on the project, which would have to work fast to match the 13-month construction of The Park Theater (including the demolition of the existing theater, which long hosted magician Lance Burton).
"It's sort of a first-world problem to have," says Rick Arpin, MGM Resorts International senior vice president of entertainment.
"When the economy's good, people are going to fill in the holes of potential demand, even to the point of maybe going a little too far," Arpin says. "But it just means that everyone's got to be a little more creative and work a little bit harder."
After it opens with Stevie Nicks and the Pretenders on Dec. 17, The Park lured Cher out of retirement for shows starting in February and brings Bruno Mars back to town for New Year's weekend.
(Since the concert industry has largely consolidated into the hands of two corporations — Live Nation and AEG Live — much of the traffic management falls to them anyway. The Park Theater is "neutral," not exclusively aligned with either.)
The midsized theaters fall between at least four smaller concert clubs or theaters, and the three sports arenas on the Strip.
Collectively, they explain where audiences are going — and perhaps why they weren't going to recently closed shows such as "Jubilee" and "Jersey Boys."
PERMANENT SHIFT?
This sea change for Las Vegas entertainment circles back to the vintage-Vegas era of star names such as Frank Sinatra. The past 20 years have been more the era of Cirque du Soleil and homegrown headliners, while arena construction made Las Vegas a lucrative stop for concert tours.
The new wave of smaller and sometimes exclusive star showcases doesn't end Cirque's long reign on the Strip. The Canadian company still has about 120,000 seats to sell each week for seven titles (counting Criss Angel's "Mindfreak Live!" which it co-produces).
But it does redefine the challenge for Cirque and all the smaller shows — magicians, topless dance, comedy clubs — which have been on a downswing in the past year.
Look back at a couple of Saturdays this month.
Oct. 22 found the Rolling Stones in T-Mobile Arena, Britney Spears at Planet Hollywood and Elton John at the Colosseum at Caesars Palace. That's at least 23,000 tickets on sale for just those three.
The Saturday of Oct. 8 offered no big arena concert (an NHL exhibition game, yes), but a realistic picture of what The Park will be joining on a given weekend: Cyndi Lauper at the Hard Rock, Lionel Richie at Planet Hollywood and Celine Dion at Caesars. Two smaller venues also hosted classic rockers with multiple-show engagements: Heart at the House of Blues at Mandalay Bay and the Moody Blues at The Venetian.
Add up all five, and that's at least 15,000 tickets up for sale.
The Park Theater and T-Mobile Arena can explain why nearby sister property Aria and its surrounding CityCenter hotel towers were left without a show venue after Cirque's "Zarkana" closed to make way for added convention space.
But they could also be the reason why Blue Man Group and Jabbawockeez both downsized to smaller venues after Park Theater construction mandated a musical-chairs move of the Blue Men to the Jabbawockeez's Luxor theater.
The trickle-down theory could even be argued as a reason why the big-cast musicals "ShowStoppers" and "Rock of Ages" are set to close at year's end, following the fates of long-running shows such as "Jersey Boys" and newer ones such as ventriloquist Paul Zerdin.
GROWING THE PIE
The Park Theater continues both the technology and design evolutions of its predecessors.
Like the Colosseum, the back row is surprisingly close — 145 feet, in this case — to a massive stage that's 140 feet wide and 40 feet tall. But unlike the Caesars venue, there's no second balcony to make those seats feel more distant.
And like the Hard Rock's Joint, The Park boasts flexible configurations. The floor in front of the permanent seating can hold a boxing ring or basketball court (with riser seating then going on stage), a standing concert audience or more rows of seats — nice ones, not folding or stackable chairs: "With a nice cushion on them, nice back support and a cup holder," Bernbach says while playing tour guide.
And while the Colosseum's once-impressive video screen is now a dated but unmovable part of the structure, the new theater will offer both an 80-by-40-foot LED wall and high-definition projectors that can turn the stage and its flanking side walls into a 250-foot-wide projection surface.
"We're a one-stop shop," Bernbach says. "Regardless of what the artist wants to do, what kind of show they want to create, we can do that here."
And if they build it, there's evidence fans will come specifically to see it. Certainly the Rolling Stones, with a top ticket price of $750, weren't robbing discount ticket booths of spontaneous decisions to see a magician or topless show.
"There's always going to be some shifting of spending into the newer, brighter, shinier thing," MGM's Arpin says. However, "We're pretty convinced that we've all been largely additive." A projected annual increase from 42 million to 43 million Las Vegas visitors means not every ticket for the real Cher has to rob one from the drag Cher in "Divas Las Vegas."
Celine, Britney and other residencies "have been marketed well. They're obviously unique and very good shows and we hope to do the same," Arpin notes. "We're certainly marketing them as destinations in their own right. We think they are directionally more of a reason to visit versus 'Oh, I'll add that show onto my trip.'
"There's no objective for us in building these venues than to bring additional visitors to the market," Arpin adds. "It's not even frankly very much about taking customers from other places in Las Vegas and putting them in our building … we get our share anyway. It's about growing the entire pie."
The Review-Journal is owned by the family of Sheldon Adelson, chairman and CEO of Las Vegas Sands Corp.
Read more from Mike Weatherford at reviewjournal.com. Contact him at mweatherford@reviewjournal.com and follow @Mikeweatherford on Twitter.
RELATED
Stevie Nicks, Pretenders to open Park Theater Dec. 17
Already, it's fun and games at Park Theater
Cher: The Park Theater residency in Las Vegas really is 'the last show'