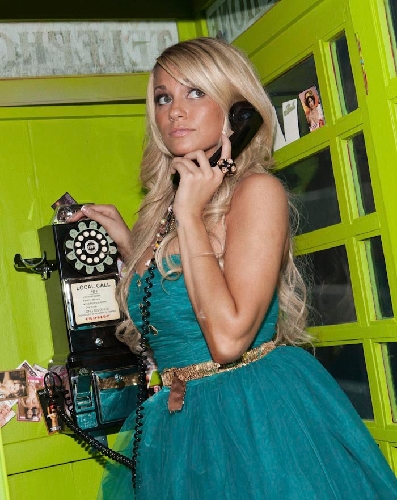 Angel Porrino certainly isn't the only single mother/dancer in Vegas. The Strip has that suit in spades. But Vegas native Porrino is rising to the top as fast as she can, considering she has a son on her hip.
The "Holly's World" co-star already fills in during Holly Madison's vacations at "Peepshow."
On Thursday, the hot new Caesars show "Absinthe" officially announced Porrino, 21, will take over its featured balloon act. That's where a woman dances, goes topless, then pulls a giant balloon over her whole body.
"I'm hoping to add a little tap routine to it and make it sexier than it already is," Porrino said Thursday. (She studied tap, jazz, ballet and hip-hop dancing since she was 2.)
Porrino, who went to Mountain View Christian School, is also eager to star in her own reality show, which isn't a pipe dream. She's well-liked by people at E! network.
But her almost-2-year-old son, Roman, keeps her too busy to go all-in toward a more famous future.
"I have a lot of goals," she told me while Roman was throwing a little fit. "I'm just taking it slowly right now.
"Even having this interview right now is hard. My mom helps me a lot when she can, but she also works."
You should have heard that kid wail. I don't know how you single mothers do it.
PRE-SIGHTINGS
Hugh Hefner celebrates his 85th birthday Saturday at the Palms. Son Marston turns 21 there, as well. Marston has been dating "Holly's World" Playmate Claire Sinclair, who is expected to be named Playmate of the Year. … Vegas born-and-raised porn superstar Jenna Jameson, celebrates a birthday Saturday at Chateau. She turns 37 on Saturday. … Mya sings a while after midnight Saturday at club Haze. … Nick Hexum, 311 frontman, celebrates a birthday at club Chateau tonight by singing. He turns 41 on Tuesday. … Far East Movement performs "Like a G6" at club Bank tonight. … DJ Erick Morillo spins Saturday at club Marquee. … Cathy and David Guetta take their big DJ tour to MGM's Wet Republic dayclub on Sunday. … Because of nasty Saturday weather forecasts, Azure pool has rescheduled its opening for Sunday, featuring Kim and Kyle Richards of "The Real Housewives of Beverly Hills." As of Thursday, Marquee's Dayclub still plans to grand-open Saturday with Victoria's Secret model Alessandra Ambrosio.
Doug Elfman's column appears Tuesdays, Thursdays and Fridays. Contact him at delfman@reviewjournal.com. He blogs at reviewjournal.com/elfman.