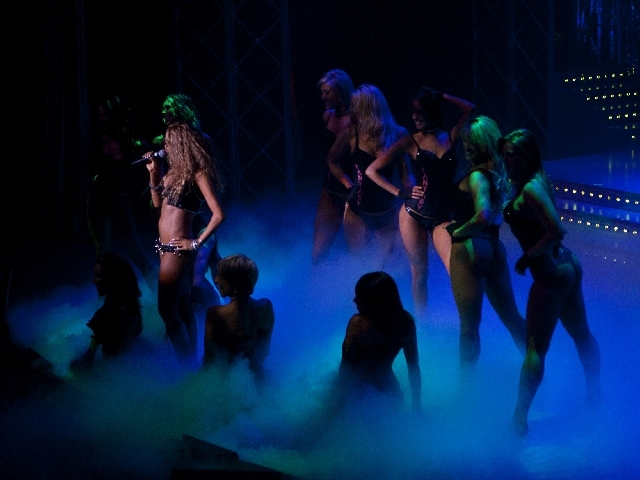 Tattoo artist Mario Barth plans to open a new tattoo shop at The Mirage this month.
Barth owns two Starlight Tattoo shops in New Jersey. He opened a shop at Mandalay Bay in 2008. For the past four years, he has hosted the Biggest Tattoo Show on Earth at The Mirage.
His newest Starlight Tattoo, a 1,248-square-foot shop, will be in The Mirage's retail promenade.
'Fantasy' is reality
Performers from "Fantasy" will kick off Memorial Day festivities Friday at the Rockhouse in the Grand Canal Shoppes at The Venetian. At 8 p.m., the cast members from the show at Luxor will ride the mechanical bull and enjoy some drink specials. If they are wearing bathing suits, they can enjoy the $10 "Bottomless Bikini Bar," a new promotional for women in pool-side attire. The Bottomless Bikini Bar is open from 6 to 10 p.m. daily. For more information, visit therockhousebar.com, or call 702-731-9683
Cantina revelry
Rock out Memorial Day weekend with Sammy Hagar. Or, at least with his food and drinks at Cabo Wabo Cantina in Miracle Mile Shops at Planet Hollywood Resort. Starting Friday through Monday, guests will be treated to four days of discounts, parties and live music for the holiday weekend. The Corona girls will get the party started on the Strip-side patio; buckets of Corona will cost $20. There also will be daily shot specials. Check out cabowabocantina.com or call 702-385-2226 for more information.
Tacos for the taking
Tacos & Tequila at Luxor also is hosting a four-day Memorial Day bash starting Friday. Authentic tacos, including bouche, cesos and lengua, will be specially priced at $3 each. Among the drink specials are Dos Equis, $5; Micheledas and Palomas, $8; and the Chonga, a 54-ounce margarita featuring two upside down Sol beers. This gargantuan drink will be priced at $20. DJ Larry Lynx will spin music from 8 to 11 p.m. For more information, call 702-262-5225.
Bucking high prices
Tuesday is National Hamburger Day and to mark the occasion, Fat Bar and Grill on the Strip will offer $1 burgers. From 4 to 5 p.m. Tuesday, get your Fatburger for a buck at the Fat Bar, which is across the street from Monte Carlo on the Strip. For more information, visit fatbarlasvegas.com.
Contact reporter Sonya Padgett at spadgett@reviewjournal.com or 702-380-4564. Follow @StripSonya on Twitter.