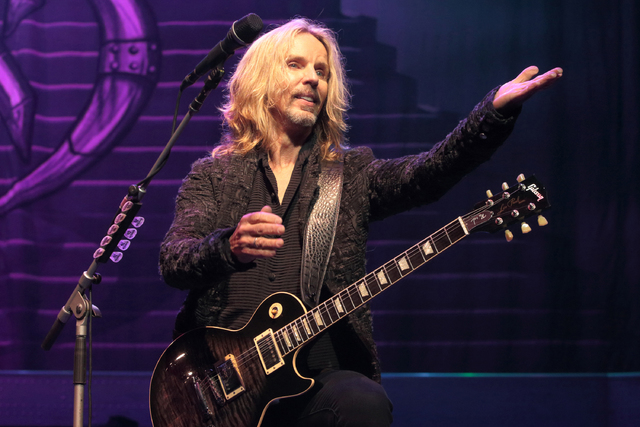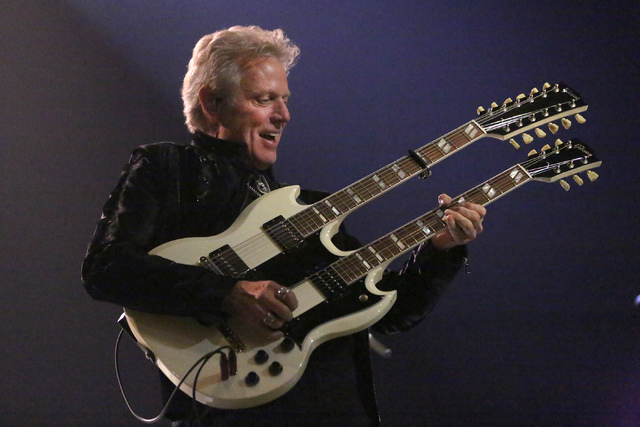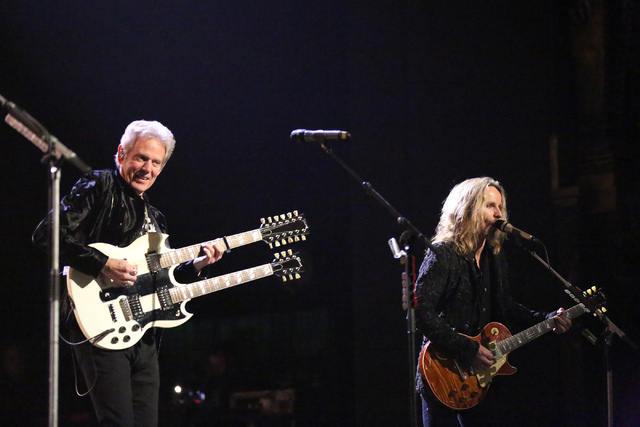 When Don Felder says "I really like those guys like brothers. They're so much fun to hang out with," you can probably guess, if only from context, that he's talking about Styx.
But you sure know who he isn't talking about.
Styx and Don Felder share more than the same manager, Charlie Brusco, who paired them for a two-weekend run dubbed "Renegades in the Fast Lane" at The Venetian starting Saturday.
They are flip sides of grand rock 'n' roll-soap operas, the stuff documentaries are made of: Felder, the ousted member of the Eagles, and Styx, the band that shows up on the Strip the weekend after former frontman Dennis DeYoung's New Year's Eve booking.
Styx and Felder also were paired on the "Soundtrack of Summer Tour" in 2014; the Orleans Arena stop was filmed for AXS.tv and video release. Felder threw his guitar into "Blue Collar Man" and Styx frontman Tommy Shaw chimed in on "Hotel California."
"You're gonna see some of that," Felder promises of the Venetian shows. "It's going to be a very interesting blend and a surprise how it all takes place … we get excited doing it. Instead of just going out and doing the same thing, we get to merge and jam some things together."
The 2014 tour, which included Foreigner, also had band and crew members golfing, bowling and dining out together. "We just went and had fun together," Felder says. "It was such a treat to be with people that could just relax, have fun and enjoy being out on the road and enjoy the people you're working with, and not have all that drama and ego involved."
Styx guitarist James "JY" Young, who has anchored the band from its earliest days, compares classic rockers with 40-plus-year careers to photos of the older Muhammad Ali, Joe Frazier and George Foreman, all smiling and friendly after slugging it out in their youth.
"People we used to battle for position with on the Billboard charts are the ones we're thrown together with to go out with," Young says of touring with the likes of Def Leppard, Boston, Yes and REO Speedwagon. "All these bands were the soundtracks to what we like to say are people's glorious misspent youth."
But now, "If you can't sell enough tickets on your own to play a big venue and put on the big show you'd like to, you have to get together." And when they do, it becomes a "rarefied club" of people who can relate to things that "no one else on the planet can know what you're talking about."
"There is truly a camaraderie of shared experiences, and of being gone so much from home," Young says.
The Eagles saga is laid out in the 2001 documentary "History of the Eagles." Felder was cut out of the tours under the same name, after his 2001 ouster led to a wrongful termination and breach of contract lawsuit (later settled).
Felder said he has nothing new to say about the January 2016 death of Glenn Frey. But with the Eagles seemingly done for good, Felder won't be the only alum out as a solo act. His Las Vegas stint will overlap with Joe Walsh at the House of Blues at Mandalay Bay (Jan. 11-21) and wrap just before Timothy B. Schmit at Aliante Casino on Jan. 28.
Styx's split with DeYoung, the voice behind hit ballads such as "Babe" and "Come Sail Away," made for one of the best VH1 "Behind the Music" episodes. The band came to a breaking point over the theatrical concept album "Kilroy Was Here" and the DeYoung single "Mr. Roboto," which, Young now jokes, "alienated much of the male audience."
But now he can see it was "Roboto" that "spawned the next generation of fans." As the song seeped into pop culture through a Volkswagen ad, Young now has younger people telling him, "I heard 'Roboto,' but then went and bought the rest of your albums.' "
Lawrence Gowan has been singing DeYoung's parts since 1999, proof that Styx remains a perennial concert draw. Young says the band's troubles were always in the studio anyway. "The hardest thing is always the songwriting part, the collaborative part, and making the records. Everyone has very strong opinions.
"Because what you're about to do, you're going to commit to something which with your most fervent hopes is going to make a big splash and amount to something and last forever." Young believes both the Eagles and Styx ultimately made better, more versatile albums because of "the scrutiny from so many angles."
Styx and Felder do stand on opposite sides of the fence when it comes to making new music. Styx hasn't attempted a studio album since 2003. Even then, Young says, radio programmers treated the band "like yesterday's news, without even listening."
"We are living and dying on the music that we created back in the '70s and '80s," he admits. "But that's not a bad thing, because there's new people being born every day that never heard this music … . I don't know where it's going to take us, but we're having a blast performing live, and it's always been my favorite part of what we do."
Felder, on the other hand, took a phone break from his home studio, where he is seven songs into a new album. But he may put out an EP instead, since so few people buy physical CDs anymore.
He is confident that "classic radio's going to give it a listen." Particularly if, like his 2012 "Road to Forever," it includes friends such as Shaw and Crosby, Stills and Nash.
"I have a lot of friends," he says with a laugh. "It's fun to work with people you know and you like … and it gives a great radio marketability when there's more than just one name on a record."
Read more from Mike Weatherford at reviewjournal.com. Contact him at mweatherford@reviewjournal.com and follow @Mikeweatherford on Twitter.
Preview
Who: Styx and Don Felder: "Renegades in the Fast Lane"
When: 8 p.m. Friday, Saturday and Wednesday (continuing through Jan. 14)
Where: Theatre at The Venetian, 3355 Las Vegas Blvd. South
Tickets: $59.50-$395 (702-414-9000)