Without elephants, 'Circus Xtreme' plays up tigers, more 'action sports'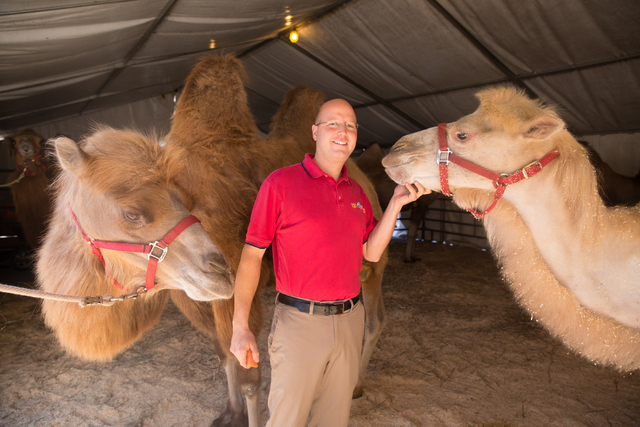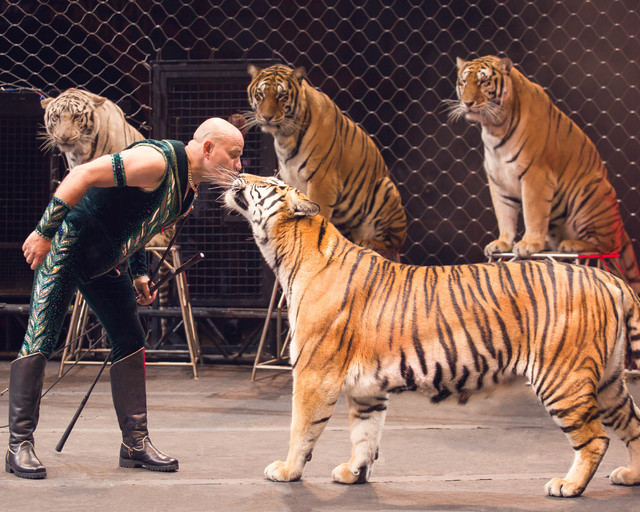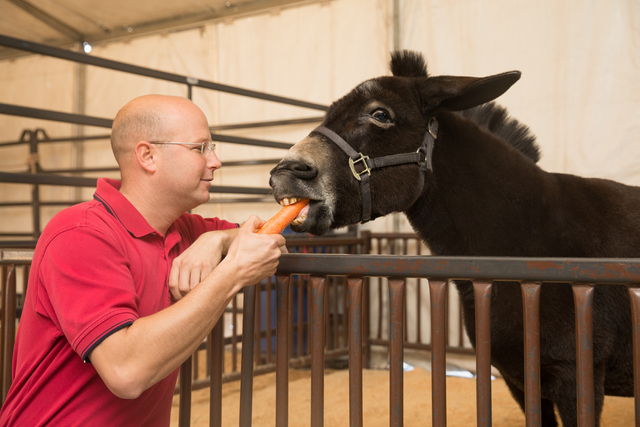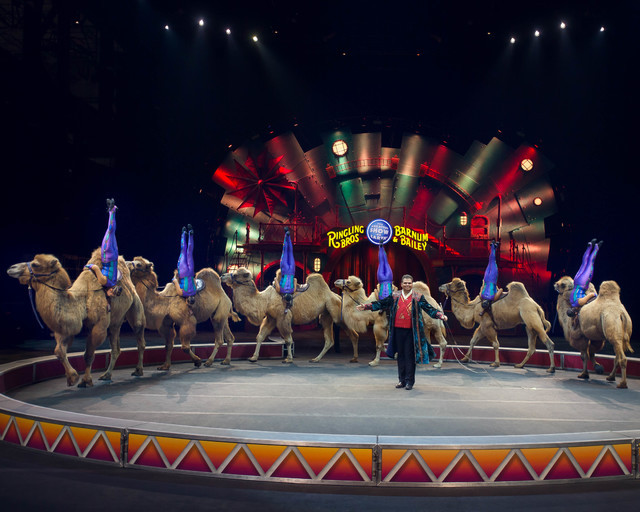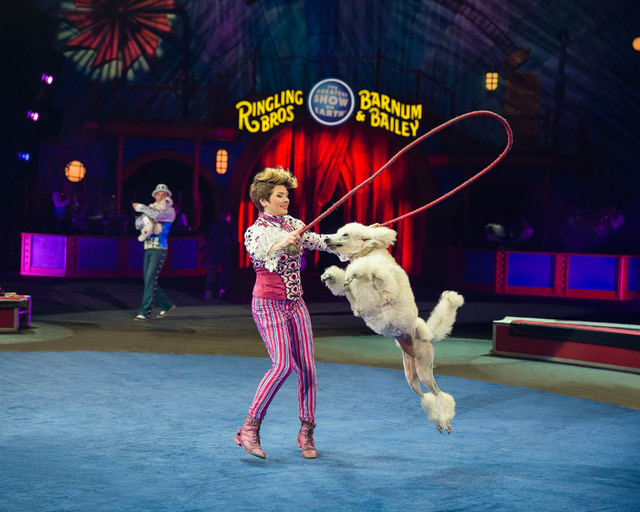 Ryan Henning's official Ringling Bros. and Barnum & Bailey biography concludes with this paragraph:
"Asked where he'd like to be in 10 years, Ryan doesn't miss a beat. He says, 'I would like to stay with the elephants the rest of my life.' "
So much for advance planning.
Henning's still with the circus — but the elephants aren't.
In May, after 145 years as the living symbol of the self-proclaimed "Greatest Show on Earth," the circus' pachyderm performers took their final bows in the center ring. They're now at the Ringing Bros. Center for Elephant Conservation in Florida.
But plenty of other four-legged creatures — tigers and camels and dogs, oh my! — will share the spotlight with human performers when "Circus Xtreme" opens a seven-performance run Thursday at Thomas & Mack Center.
The traveling menagerie — almost 50 animals overall — includes 18 poodles, 17 Bengal tigers and two-humped Bactrian camels, according to Henning, the circus' assistant animal superintendent.
Henning won't be onstage with them, however.
When the elephants left, his performing days ended; he now spends his time backstage.
"It was bittersweet," Henning acknowledges during a telephone interview from a "Circus Xtreme" tour stop. "After 145 years, no more elephants in the 'Greatest Show on Earth.' "
Ringling Bros. officials initially planned to phase out the elephants in 2018, in response to ordinances enacted by local governments prohibiting the use of bull-hooks by elephant trainers and handlers.
"A lot of legislation has been about the elephants," says executive vice president Alana Feld of Feld Entertainment, which owns Ringling Bros. and Barnum & Bailey Circus. (The company's other touring shows range from "Disney on Ice" to "Monster Jam.")
"As a family, we decided — in the best interests of the family and the business — to retire our elephants," Feld explains.
And while "a lot of people do miss the elephants," Feld adds, "Ringling Bros. has never just been about one thing."
The "Circus Xtreme" edition features "a lot of big changes" beyond the elephants' collective absence, boasting "a lot more of the action sports" that add "an exciting element" to the production, she says.
Her favorite: the "freestyle display" finale, incorporating parkour acrobatics, BMX bikers and a trampoline wall.
"To be for the families of today, if we need to shorten the show, or shorten the acts, or put in a storyline, we're going to do all these things," Feld says. "Going back, when I was a child, acts were 12, 14, 15 minutes long. And you got (to see) a lot of incredible feats. But if you can put the best of the best in seven minutes, you get more — and better pacing."
Feld has "grown up around Ringling Bros. my entire life," and circus officials face the same challenge year after year: "How do we make the show different?"
One way: behind-the-scenes access for ticket-holders.
An hour before showtime, "we have our all-access preshow," Feld notes — an "extremely interactive" hour where kids of all ages can "see the animals and meet the performers," try on costumes, explore Clown Alley and learn such circus skills as juggling.
"The parents are so happy," she says, because they realize, " 'I don't have to sit in my seat and wait' " with impatiently squirming offspring.
Arrive 90 minutes early, Henning adds, and you can experience the circus' animal open house, where "all the cats are socializing and playing and having a good time with one another."
Like Feld, Henning has been involved with the circus all his life and says "I'm literally living a childhood dream."
A native of Baraboo, Wis. — where the five Ringling Brothers founded their circus in 1884 — Henning started volunteering at Baraboo's Circus World Museum at age 10, learning about circus history, working with animals and juggling. (His grandfather founded the museum's library and research center and his uncle was the museum's executive director for 18 years.)
Henning began his circus career in the Big Apple Circus, working with camels. After a year, he joined Ringling Bros.
"The camels went home — and I stayed with the elephants," he notes.
A dozen years later, Henning's back with the camels — and missing the elephants he helped get settled at Ringling's 200-acre conservation center, where scientists are conducting cancer research, hoping to discover why cancer is much less common in elephants than in humans.
"They're happy, they're relaxing, they're enjoying the Florida life," Henning says of the elephants he plans to visit during his time off. "They're still part of the circus family."
Feld acknowledges that, when it comes to the circus' animal performers, "we have a lot of critics out there" who are "not going to like what we do, no matter what we do." (In 2014, after a 14-year legal battle, Feld entertainment won more than $25 million in settlements from several animal rights groups over allegations that Ringling circus employees mistreated elephants.)
For Henning, such criticism "does get frustrating … hearing the extremists act as though they know best on how to care for the animals," he says. "We are the experts, at the end of the day."
Little wonder, then, that "I don't like to think about a circus without animals."
And for now, he doesn't have to.
Read more from Carol Cling at reviewjournal.com. Contact her at ccling@reviewjournal.com and follow @CarolSCling on Twitter.
Preview
What: Ringling Bros. and Barnum & Bailey's "Circus Xtreme"
When: 7 p.m. Thursday and Friday; 11 a.m., 3 and 7 p.m. Saturday, 1 and 5 p.m. Sunday (animal open house begins 90 minutes before each performance; interactive pre-show begins an hour before showtime)
Where: Thomas & Mack Center, Tropicana Avenue and Swenson Street
Tickets: $20-$50 (702-739-3467, unlvtickets.com)