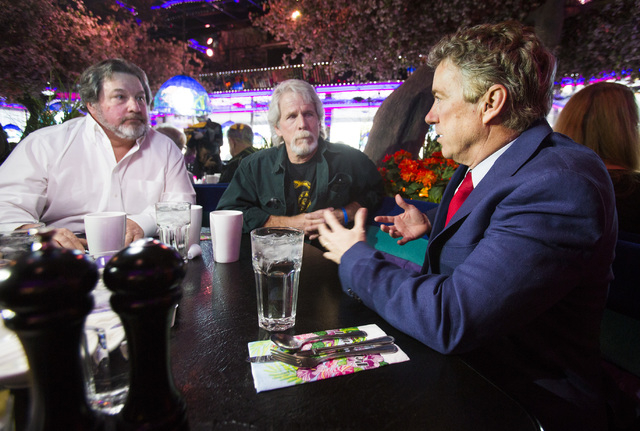 Bob Anderson's Frank Sinatra tribute will transport audiences back to "Sinatra at the Sands," the 1966 live album that included Count Basie and his orchestra with Quincy Jones conducting and arranging.
"We're trying to tie a lot of the show into the Sands," Anderson said.
"Sinatra: The Man, The Music" opens Saturday in The Palazzo Theatre at The Palazzo.
A new intro was created last week to celebrate the Sands' history, he said.
"We're on the grounds of where the Copa Room was, so we thought why not try to own that. We're incorporating that into the show."
And why not? After all, the Copa Room was the home of the Rat Pack and the epicenter of a golden entertainment era.
"But one man and one venue set the gold standard," goes the intro. "And together they are legend."
Not only will Anderson look the part, from a nightly two-hour makeup session, but, he said, "we've recreated the heydays of supper clubs."
The experience, Anderson said, "will be reminiscent of The Ambassador in Los Angeles, the elegance of the Waldorf Astoria, the Fairmont, the Persian Roof at the Plaza."
He added, "My stage is even carpeted. It's blue."
And he'll have a 32-piece orchestra that includes jazz guitarist Joe Lano, a Sinatra favorite, and Vince Falcone, Sinatra's longtime pianist and bandleader.
It will be the latest big band on the Strip. "Steve Wynn's ShowStoppers" has a 31-piece orchestra. Wynn has made no secret of his desire that the Strip will see a return to "live music on a large scale."
Anderson and Broadway producer Stephen Eich are jazzed.
"We're doing it right, in a classy way," Anderson said. "We're going back. We're using an Austrian Drape. It covers the stage, and the billowing curtain reveals the orchestra.
"I'm here to stay, man," Anderson said. He got a huge show business break in 1973 when he became an eleventh-hour addition to Nancy Sinatra's show at the Desert Inn after the Everly Brothers quit over a dispute.
Six years later, Anderson was working at the Top of the Dunes when Sinatra walked in with Gov. Bob List.
"Within 15 seconds, it was 30-deep around that table," said Anderson, who was invited to join the Sinatra table.
CAREER-SAVING CATCH
My first chance at being a full-time journalist happened on Last Chance Gulch in Helena, Mont.
My start was as rocky as the gulch, which got its name from some tapped-out gold prospectors who considered it their final opportunity.
They hit it rich. So did I, but my payoff, which took many years, was in the form of a career.
I returned to Helena this weekend to attend Carroll College's 100th anniversary of basketball.
The first college coach I worked with was there. We arrived in Helena the same year, 1964. Presley Askew and I compared notes. He was paid $6,800 a year; I was hired for $87 a week.
The Helena Independent-Record's hard-boiled editor, who belonged to one of those secretive organizations, let it be known he didn't want to see Catholics "get big headlines."
That was my introduction to bigotry in journalism. Carroll College is a Catholic school.
We ignored him. Fortunately, he wasn't around, nor was I, a few years later when Carroll basketball guard Marc Racicot had 32 assists in a game. (The major college record is 22).
Racicot went on to become two-time governor of Montana, chairman of the Republican National Committee and chairman of George W. Bush's re-election committee.
Racicot was the featured speaker Friday.
Earlier, I parked outside the IR and put into perspective what it — and my many mentors — meant to my career.
It was nearly my first and last newspaper job because of a hastily written headline.
The ladies of the Green Meadow Country Club and the Bill Roberts municipal course asked me to do an advance article on their first interclub competition.
But I wrote something like: "Green Meadow Ladies Challenge Bill Roberts to Inter-Course Matches."
Luckily for me and my career, a sharp-eyed managing editor named Mike Voeller caught it or I'd be in the Hall of Fame for Career-Killing Headlines.
Hey, I thought if there are interstate rivalries, there could be … OK, never mind.
THE SCENE AND HEARD
"America's Got Talent" is holding an audition Feb. 12 in Las Vegas, part of a nationwide search for Season 10. You can pre-register here: www.agtauditions.com
SIGHTINGS
Sen. Rand Paul, R-Ky., dining at La Cave (Wynn) on Friday. … Four-time Pro Bowl running back Jamaal Charles of the Kansas City Chiefs and Washington Redskins linebacker Brian Orakpo, among a group at Tao (The Venetian) on Thursday. … Denver Broncos running back Ronnie Hillman, having dinner at Giada (Cromwell) on Friday. … Nicolas Cage, in a group at Grape Street Cafe on Thursday. … Tommy DeVito, one of the original members of the Four Seasons, at the Pasta Shop Ristorante on Wednesday.
THE PUNCH LINE
"Welcome to the 'Late Show' — 21 years in the making. It's like that movie 'Boyhood' without all the positive reviews." — David Letterman
Norm Clarke's column appears Sunday, Monday, Wednesday and Friday. He can be reached at 702-383-0244 or email him at norm@reviewjournal.com. Find more online at www.normclarke.com. Follow Norm on Twitter @Norm_Clarke.