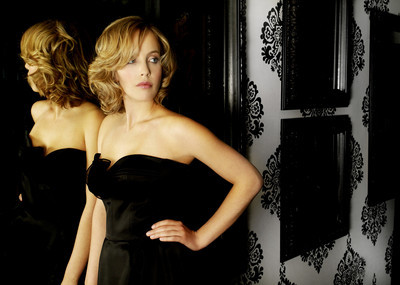 Behold the jazzy gypsy — a Russian-born, Israeli-raised Canadian arriving in Henderson with a voice hailing from the intersection of heart and soul.
"Jazz was the first music I discovered, because my dad collected the old vinyls. Somehow he got his hands on them in Russia," recalls Sophie Milman, the well-traveled, 25-year-old chanteuse in town for a free concert tonight at the Henderson Events Plaza.
"When we moved to Israel when I was 7, he decided I was old enough to appreciate jazz, and I don't just mean bebop and swing, but people like Mahalia Jackson, then Count Basie and Oscar Peterson and the great singers. My connection to jazz has been pretty much right out of diapers."
The sound she's found? Ethereal as a bright, white cloud and jazzy as a red-hot riff. "When you hear her, you know it's Sophie, it's a distinctive voice," says Jason Koransky, editor of DownBeat, the jazz-biz bible.
To listen to any track on her dual CDs is to wonder how much effort it takes to sound effortless, ponder how a voice can caress your cheek, and marvel at the old jazz soul in the vibrant young woman.
"You can hear faint traces of her Russian accent in her singing that adds an element of beauty and mystery, and this faraway sensibility of being in another more magical place when she's singing," says JazzTimes columnist Chris Loudon. "She's on a strict learning curve, and she will grow and grow and grow as an artist. She's a keeper."
Milman's grateful for the kudos, with a caveat. "Of course, there's some of, 'Who is this little blond duckling who came out of nowhere?' "
The duckling's got chops. Hear her sensually coo in your ear on "Make Someone Happy." Or turn "Matchmaker, Matchmaker" into a hip daydream, a postmodern woman updating an outdated tradition. Or transform "I Feel Pretty" from a giggly shout to a torch-song purr.
"Working in jazz, you want an artistic integrity, and she has that," Koransky says. "And she has a great background story."
The tale traces back to Russia.
"Everyone wants to hear horror stories about gulags and things," Milman says. "My parents experienced some hardships, but my childhood was pretty normal. We didn't have as much to eat, and I didn't have a lot of toys, so it's in contrast to the North American perks I now enjoy, with a great house and going to an expensive grocery store to buy apples. It's amazing how quickly one can get spoiled."
Israel beckoned after the Berlin Wall fell, but the departing Milmans were stripped of Russian citizenship.
"My parents sold our apartment, but we weren't allowed to take money out of Russia," she remembers. "They liquefied everything they owned. We emigrated with my dad's record collection, a bunch of Russian art and a few pieces of furniture. Israel is where I had to be a quasi-adult. My parents had to work two and three jobs each."
Eventually, the region's volatility triggered a move to Canada, where Milman began seriously exploring music and assembling a band, drawing attention on several fronts.
"Sometimes you hear jazz singers who are really jarring, more screamers than singers," Koransky says. "With her, there's a real sexy quality to her voice — there's a real sexy quality to her, period."
Ah yes, the sex thing.
"Reviews for my albums have been amazing and I'm really grateful, but the few negative ones, they focus on me being attractive, and that really offends me — if people knew how I grew up, I never focused on the outside. I didn't wear makeup until I was 19 and wore secondhand clothes," Milman says.
"I educated myself about art and culture and learning new languages and being political, and they want to reduce me to this blond, buxom doll," says Milman, who is studying commerce at the University of Toronto so she won't be held hostage to music biz machinations.
"Nothing about my music is contrived — if there's sexiness in my voice, great. I didn't put it there, it's just the way it comes out," she says.
"You see a lot of artists created by labels and managers and agents and told how to dress, how often to work out, how high their boobs should be, and I don't respond well to that. There was a label here in Canada that was interested in coming onboard, and they said, 'You have to be more earthy, dress differently and sing like Norah Jones.' I just said, 'You know what? Bye.' "
And hello … tonight in Henderson, perhaps imbuing "People Will Say We're in Love" with breathy charm, infusing "It Might As Well Be Spring" with playful energy and elegantly declaring "My Heart Belongs to Daddy."
"I have all these emotions I want to express," she says. "I'm like this neuron firing on all cylinders."
Fire at will, Sophie.
Contact reporter Steve Bornfeld at sbornfeld@reviewjournal.com or (702) 383-0256.
who: Sophie Milman
when: 7 p.m. today
where: Henderson Events Plaza, 200 S. Water St.
tickets: Free (267-2171)