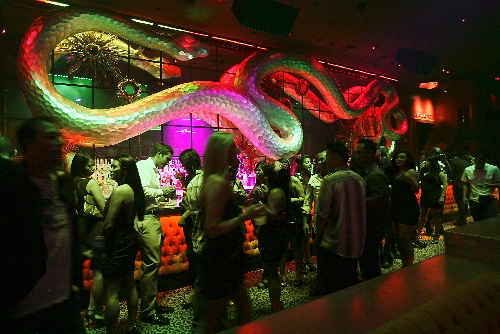 Many clubgoers may know of Surrender Nightclub merely as the indoor component of the inside-outside Surrender/Encore Beach Club combo.
But now that beach party season has pretty much passed, it just might be time for Las Vegas clubgoers to reacquaint themselves with the opulent and ornate nightclub at Encore, 3131 Las Vegas Blvd. South.
Surrender, along with the adjoining Encore Beach Club, opened Memorial Day weekend, says Jonathan Shecter, executive director of marketing for Surrender and Encore.
Together, the venues make up a combined 60,000 square feet of party space, Shecter says, and patrons at Surrender may well get the sense that "you're inside, but part of a larger structure somehow."
"It's a very upscale venue, and when you see the kind of transition from the indoor part to the outdoor part, it's really impressive."
Surrender's vibe often is described as "European." Shecter can see that, because the club "does evoke the feel of the Mediterranean coast, that sort of spirit."
"We're very opulent and luxurious," he adds, and "it's sort of a charged atmosphere.
"The first thing you notice at Surrender is, it has a rich sort of quality to the decor," Shecter says. Inside, the most immediately eye-catching individual design detail is apt to be the "giant metallic snake that sort of curves along the back wall behind the bar."
The club's seating offers "really big soft cushions and comfortable tables, oversized in a way," Shecter says, which are "laid out so there's plenty of room for large groups to enjoy themselves."
While patrons probably won't be swimming now that summer has passed, the outdoor space adjacent to Surrender still is open during the off-season. So are the venue's 26 cabanas and eight bungalows — available for a food and beverage minimum ranging from $1,500 to $5,000, depending on the night — that, Shecter says, are great for groups of guests that "want to do something kind of nice and want to have a party within a party."
Surrender features a "very high-end" sound system, as well as "a lighting system that is one of a kind," Shecter says.
Aural accompaniment usually is provided by DJ Steve Aoki and DJ Mighti Mi, and the soundtrack is a "more up-tempo sound than, maybe, you hear in the other clubs," Shecter says.
Promotions include a "locals-slash-industry night called 'Surrender Your Wednesdays,' " Shecter adds. "It's been a great success."
Surrender is open from 10 p.m. to closing — figure on about 4 a.m. or so — Wednesdays through Saturdays. Cover varies, ranging from $20 to $40, but local ladies always are admitted free.
For more information, call 770-7300.
Contact reporter John Przybys at jprzybys@ reviewjournal.com or 702-383-0280.
Las Vegas nightclub slide shows