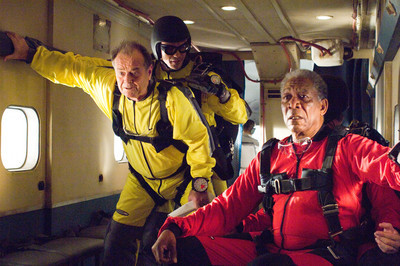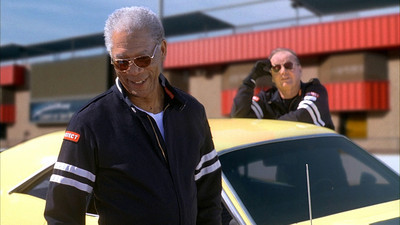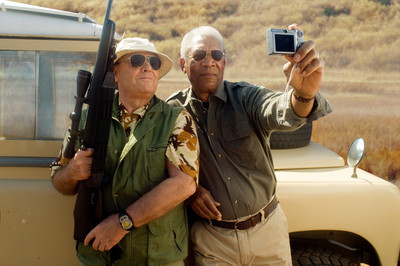 Play it again, Jack. Play it again, Morgan. And, while you're at it, guys, why not do it to death?
Then again, doing things to death seems to be "The Bucket List's" main reason for existence. Seldom has such a life-affirming message been surrounded by such soul-deadening desperation.
Naturally, it's a comedy — an attempted one, anyway, that takes the "Grumpy Old Men" formula to its inevitable conclusion, focusing on its supposedly adorable geezer protagonists as they rage, rage against the dying of the light.
And, in the process, discover the true Meaning of Life.
Alas, Hollywood's original "Grumpy Old Men," Jack Lemmon and Walter Matthau, are no longer with us. Except, thankfully, on DVD. (We'll always have "The Odd Couple.")
But "The Bucket List" team of Jack Nicholson and Morgan Freeman seems a likely all-star substitute, with Nicholson's naughty-by-nature surliness providing vivid contrast with Freeman's voice-of-God nobility.
At least in theory. In practice, not even Nicholson and Freeman can save "The Bucket List" from itself.
As a consequence, what might have been a touching meditation on life's fleeting wonders instead becomes a maudlin exercise in audience manipulation.
Some movies, however manipulative, do it so stealthily and artfully you don't mind being manipulated at all.
"The Bucket List" is not one of those movies.
And for that, we must credit — or, more precisely, blame — screenwriter Justin Zackham and director Rob Reiner. Based on this movie, neither of them has ever met a heart-tugging contrivance or shameless cliché they didn't like. Or beat to death.
Appropriately, death is the focus of this attempt at life-affirming uplift, which gives grouchy billionaire Edward Cole (Nicholson) and dignified mechanic Carter Chambers (Freeman) their very own hospital meet-cute.
Cole became a billionaire, in part, because he insists that every penny-squeezing hospital he owns must have two patients to a room. No exceptions.
Not even for him, when he discovers he's a cancer patient with mere months to live.
That's a status he shares with his hospital roommate, Chambers, whose relatively modest circumstances in no way interfere with his vast knowledge (he's a "Jeopardy!" whiz) or his understanding of what life's all about.
Naturally, these grumpy guys get on each other's nerves. That is, until they realize they've got a lot of livin' to do — and precious little time left in which to live it.
So they concoct a joint to-do list before they kick the bucket. Some of the entries ("laugh till you cry," "help a complete stranger") don't require any particular financial commitment.
For others, however — from globe-trotting treks to Egypt's pyramids to daredevil bouts of skydiving and auto racing — it seems mighty convenient that half of this particular dynamic duo has billions of dollars, not to mention a private jet, at his disposal.
It's also fortunate that Cole has no one to complicate his plans — except, perhaps, for his omnipresent assistant ("Will & Grace's" riotous Sean Hayes, underplaying for a change). And Chambers' own marriage, we soon learn, isn't quite as perfect as he is. (Beverly Todd has the thankless role of the starchy spouse.)
Just as "The Bucket List's" death-defying duo braves multiple perils to prove their vitality, those of us in the audience must test our mettle and risk emotional whiplash as the movie seesaws between raucous slapstick and sticky sentimentality.
That's inevitable, considering Zackham's connect-the-dots script — and the glaring credibility problems inherent in a so-called comedy about terminal cancer patients who are so miraculously symptom-free they have enough energy to dash around the world. (If Zackham had any firsthand experience with cancer, he'd know that there are times when getting out of bed or keeping a meal down qualify as miracles.)
Reiner, however, compounds this problem with his languid pacing and hokey, obvious staging. (Reiner hasn't always been this clueless about comedy: remember "Spinal Tap" and "The Princess Bride"? More than two decades later, I still do — although it seems the director who made them has forgotten.)
And on those rare occasions when, despite everything, "The Bucket List" threatens to achieve genuine emotional impact, Reiner doesn't trust the audience's honest reaction; he prefers to force the issue. To say nothing of the tears.
That leaves the (limited) pleasures of watching Nicholson and Freeman do their thing. It's nothing they haven't done before — and there are times when both actors come dangerously close to self-parody in the process.
Still, I suppose there are worse ways to waste 97 minutes of your life than watching Freeman radiate island-of-calm dignity — or Nicholson strain to conjure that old Jack magic one more time. I just can't think of them at the moment.
Contact reporter Carol Cling at ccling@reviewjournal.com or (702) 383-0272.
REVIEW movie: "The Bucket List" running time: 97 minutes rating: PG-13; sexual references, profanity verdict: C now playing: Cannery, Cinedome, Green Valley, Neonopolis, Orleans, Palms, Rainbow, Red Rock, Sam's Town, Santa Fe, Showcase, South Point, Sunset, Texas, Town Square, Village Square DEJA VIEW Facing death inspires characters to change their lives in a variety of ways: "Pride of the Yankees" (1942) — Legendary New York Yankees slugger Lou Gehrig (Gary Cooper) triumphs on the diamond, but strikes out in his battle with amyotrophic lateral sclerosis. "Ikiru" (1952) — Japanese master Akira Kurosawa's poignant classic about a dying bureaucrat ("Seven Samurai's" Takashi Shimura) desperate to find meaning in his final days. "Marvin's Room" (1996) — After she's diagnosed with cancer, a self-sacrificing caregiver (Diane Keaton) turns to her resentful sister (Meryl Streep) and her rebellious nephew (Leonardo DiCaprio) for help. "Wit" (2001) — A brilliant, brittle literature professor (Emma Thompson) ponders her life, and her imminent death from cancer, in an Emmy-winning adaptation of the Pulitzer Prize-winning play. "My Life Without Me" (2003) — Determined to keep her incurable cancer a secret, a young wife and mother ("Away From Her" director Sarah Polley) starts living like there's no tomorrow. — By CAROL CLING