Thicke prepares to shine without famed twerker
December 26, 2013 - 9:27 pm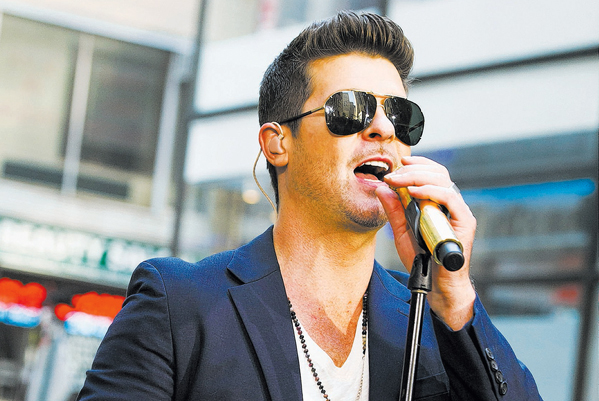 Memo, Robin Thicke to Jeff Beacher: "Can you please keep Miley distracted until Monday morning?"
Yes tabloids, we just made that up. Still, you can have fun speculating, based on who is in town this weekend.
Miley Cyrus is supposed to watch Britney Spears at Planet Hollywood Resort on Friday, then head over to the MGM Grand to help her friend Beacher launch his Beacher's Madhouse variety show later that night.
When the nearly naked Cyrus stole the thunder from Thicke's big "Blurred Lines" moment on the MTV Video Music Awards in August, the gossip sites were burning with talk that Thicke, his wife, Paula Patton, and his mom, Gloria Loring, were in various combinations mad at Miley.
"I'm the twerkee. I'm twerked upon," Thicke joked to Oprah Winfrey.
"The problem is now I can never 'unsee' it," Loring famously remarked.
So depending on where you line up on all this, you can hope for a Miley encore or that Thicke has the spotlight all to himself at the Palms on Sunday.
It took a lot to steal attention from "Blurred Lines," which will be the song cemented with the summer of 2013 in our minds.
Six million people in the U.S. alone bought it on iTunes, which sort of nullifies Rolling Stone putting the song at 50 out of 50 on its year-end list of the Top 50 Singles, perhaps because of the whole borrowed-from-Marvin Gaye's "Got to Give It Up" thing.
Thicke worked his way through the audience to the song's randy beat as the opener of the iHeartRadio festival at the MGM Grand in September.
Newcomers who worry about what else Thick will do to fill an hour and a half can yell up for his cover of "Ride Like the Wind" from the "Anchorman: The Legend Continues" soundtrack.
Or they can start with the showgirl-centric video for "Feel Good," then work their way back through his neo-soul catalog, remembering his impressive 2006 breakthrough, "The Evolution of Robin Thicke."
Some of those older songs, like "Million Dolla Baby," even sound like Marvin Gaye, too.
Contact reporter Mike Weatherford at mweatherford@reviewjournal.com or 702-383-0288.
Preview
Robin Thicke
8 p.m. Sunday
Palms, 4321 W. Flamingo Road
$80-$170 (702-944-3200)