Tiger Army an unofficial part of rockabilly gathering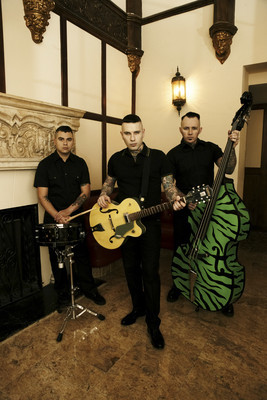 They'll be one of the biggest bands to play during the 12th annual Viva Las Vegas rockabilly weekend, even though they technically aren't playing the event at all.
"There's no official involvement, but it's something that got brought to us, 'Hey, do you want to do this?' and I thought it was a great idea," says Nick 13, frontman for psychobilly favorites Tiger Army, who are playing a House of Blues gig in the midst of the rockabilly gathering.
"I've been to Viva Las Vegas, and not everybody who's into rockabilly is into psychobilly, but obviously there's a better chance there that someone is going to appreciate that sort of thing. From attending the event myself, I know that there's not only people from Vegas and Southern California that come to the event, but people from all over the country, all over the world."
Those folks will get a chance to see what is the only show on the band's schedule so far for this year.
"We've been taking some time off, and I've definitely been doing a lot of writing," Nick 13 says. "Mostly what the focus has been, other than relaxing, is a solo project that I'm going to be doing this year. That's going to be rooted more specifically in old country — and rockabilly, to some extent."
Those influences are already palpable in Tiger Army's hard-charging repertoire, which spikes some of the traditional rockabilly trademarks — vigorously plucked upright bass lines, a '50s-rooted, near-doo-wop swing — with punk-rock velocity and vigor. Then they paint it all black with a dark thematic undercurrent inspired in part by vintage horror flicks and gothic literature.
But with his forthcoming solo disc, Nick 13 is looking to further elaborate on his honky-tonk roots in an attempt to call attention to the genre's earthier origins.
"It's a shame, because when you say the phrase 'country music' to the average person, a lot of times they turn their nose up," he says. "I can understand that if they're basing that opinion off of what you hear these days on country radio or what you see on television. But the reality is that a lot of the music that's getting called country in 2009 has no more to do with country than 50 Cent."
But before he goes solo for a bit, Nick 13 will provide one more tip of the undertaker's cap to the band whose name is synonymous with his.
"This gig in Las Vegas will be the closest thing to our 13th anniversary gig," he says. "I think about everything that's happened in music in the last 13 years, how many things may have been huge at one point and are nowhere now because they were chasing trends and people just don't care any more. We never tried to do that. We've always played the music that we wanted to play.
"It hasn't necessarily been the hugest thing around," he concludes, "but we're still here."
Contact reporter Jason Bracelin at jbracelin@ reviewjournal.com or 702-383-0476.
Preview
Tiger Army
6:30 p.m. Saturday
House of Blues at Mandalay Bay, 3950 Las Vegas Blvd. South
$26.50 (632-7600)
RELATED STORY
SOUNDS: Rockabilly Revelry