Tim Bavington lets music guide his art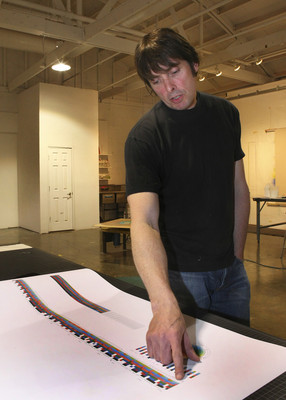 Many artists — and office workers, mechanics, assembly line people and worker bees of all stripes — listen to music during their workday.
But the music from Sirius' Underground Garage channel that provides the aural accompaniment in Tim Bavington's Las Vegas studio is more than background music.
It might be the genesis of his next painting.
Bavington, 42, has forged an artistic career that has taken him from standard childhood doodles to a successful stint as a commercial illustrator and graphic designer to, now, a painter whose abstract works — many of which are deconstructions of songs or pieces of music — have made him well-known from New York to Los Angeles and beyond.
Bavington, a genial, casual, lanky guy with a British accent and self-effacing manner, creates his art in a spacious, industrial-grade studio just west of the Stratosphere. On the walls of the spare space hang a few of his works, one of which — featuring a color wheel-like assemblage of hues — Bavington says probably will never be put up for sale, and another, a still unfinished canvas bearing vertical stripes disappearing into white, that may well represent the next step in his artistic evolution.
But on the opposite wall is a piece Bavington is working on right now: an abstract painting in which the notes and chords that make up The Jam's "Beat Surrender" are transformed into tight rows and columns of colored vertical stripes, like UPC bar codes as seen through a prism.
On a table in the middle of the studio sits a blueprint for that particular work. On a sheet of paper is a multicolored fret board of the song's chords — it resembles a more complicated template for "Guitar Hero" — and a detailed graph breaking down into color each of the song's notes.
Bavington's work is, like, maybe, jazz, both structured and improvisational at the same time. It's even, in fact, dangerously close to mathematical.
"It is math," agrees Bavington.
"It's not really creative. It's paint by numbers," he says.
But, as any artist — as any mathematician — would agree: It's not about the numbers. It's what one does with them. Consider this: One of his paintings, "Physical S.E.X," was purchased by New York City's Museum of Modern Art.
Bavington grew up in London. His mother, who still lives there, worked in hotel housekeeping during Bavington's childhood, while his dad was a car salesman who moved to Las Vegas in 1976, when Bavington was 10.
During the year between high school and college, Bavington moved here, too. He'd decided by then to pursue a career in art, having been inspired by his high school art teachers. In 1990, he earned a bachelor of fine arts degree from Pasadena's Art Center College of Design.
After graduation, Bavington began a career as a freelance commercial designer and artist. Among his projects were posters, video game covers, comics and other things for a then-new TV show called "The Simpsons."
The freelancing continued after Bavington moved to Las Vegas in 1993. But, during his college years in Los Angeles, Bavington had discovered fine art, and became particularly intrigued and challenged by abstract art. In 1995, one of his former professors suggested that Bavington meet Dave Hickey, who then was teaching in the art department at the University of Nevada, Las Vegas.
Bavington had coffee with Hickey. "He talked me into going to UNLV," Bavington said.
"It was an amazing time," Bavington says of studying under Hickey in UNLV's master of fine arts program, due, in part, to a "maverick" sort of art department where students figured that, if nobody else in the fine art world was taking them seriously, they had nothing to lose.
After 12 years as a freelance commercial artist, Bavington turned to fine art full time. For several years, he created what he calls "stripe" paintings featuring vertical combinations of multicolored stripes through which he explored aesthetic ideas of proportion and harmony. Then, about five years ago, he happened upon the notion of applying musical structure to those abstract designs, coding the stripes by color to works of music.
It's not a new idea, Bavington notes. For hundreds of years, artists have been exploring "the correlation between light waves and colors and musical tones and sounds," he says. "Isaac Newton, back in 1665, (devised) a color wheel with notes attributed to colors.
"So there are many, many variations of this throughout the history of painting. And as I started to do my own related to the music that's relevant to me, I thought, instead of relating these colors to piano keys, relating them to the guitar."
Bavington has found that what some would consider simplistic songs are the toughest to transform into color. Punk rock, for example, contrary to its three-chord stereotype, is "very minimalistic but highly sophisticated," Bavington says.
But his work continues to evolve. "I experiment more than people know," Bavington says.
There is somewhere Bavington's experimentation won't be taking him: You're unlikely to see him picking up a guitar to play music in public.
"I'm an artist who's a frustrated musician," Bavington explains, smiling. "How many musicians, or film actors, you know are frustrated artists? And they don't make very good painters."
"I can destroy a guitar," Bavington jokes, but "don't worry. I won't be playing music."
Contact reporter John Przybys at jprzybys@reviewjournal.com or 702-383-0280.