March 24, 2010 - 11:00 pm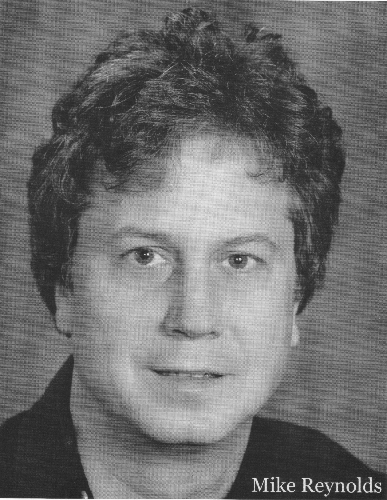 Mike Reynolds begins his workday by pushing casino chips to a man with a gray beard who blows cigar smoke into his face.
Five weeks a year, Reynolds cracks audiences up opening for Carrot Top at Luxor. It's the last vestige of what was once a promising stand-up comedy career.
The other 47 weeks, Reynolds is a swing-shift craps dealer at the Golden Nugget, where the only thing his audience wants to hear out of his mouth is a winning dice call.
"This is a great place to work," Reynolds says during a break. "If you're dealing downtown, this is the crown jewel."
Reynolds, 51, was among the first stand-ups to play clubs dedicated to live comedy. In 1977, he was a regular at Manhattan's Comic Strip while still a senior at Long Island's St. Mary's Boys High School.
While waiting for stage time together, Reynolds forged friendships with a waiter and a cab driver whose names
happened to be Jerry Seinfeld and Larry David.
"Mike was there at exactly the right time," says Los Angeles comic/producer Ritch Shydner, a member of the same comedy social circle, "poised like the rest of us to take advantage of all the ridiculous fame and money showering from the '80s stand-up explosion."
Reynolds' jokesmithing earned him several "Evening at the Improv" and "Comic Strip Live" television broadcasts. Briefly, he even escaped the clubs, gigging for $1,500 a night on the college theater circuit. By 1990, Reynolds placed third out of 1,200 comics in the New York Comedy Competition.
A less conventional measure of his voluminous buzz was one of his girlfriends at the time: singer Patty Smyth of Scandal, among the most desirable women of the '80s. They met while she waited Comic Strip tables and they keep in touch to this day.
"You see this watch?" Reynolds asks, turning his left wrist.
Smyth sent Reynolds the $1,200 Raymond Weil for his last birthday. It was a freebie given to her husband, John McEnroe.
"She's the best," Reynolds says.
What makes Reynolds' fall from grace so heartbreaking is that there was never much grace. His career highlight came in 1997, four years after he moved to Hollywood. Reynolds landed a three-week tryout to write for "Saturday Night Live." He was recommended by his comedy-club pal (and then-"Weekend Update" anchor) Colin Quinn.
Just before flying to New York, however, Reynolds ruptured two vertebrae. He says Quinn blames him for sabotaging the tryout.
"But I couldn't walk," Reynolds explains. "I was sitting there in agony, writing sketches with Chris Kattan and Tina Fey. And the next thing you know, I'm not there anymore."
Back surgery led to an addiction to painkillers as Reynolds retreated to the clubs. There, he says, his previous momentum was lost and he watched another generation of comedians — Chris Rock, Ray Romano and Adam Sandler among them — rocket over his head.
Reynolds blames bad luck.
"Most of the time, people just don't make it at this," he says. "There's no rhyme or reason."
But he also blames himself.
"Maybe I didn't try hard enough," he says. "Maybe I spread myself too thin. I definitely drank too much."
There also was an addiction to sports betting that by 2000, Reynolds says, earned him credit-card debt totaling $40,000 and the nickname "Mike the Deadbeat."
Despite working for four years as a personal trainer, Reynolds owed money to almost everyone he knew — including his famous friends. "Mike chose to dance with his demons and became a cautionary tale," Shydner says.
Even in those unfunny days, comedy hope was never completely lost. Instead of hiding from the dozen collection agents who phoned each day, he messed with them and released the recorded results on a CD. Sales of "Mike the Deadbeat" totaled about $8,000. Unfortunately for Reynolds, the CD also cost about $8,000 to make. (The only good news: Since his debt was unsecured, Reynolds says, it vanished after seven years.)
Another low point came in 2003. At 44 years old, Reynolds was living with his elderly mother in Florida and telling jokes at venues so undistinguished, one was an actual Denny's.
"Half the crowd had to turn around because they were sitting in a booth facing away from me," he says. "At least my life now is better than that."
Back at the Golden Nugget, Reynolds continues calling rolls and scooping die. The man with the gray beard blows more smoke.
"This is a happy table," Reynolds says. "No one has lost yet."
Some of Reynolds' successful friends keep tabs on him. They may feel guilty for leaving him behind. Just four days ago, Quinn left a voice mail.
"He said, 'Hang on, hang on,' " Reynolds says. " 'Something will happen.' "
Not only did Larry David once messenger Reynolds a cashier's check for $1,500 to ease his debt, he cast him in the opening scene of his pilot for HBO's "Curb Your Enthusiasm." (Reynolds can be seen asking David why someone worth a half-billion dollars would want to return to stand-up.)
Reynolds bet on Vegas in 2004. He borrowed $2,000 for the move from his mother and phoned his old connections for work, dribs of which he got at the Riviera and Comedy Stop. The Carrot Top audition came via a mutual writer friend.
"I like Mike's style," Carrot Top says. "He's been doing it a long time so he has that good delivery, and it's pretty good stuff. I always laugh out loud when I'm backstage listening."
But opening for Carrot Top is a revolving position shared by four comics throughout the year, and Reynolds' bills don't pay themselves.
"I don't know the secret to getting work week after week," Reynolds says. "You've got to call this guy, you've got to call that guy. The last time I worked the Riv, I had some of the best shows of my life and the guy stopped picking up the phone." (Reynolds hasn't had an agent since 1997.)
So Reynolds went to dealing school six years ago, working briefly at Whiskey Pete's before landing at the Golden Nugget.
"Being a comic is what I want to do," Reynolds says. "But when you're getting evicted, how do you do comedy?"
Eventually, Reynolds would like to write for a sitcom or sketch show based in Los Angeles. In his dream's favor, Reynolds says his gambling and drinking days are behind him. And Reynolds is one of the only struggling comics on earth who can make phone calls that Jerry Seinfeld and Larry David would take.
Yet he won't make them.
"Not until I have something that's good enough," he says. "I wouldn't waste their time."
Reynolds says he's sketching out ideas and screenplay pages, but nothing's coming quickly.
"It'll probably take another year," he says.
A man wearing a sequined Kansas Jayhawks blazer approaches the craps table, staring strangely at his dealer.
"So Mike, what's the deal with Ovaltine?" asks Aaron Rowbottom, a 36-year-old dentist from St. Louis.
Rowbottom had to check Reynolds' name tag to get the first name, but he definitely recognized the face. His question was a quote from Kenny Bania, a "Seinfeld" character who never gave up trying to make it in stand-up.
"You're a comedian, right?" Rowbottom asks.
Reynolds smiles, but he doesn't answer the question.
Contact reporter Corey Levitan at clevitan@review journal.com or 702-383-0456.