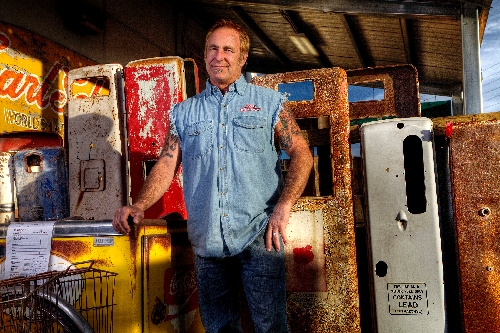 It all started with a Schwinn.
When Rick Dale was 9 years old, his dad gave him a battered bicycle, along with a simple reason for refurbishing it: "You need to be able to appreciate it."
But showing off the bicycle he fixed up by himself is nothing compared to the kinds of jobs Dale handles now.
His expertise at restoring yesteryear's relics — from bubbling-neon jukeboxes to machines that used to dispense everything from gasoline to stamps to soda pop — has transformed Dale, and Rick's Restorations, his Las Vegas business — into a TV staple.
Initially, Dale ran Rick's Restorations from his home and made appearances on the History channel's smash Vegas-based "Pawn Stars" series
These days, however, Rick's Restorations operates out of a sprawling warehouse, shop and yard on Commerce Street in downtown Las Vegas.
And Dale has his own History series, "American Restoration," which begins its second season this month in a new Wednesday night time slot. (The show attracted an average 2.5 million viewers when it aired on Friday nights.)
During the new season, Dale and his crew tackle an eclectic array of artifacts from bygone eras, including a 1913 meat slicer and an antique mechanical bull.
Some items don't look like much of anything when they arrive.
Take the coin-operated coffee and hot chocolate dispenser he discovered, abandoned, behind a school next to a trash container.
"It was being thrown away," he notes, and because it came from Vegas, Dale decided to theme it out accordingly: with a rustic howdy-pardner design painted on its wooden cabinet, saluting the pioneer El Rancho Vegas hotel-casino on the Strip. Today, it sits in the Rick's Restorations showroom — with an $8,000 price tag.
But it's the items that customers bring to Dale that have the greatest impact.
"I used to run around and buy and sell," he recalls — and once an item was sold and delivered, "It was 'OK, bye.' "
Now, however, customers bring him objects they're emotionally attached to, he explains. "It's a piece of their life, and it's dead." That is, until "we do all the work" to bring it back to life — along with "the happy" emotional attachments.
"The love that's bringing those people in — that's definitely worth it," Dale says. "Memories are a good thing."
Sometimes the challenge is a particularly personal one, as when a customer wanted to fulfill his recently deceased father's last wish: to be buried in his hot rod.
"I couldn't say no," Dale admits.
And while the father didn't get all of his final desire, Dale and his team did manage to fashion an urn for the man's ashes that resembled the hot rod's hood scoop.
Dale also finds it gratifying to work on objects bound for museum displays, such as a 1940s railroad speeder he recently restored for Ely's Nevada Northern Railway Museum.
In part, that's because "I like the really complex stuff," he says.
But it's also "like a pride thing for me to show off my work," he admits. "As an artist, you're always interested to have people see your work," Dale says, citing the sad case of Vincent van Gogh, who never realized how his creativity eventually would come to be appreciated.
And no, "I don't think I'll be cutting my ear off anytime soon," Dale jokes.
Yet it was hardly a joking matter that got Dale into the restoration business in the first place.
It was back in 1983, he remembers, and "construction got bad."
But he still had to make a house payment, so he fixed up, and sold, a 1983-model Coca-Cola machine.
Dale then "met a guy who had 15 more Coke machines" he wanted restored, so Dale fixed those up, too — and, from there, moved on to gasoline pumps, appliances and other still-viable objects from the past.
"Our society is very disposable," he observes. "We've been tossing stuff forever," even though plenty of once-functional objects are "still out there and capable."
But Dale's restoration efforts extend beyond the items featured on "American Restoration" to include the entire Commerce Street complex that houses Rick's Restorations, which has been in operation for about a year.
An old Richfield oil sign hangs at one end of the building's facade.
Eventually, however, plans call for an entire vintage streetscape at Rick's Restorations, complete with signs touting businesses named after "American Restoration" crew members. They include "Kelly's Cup o' Joe Diner" — in honor of Dale's girlfriend Kelly, who handles the business end of the business — to a marquee for the make-believe Dale movie theater.
A Las Vegas resident since 1969, Dale remembers the days when locals and visitors could cruise Fremont Street — and he would love to "bring out downtown to vibrance" once again, he says.
To that end, he hopes to add Rick's Restoration to the shuttle bus route for the Arts District's monthly First Friday celebrations, attracting more visitors to his Commerce Street business, just around the corner from the Holsum Lofts on Charleston Boulevard.
After all, "it's right up my alley to restore stuff," he points out. "It's one of my dreams."
And while the TV show has brought him plenty of new customers — business has increased "50-fold" since its debut — "the show, to me, is not a make-or-break-it thing," Dale says. "If somebody came up and said, 'You're done,' " that would cause him no particular anguish, he maintains.
"I'm very hard on myself," he admits, citing the show's deadlines and stress as factors he wouldn't miss in the least. "I want to live a little longer than 54."
Contact reporter Carol Cling at ccling@reviewjournal.com or 702-383-0272.