'Undisputed Truth:' Boxing behind him, Tyson reaches new stage
November 13, 2013 - 5:15 pm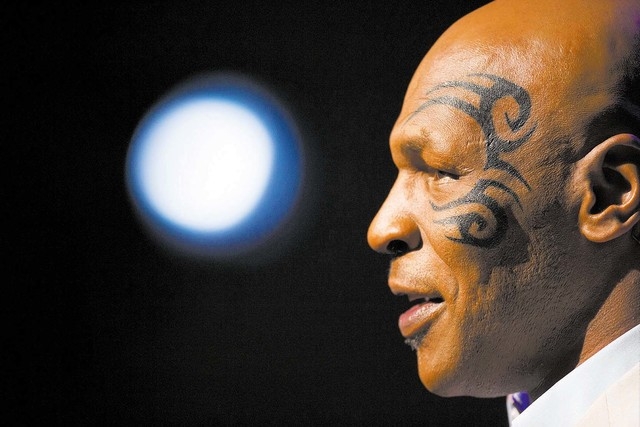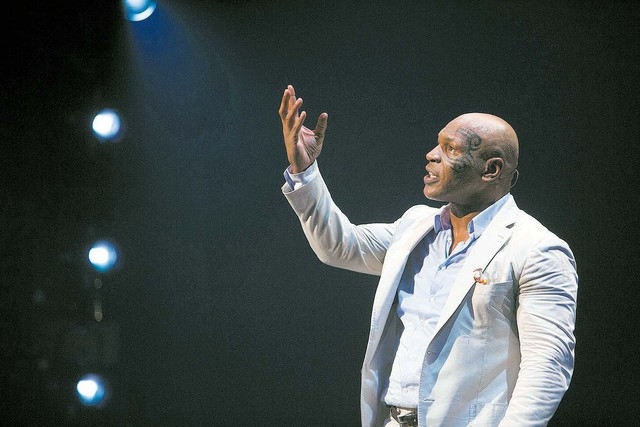 Mike Tyson fought Spike Lee and lost.
In shepherding the former heavyweight champion's one-man show from the MGM Grand's Hollywood Theatre to Broadway's Longacre Theatre, the director stripped away all of Tyson's crutches.
Gone were the rock band, the vocalist and the piano player, all of whom Tyson argued to keep because their onstage banter provided a safety net.
"Spike Lee took it and made me all by myself. Put me onstage pretty much emotionally naked, just baring my soul to people," Tyson recalls. "I couldn't have anybody to buffer. I had to take the full blunt of the crowd if they didn't like it. The humiliation. I couldn't blame anybody."
So now, whenever he performs the biographical "Mike Tyson: Undisputed Truth," which makes its televised debut at 8 p.m. Saturday on HBO, he handles the singing himself, warbling along to a snippet of Minnie Ripperton's "Loving You."
He also dances a bit, prances, shuffles, struts, prowls, jumps around, punches, kicks and generally works up far more of a lather than he did during many of his notoriously brief bouts.
At one point, he even dons a Jheri curl wig to mock Mitch "Blood" Green, his opponent in both the ring and the legal system.
The only way "Undisputed Truth" could be more surprising would be if Tyson were to suddenly start performing open-heart surgery or if he took the stage for the third act astride a unicorn.
No stranger to theaters — he's drawn crowds overseas for question-and-answer sessions — or acting — he'd appeared on episodes of "Webster" and "Who's the Boss?" long before his breakthrough in "The Hangover" — Tyson was inspired to try a one-man show after seeing Chazz Palminteri perform "A Bronx Tale" at The Venetian in 2009.
"Please, if you don't mind to excuse my French," the soft-spoken Tyson says, "it was so intense and we were so focused on every word and trying to grasp every sentence and every word that he was saying, you could hear a mouse piss on cotton. … You couldn't hear us breathe. I wanted to make people feel like that."
Much like the way Palminteri would occasionally bring "A Bronx Tale" back to the Strip, Tyson says he "absolutely" wants to perform "Undisputed Truth" again in his adopted hometown. But first, he's scheduled a European tour for the spring. Just last week, he took the show to Dubai.
The Great White Way, though, remains the pinnacle. Given his turbulent upbringing, could his younger self ever have imagined that he'd one day star on Broadway?
"Not in a thousand years," Tyson says during a Halloween phone call from New York, where he was promoting the special as well as his new autobiography of the same name, a 580-page brick of a book written with Larry Sloman.
"I would never have believed that, because I would just have wanted to fight forever. Because I thought that was all life was about."
Although, as he notes in the show, "Many people thought this was my first time on Broadway, but it wasn't. I actually got arrested on this same block."
He says it for comedic effect, but it's one of several insights into what made a young Tyson one of the scariest men on the planet.
That arrest was one of 38 before he turned 12. He's not entirely sure whether he was fathered by a local pimp or the Jamaican taxi driver whose name is on his birth certificate. And, as part of the slideshow and archival footage that form the fabric of "Undisputed Truth," he shares both the only picture he has of his mother and the regret of knowing little about her.
During the freewheeling 80-minute show written by Kiki Tyson, his wife of four years, Tyson doesn't shy away from his problems with cocaine and his weight, 160 pounds of which he's shed. He maintains his innocence in the rape case that sent him to prison in 1992. And while he slams his ex-wife Robin Givens, his harshest words are reserved for promoter Don King, who he says once charged him $8,000 a week for towels.
But the most difficult parts of the show for Tyson are the segments dedicated to his 4-year-old daughter, Exodus, and his 77-year-old father figure, trainer Cus D'Amato, both of whom died too soon.
For all the raw, intimate looks at his life, though, "Undisputed Truth" is remarkable for the way it shows the funny, charismatic side of the man who once famously proclaimed that he wanted to eat fellow boxer Lennox Lewis' children.
Even though he stumbles over parts of the script, he tells the audience about working with a speech coach for some of the more troublesome words, and they respond with cheers when he correctly pronounces "epiphany."
At one point in the show, he notes how his rough-and-tumble neighborhood now boasts a Whole Foods. "You know," he says with a grin, "once those white people move in, there goes the neighborhood."
Tyson reveals that the jovial, gregarious fellow people see onstage was always a part of him. "But being a fighter, being champion, wouldn't allow it to come out. Because people would look at me in a certain way, and that would be a form of weakness."
So what happened to that terrifying guy? The one who, after his second encounter with Evander Holyfield, threatened to overtake Hannibal Lecter as America's most-feared taster of human flesh?
"I guess that guy's pretty gone now. That guy's dead," he says.
"This guy's the guy I enjoy being now. The funny guy, the guy that just makes people laugh and people wanna see onstage and fool around and wanna come backstage and take pictures with. This is a less stressful life."
Speaking of stress, Tyson says he's in a much better place than he was in August, when he made international headlines by labeling himself "a vicious alcoholic" and saying he was "on the verge of dying" because of it.
"I'm doin' fine. I'm doin' fine. I just made a mistake," he admits, declaring himself two-and-a-half months sober. "I'm doin' real well. I'm totally recovered from that."
Given where he's been and the hardships he's endured, sobriety may seem an unlikely role for Tyson. But it's no less of a stretch than his turn as surely the only performer in the long history of the Tony Awards to sport a prominent face tattoo.
And for that, he credits Kiki.
"I just love my wife. My wife allows me to be the person I am. I'm almost like a Neanderthal without my wife."
As for that other person, the menacing brute still etched in the minds of many, Tyson says, "I just didn't wanna be that guy anymore. And in order to be the person I wanted to be in life, I had to be that guy.
"And the person I wanna be in life, to succeed, I have to be the guy I am now."
Contact Christopher Lawrence at clawrence@ reviewjournal.com or 702-380-4567.