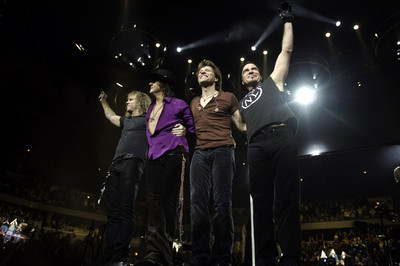 His life is like a country song these days, so it's only fitting that he's started writing them.
It's been one of those years for Richie Sambora: In the past 12 months, the Bon Jovi guitarist has had to cope with the death of his father, a divorce, a breakup with his girlfriend and a stint in rehab.
It's as if he's being chased by storm clouds, walking under ladders for a living.
"Just because you're a rock 'n' roll star doesn't make you exempt from any of life's tragedies that happen," Sambora says during a recent conference call with journalists. "I had a couple of them kind of mount up on me a bit. But, the band is obviously a great aid in pulling me up and helping me out of all those situations.
"About a week after I got detoxed and stopped all that stuff, I went right back to work," he continues. "And we just started touring and promotion on the 'Lost Highway' album. Between the band and the fans in my face, they got me through it."
Sambora still has struggles — two weeks ago, he was arrested for driving under the influence with his daughter in the car — and it's palpable on his band's latest record, the searching "Lost Highway," which shares its name with a maverick country label and a Hank Williams standard and follows suit sonically.
A rootsy, dust-in-the-throat kind of album with a subtle, fiddle-abetted twang, the disc sees Bon Jovi dipping its toes into the Nashville tradition. This follows the band's becoming the first rock act to notch a number one hit on country radio with its 2007 smash, "Who Says You Can't Go Home."
"Country music is something that I actually kind of felt as I grew up a little bit more. I think I sort of came to it," Sambora says. "I hope that we turn people on to a new kind of country music, because our piece is not that much country. I think that the piece that is country is a songwriting piece."
To hear the band tell it, Music City itself played a role in the evolution of the record.
"We've gone to Nashville on and off, individually and as a group, for 17 to 18 years," drummer Tico Torres says. "And you know, it rubs off.
"It was a nice venture for us to do that," he adds of making a country album. "We kind of did it as performing an experiment, and it turned into a real record. And everybody seemed to like it, as well as ourselves."
Still, to argue that Bon Jovi has gone country is really telling only half the story.
In actuality, it's not that the band has altered its sound that much — "Lost Highway" still teems with the huge, fist-in-the-air choruses and big, spit-shined production that long have been the band's trademarks — its that in recent years, country music stars have increasingly borrowed a page from arena rock acts such as Bon Jovi.
Check out a Kenny Chesney gig, where he takes the stage to AC/DC tunes and revels in the over-the-top raucousness of a fiery rock 'n' roll show, or sample a Rascall Flatts record, which tones down the honky-tonk flourishes of country's past in favor of a much slicker, radio-tailored sound that acts such as Bon Jovi patented two decades ago.
In an odd way, Bon Jovi's stab at country is more traditionalist than, say, someone like the pop savvy Keith Urban, and so, ironically enough, it's taken a rock band like this bunch to make Nashville pay a bit more attention to its roots.
"To say that country music is moving back in the pop direction, on the contrary, it has now moved back to a more country kind of thing," Sambora says. "I think that what was happening when 'Who Says You Can't Go Home' became a No. 1 country single, it was moving in the really rare pop rock direction. Nashville is a very, very cliquey place down there, and I think they held it back this time. They went back to what real country is about. Our album couldn't have been more successful in the country market if it wasn't for that."
Still, don't look for these dudes to start donning spurs any time soon. They're not about to become a full-fledged country act.
But they are trying to grow a little, trying to find themselves — just like their guitarist.
"It's completely unclear that we will stay in that genre," Sambora says. "I don't think we'll ever make another country album completely again. I think that it will always be a piece of our sound. I mean, the Rolling Stones had a lot of country elements to them in the beginning.
"There's a definite link between country and rhythm and blues," he continues. "There's some southern twang blues thing that goes on that really created rock 'n' roll, so it's going to be an element. I think that's going to stay in our music."
Contact reporter Jason Bracelin at jbracelin@reviewjournal.com or (702) 383-0476.
who: Bon Jovi with Daughtry when: 8 p.m. Saturday where: MGM Grand Garden arena, 3799 Las Vegas Blvd. South tickets: $68.25-$210 (891-7777)