Video game music goes 'classy'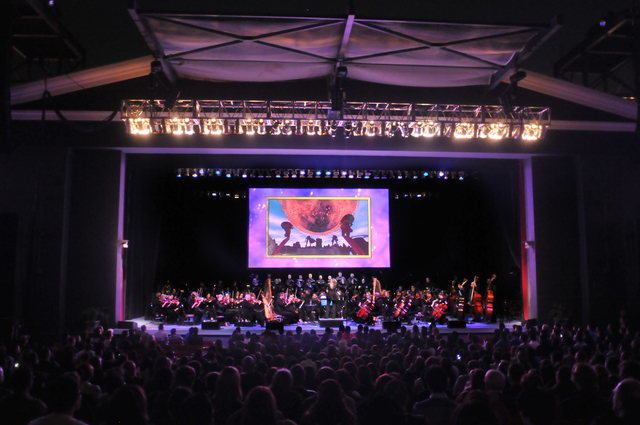 On Wednesday, the Venetian will stage a huge ode to "The Legend of Zelda" with a symphony/video show featuring three decades of video game sights and sounds.
Event producer Jason Michael Paul says "The Legend of Zelda: Symphony of the Goddesses — Master Quest" ($66-176) is a really big production based on arrangements by serious composers.
But there won't be lasers, fog, people in dragon costumes or anything super crazy going on simultaneously, which is how I would do it, because I'm juvenile.
"I'm not trying to disguise that original music. I'm trying to make it bigger," Paul said. "I'm simply trying to maintain that original sound, but just put the Hollywood touch to it.
"This is a postmodern reality in a postmodern-reality city," he said.
As the Review-Journal's Mike Weatherford wrote on Sunday, there has been a conflict between Paul and the Las Vegas Musicians Union (Local 369) musicians who expected to play this show.
Paul decided to bring out-of-town musicians at a lower rate, and the local union called for a boycott.
I'm not going to rehash Weatherford's fine story. Instead, I was curious about what this concert will seem like artistically.
The answer is, this is serious music.
"Zelda" and video games come with vibrant classical scores. Even gamers who play shooting games hear orchestral songs that are sweeping, epic, and romantically triumphant.
So concerts like this one propel a new hope for symphonic events to reach more people without dumbing down the music as much as pops concerts do. As long as they don't come with controversies, I guess.
Paul has been promoting "classy" classical video game concerts for big crowds in Atlanta, San Francisco and internationally.
"I started at the very bottom" by working for event companies, he said. "Who would have thought, 10 years ago when I started this with 'Final Fantasy,' I'd have 12,000 people in a sold-out arena in Mexico City?"
Actually, arena shows for video game events couldn't surprise me, the Game Dork, less. However, in the future, I would kindly request lasers, fog and characters in costume, too, because I'm an exclamation person.
Contact Doug Elfman at delfman@reviewjournal.com. He blogs at reviewjournal.com/elfman. Find him on Twitter: @VegasAnonymous.