Wanna be on 'Pawn Stars' spin-off TV show?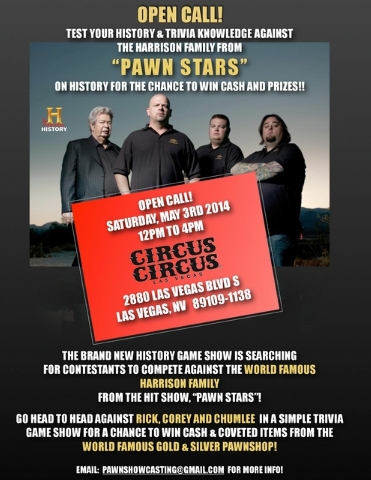 "Pawn Stars" just sent us a very urgent note, to alert you fans that you can try out for the TV show's spin-off game show at an open call — on one condition.
You must be local. Or as the note they sent us reads in desperate upper case letters:
"VEGAS LOCALS ONLY."
Producers want "trivia buffs, fans of pawn stars and serious hagglers. Locals will have a chance to not only show they know more than the guys on 'Pawn Stars' about trivia and history..but they'll get the chance to win stuff right out of their shop!"
Just show up noon-4 p.m. Saturday in Circus Circus. For more information, email pawnshowcasting@gmail.com.
I tried to call the point person for the new show, but he didn't pick up several attempts so, meh, I've got dinner to eat, dude, I don't know who you think you are but you are not pizza. (Just kidding, dude, relax, but you are not pizza.)
By the way, Tuesday night was Chumlee bobblehead night for the San Francisco Giants. He was at some pre-game antique show.
The bobbleheads, featuring Chumlee in a Giants shirts are already selling for $38 on eBay.
Also, do you see this video below? It's good, right? Why doesn't the "History" channel make a spin-off featuring bobbleheads and voice-overs? That seems way more possibly entertaining to me than a game show. I mean, that's why I'm not an executive in Hollywood.
[youtube https://www.youtube.com/watch?v=2GG3ErigGhA&w=640&h=360]