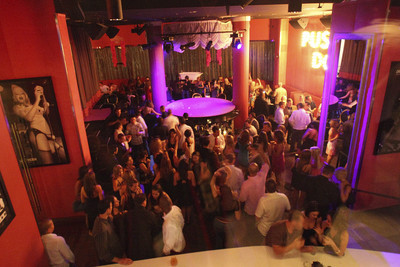 You'd have to have been hiding under a rock — a rock on another planet, even — to not know about The Pussycat Dolls.
But what you may not know is that The Pussycat Dolls maintain a dollhouse right here in Las Vegas.
And at The Pussycat Dolls Lounge at Caesars Palace, any woman — and, it goes without saying, any guy seeking out the can't miss combination of fun times and attractive-and-talented women — can revel in that distinctive PCD vibe.
The Pussycat Dolls Lounge, located adjacent to the Pure nightclub, opened in 2005. The room, which can accommodate about 200, is decked out in a retro/hip style that brings to mind the glory days of burlesque, with onstage touches that include a giant champagne glass, swings hanging from the ceiling and a dancer's pole.
The amenities aren't just for show, either: A Las Vegas-based troupe of Pussycat Dolls at least twice a night. And, on any given night, there's even a chance that the Las Vegas Pussycat Dolls will be joined onstage by a guest Doll. (The roster of guest Dolls so far has included Paris Hilton, Jessica Simpson, Pamela Anderson and Denise Richards.)
The primary idea, says Matt Tiffany, manager of the Pussycat Dolls Lounge, is to create an atmosphere in which guests can "feel comfortable."
In addition to the intimate ambiance is "great, top-notch service," Tiffany adds. "It's not an overbearing club where you get lost in the corner and don't see a cocktail server for hours."
When the Las Vegas Pussycat Dolls aren't performing, there's music and dancing and, maybe, the chance for a guest to release her own inner Pussycat Doll.
"Our newest feature is basically a pole for anyone who feels brave enough to let their inner Pussycat Doll out," Tiffany says.
Women love it, as well as the general PCD vibe, he adds.
"Know what? I hear more girls who want to go to the Pussycat Dolls Lounge than guys. They actually love to watch these girls in action."
The Pussycat Dolls Lounge is open from 10 p.m. to 4 a.m. Tuesdays, Fridays and Saturdays. Cover is $5 — that's in addition to the Pure cover — although women enter free and cover is waived Tuesdays for locals.
For more information, call 731-7873.
Contact reporter John Przybys at jprzybys@ reviewjournal.com or 702-383-0280.
Las Vegas Club Scene