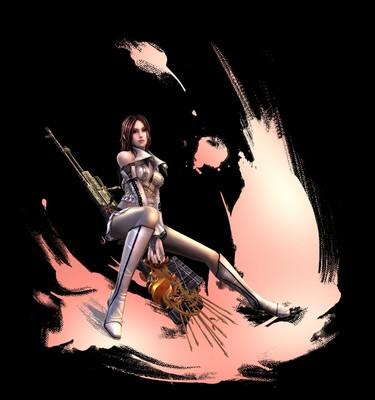 The first game-girl I fell in love with was Jill Valentine. She got trapped in an evil mansion. I guided her through its shadowy hallways, where devil dogs jumped at her through glass windows and undead monsters tore at her torso with enormous "clip-clop" claws.
Jill was stunning as a strong siren, firing bullets and a grudge, starting with 1996's "Resident Evil." In retrospect, she was overdressed, sporting a military uniform; sometimes, a black skirt and blue tube top. All class, that Jill.
If you beat the masterful "Resident Evil," the next time you played, you could dress down Jill in a closet. That option was not included in the Milla Jovovich movies based on Jill's "Resident Evil" game series.
Since Jill's debut, only a few handfuls of games for consoles — PlayStations, Xboxes and Nintendo systems — have truly hiked up skirts or put major topless characters in G-strings. (PC games have been more explicit, dating back to at least the early 1990s.)
To be blunt, nude, feminine sexuality is uncommon in games, no matter what politicians and anti-nude interest groups would have you believe. Sex and sensuality is still verboten, while mass violence is the norm, just like on network TV and in American movies.
On point: "Grand Theft Auto: San Andreas" was rated "Mature" — with its hundreds of gruesome, bloody deaths — until honchos at the Entertainment Software Ratings Board found a striptease in it; then they slapped an 18-and-over "Adult" label on it.
I just finished poring over hundreds of my game reviews from the past few years. Then I looked ahead at a few titles coming out soon.
After all that, I could barely scratch together a list of Top 10 Nude (Or Might As Well Be) Moments In Platform Games. (There are loads of topless, muscle-bound men in action-adventures and shooting galleries. But that's not really the same, is it?)
I discounted forgettable games, like the old racing title, "BMX XXX," co-starring topless women riders. Instead, these are popular and/or good games bearing a powerful, sensual impression. The Top 10 in order:
"Leisure Suit Larry: Magna cum Laude"; the "God of War" series; "Playboy: The Mansion"; "Dead or Alive Xtreme Beach Volleyball"; the "Grand Theft Auto" series; "TimeSplitters: Future Perfect"; "Pocket Pool"; the "Tomb Raider" series; "Bullet Witch"; and "Heavenly Sword."
The latest sexy title is "Bullet Witch" for Xbox 360. You play as Alicia the witch and kill ghouls after Judgment Day. She's clothed, but leatherwear clings skintight over her intense attributes. Too bad it's a dumb, repetitive game of killing that wastes beautiful artistic sets.
Sex maniacs shouldn't fret, though. "Pocket Pool" just came out for Sony's handheld PSP. It's a billiards title where, once you win, you're treated to photos and videos of nearly naked women bending and so forth in suggestive poses.
And later this year, PS 3 owners can buy "Heavenly Sword," in which a redheaded woman slays fellow warriors while spinning cartwheels in a G-string.
Because, if anything says, "I'm gonna beat you up real good with female empowerment," it's a world-class, world-saving fighter in a G-string.
("Bullet Witch" retails for $50 for Xbox 360 — Plays repetitive, while killing post-apocalyptic monsters as a witch. Looks good. Moderately difficult. Rated "M" for blood, language, violence. Two stars out of four.)
DOUG ELFMANMORE COLUMNS
NEW IN STORES "MLB '07: The Show" for PS 3 switches up baseball a bit by letting gamers play offense and defense more fully, rather than mostly hitting and pitching. You can even fast-forward to your next field play. It retails for $60 for PS 3 and is rated "E." "Pocket Pool" for PSP is a billiards game that rewards good playing with video and screenshots of suggestively posed women. It retails for $30 for PSP and is rated "M" for partial nudity, sexual themes. — By DOUG ELFMAN