WWE villain Natalya loses two front teeth but not her smile
October 5, 2016 - 5:15 am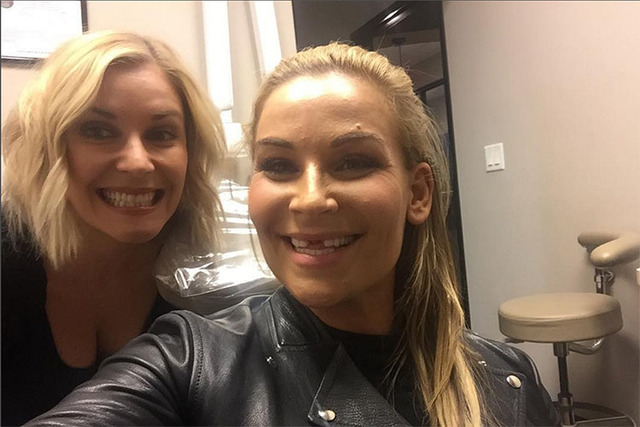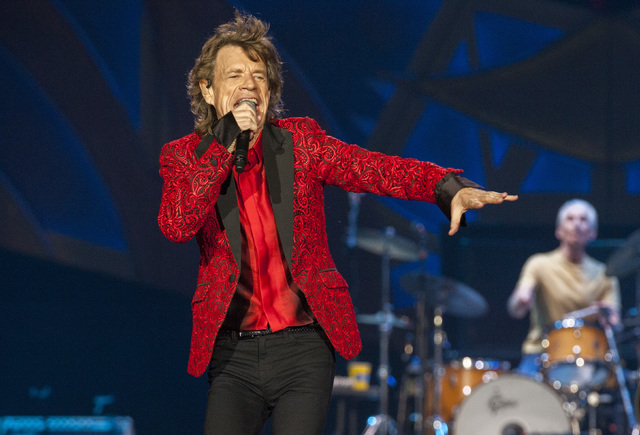 WWE wrestling is all fun and games until you lose your two front teeth.
Former champ/WWE villain Natalya was rushed to a dentist this weekend after getting her top grill knocked out during a two-on-one wrestling match with "SmackDown" rivals Alexa Bliss and Carmella in Las Vegas.
On Sunday, Natalya (Natalie Katherine Neidhart, 34) Instagrammed a "before" photo of herself happily smiling with a big gap.
"Just grabbing two new front teeth!" she wrote.
Then she posted an "after" photo of her fixed mouth, thanks to Dr. Aaron Atwood at Urgent Dental, 500 E. Windmill Lane.
Natalya made the best of it. She posted photos of her WWE friend Renee Young, in tow, who slapped on a dental mask and blue gloves as if she were helping.
Natalya didn't say how she lost the choppers during the match, which was not televised. As of Tuesday, there didn't appear to even be online video of the accident.
If you don't know Natalya: She's a third-generation Canadian wrestler (the daughter and granddaughter of wrestlers) living in Tampa, Florida. She managed wrestler Tyson Kidd before marrying him, then co-starring as a life actor in "Total Divas" on E!
NO VEGAS FIANCE FOR AVERY?
People magazine broke a story that Steven Avery — the convicted murderer/star of Netflix's "Making a Murderer" — ended his engagement with Las Vegas paralegal Lynn Hartman.
They'd been dating by phone and mail for eight months, although reportedly they had met once.
Then they went on "Dr. Phil."
"Something happened at Dr. Phil," People quotes a source without further elaboration, but quoting sources saying the convict's family didn't think the Vegas woman was good enough for him, doubting her intentions, and claiming she wanted his parents erased from his visitation list in prison in Wisconsin.
STONES DO DINNER SHOW
The Rolling Stones played 14 songs in a 90-minute private concert in a Bellagio conference room on Monday night for 1,200 truckers.
The occasion: A Freightliner customer appreciation dinner of the American Trucking Association's Management Conference &Exhibition, according to Transport Topics magazine.
Onstage, Mick Jagger praised truckers and the corporate executive who booked the band, according to Transport Topics, which reported:
"Jagger named several Freightliner truck models, saying they were great for taking the family on a Sunday afternoon drive. He also joked he was asked not to name any specific trucking companies or executives, something that Paul McCartney had done during his set at last year's Freightliner dinner in Philadelphia."
Reminder: Jagger invented the anti-sellout lyrics, "When I'm watchin' my TV, and a man comes on to tell me, how white my shirts can be, well he can't be a man 'cause he doesn't smoke the same cigarettes as me, I can't get no satisfaction."
But artists often say they find satisfaction in earning as much as three times as much money doing "privates," even if crowd enthusiasm pales in comparison to ticket-buying fanatics at public shows.
J-LO/CALVIN HARRIS RUMORS
The National Enquirer claims Planet Hollywood headliner Jennifer Lopez and Hakkasan Group DJ Calvin Harris could be hiding dates under the guise of recording music together in Las Vegas.
The duo danced together at J-Lo's birthday party back on July 24 for Harris' Instagram. But a seven-second Instagram video in which two people dance without touching does not a relationship make.
Besides, Lopez is filming two TV shows and running a Vegas show, while Harris DJs around the world. I'm not saying the Enquirer is right or wrong. But what kind of relationship would that even be?
TEACHER'S PET
As reported Monday, actor Nicolas Cage saw the topless show "X Country" at Harrah's over the weekend, from the first row, then said afterward it was awesome.
He couldn't get enough, apparently, and traveled to the Rio on Saturday to watch topless "X Rocks" from the front row.
As a teacher might tell you, front rows are for good pupils with wide eyes.
Doug Elfman can be reached at delfman@reviewjournal.com. He blogs at reviewjournal.com/elfman. On Twitter: @VegasAnonymous