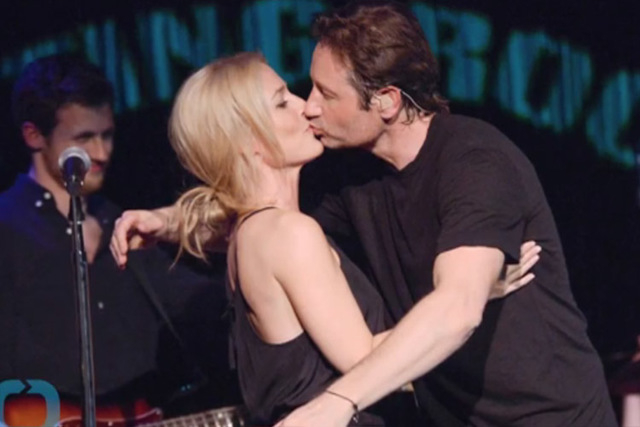 I have always been a big fan of David Duchovny, but he has a new album, oh no, oh no, ohhh nooo.
I saw this album, "Hell or Highwater," make a surprise appearance on my Google Play Music app. I couldn't believe my eyes.
Then I couldn't believe my ears. Is it folk rock? Yacht-rock? No, it's too relaxed to be yacht rock.
Wait, let's back up. I was in a garage band once. I sucked, so I was a billion times worse than David Duchovny, and I'm not as good-looking, smart, rich, generous, kind, successful or as actful as him.
Also, I'm thrilled he and Gillian Anderson (who's great in the creepy Northern Irish TV show, "The Fall") will begin filming an "X-Files" reboot this summer for a six-episode Fox show. They even kissed this week while performing Neil Young's "Helpless" on a New York stage.
But as much as I think it's a terrific idea for people to try new things?
Actually, his album is not so terrible, except when he speaks lyrics such as, "In the test of our love, darlin', yeah, if it's multiple choice, I've gotta mark 'None of the Above." But if he meant that to be funny, I apologize and now I'm laughing with that line.
Here's my constructive criticism. Actors get accustomed to talking subtly in front of cameras, because cameras require toning down. To be subtle on an album, however, you have to build a new singing muscle from the ground up, rather than transitioning an old muscle.
You can't just act a little louder in tune. You need to amp it up, study the effects of ranges and textures, and take a zillion voice lessons, or else you can end up sounding like you're just an amateur talk-singer, as opposed to professional talk-singers with a lot of mileage under their belts, like Neil Young, Bob Dylan and Tom Petty.
And that's where I land with Duchovny. He sounds like he has taken inaugural steps (better than I would have) on a path toward a new dawn, or whatever terrible metaphor I can't think of while listening to his musical debut.
So I don't want to be too harsh. Good for you, David Duchovny. Now get thee to some music classes.
Contact Doug Elfman at delfman@reviewjournal.com. He blogs at reviewjournal.com/elfman. Find him on Twitter: @VegasAnonymous