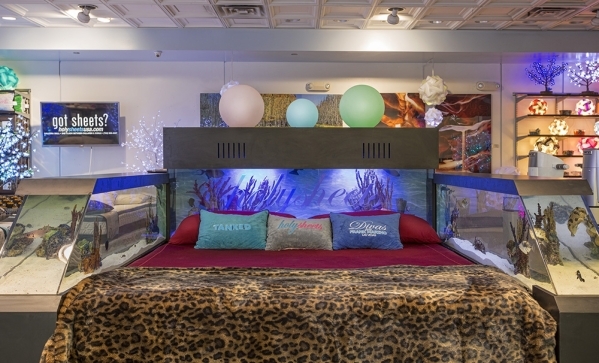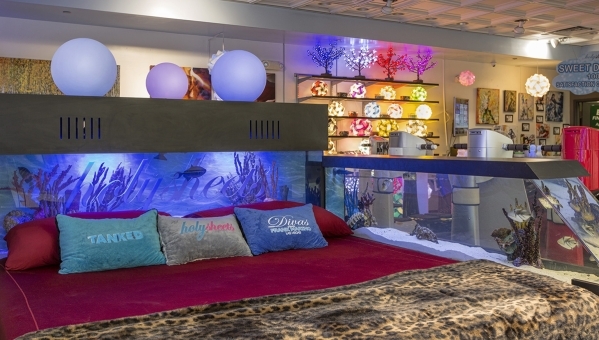 Eric Yugar, the owner of Holy Sheets, a boutique store in the Sunset Galleria mall, which sells luxury bedding and wellness products has a simple marketing concept: "anything that brings them in and makes them say 'Holy Sheets.'"
After meeting some of the Tanked show members, Yugar decided investing $30,000 on a custom aquarium for his store would be just the thing to draw in customers, and faster than you can say "holy mackerel," it worked. "It's great advertising, a no-brainer," he said.
The tank has three separate compartments that wrap around a display bed and are filled with colorful Imperial Angel and blue tang fish. Maintenance costs $1,200 per month, Yugar said, "just to keep it looking good like that. The fist tank represents the store, so obviously it has to sparkle."
There are also several 8-gallon aquariums with seahorse and jellyfish as well and expensive electric massage chairs, all in place to induce bliss and boost sales. Yugar is a Pisces, to which he attributes his need "to have my water companions around at all times."
The store was featured on a "Tanked" episode, which aired a year ago, and public reaction has been "incredible" said store manage Lindsey Brennan. Kids in particular feel welcome there and "frequently ask how they can get one."
"Being on the show gave us credibility as a store," Yugar said. "Customers come in specifically to see the tank, and usually buy something. It not only helps the store, it also helps the mall."
In 2012 Yugar bought the state distributorship for Nature's Sleep which manufactures mattresses and bamboo pillows he said are comparable to major luxury brand products. The store also sells its own brand of high-thread-count sheets in 40 different colors and sells furniture through a catalog system.