Debbie Reynolds' son, Todd Fisher, shows off Las Vegas home
Updated August 20, 2018 - 2:23 am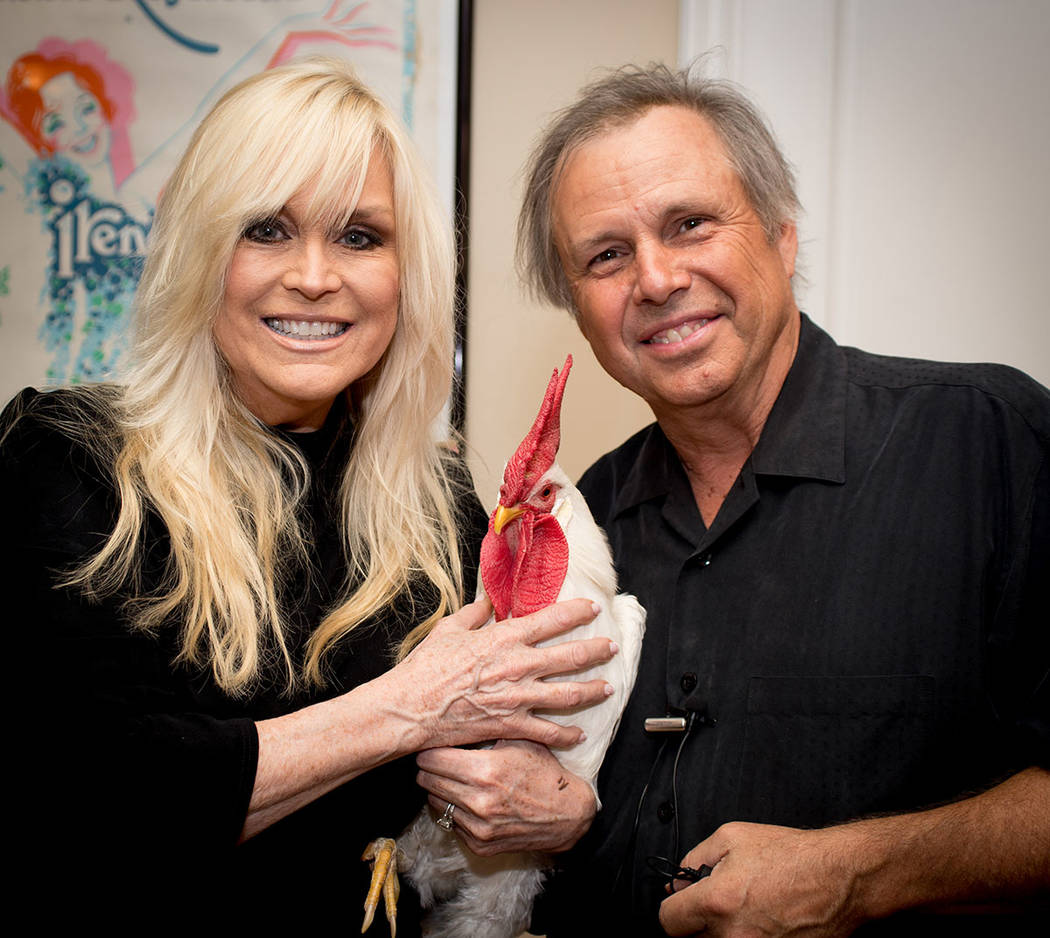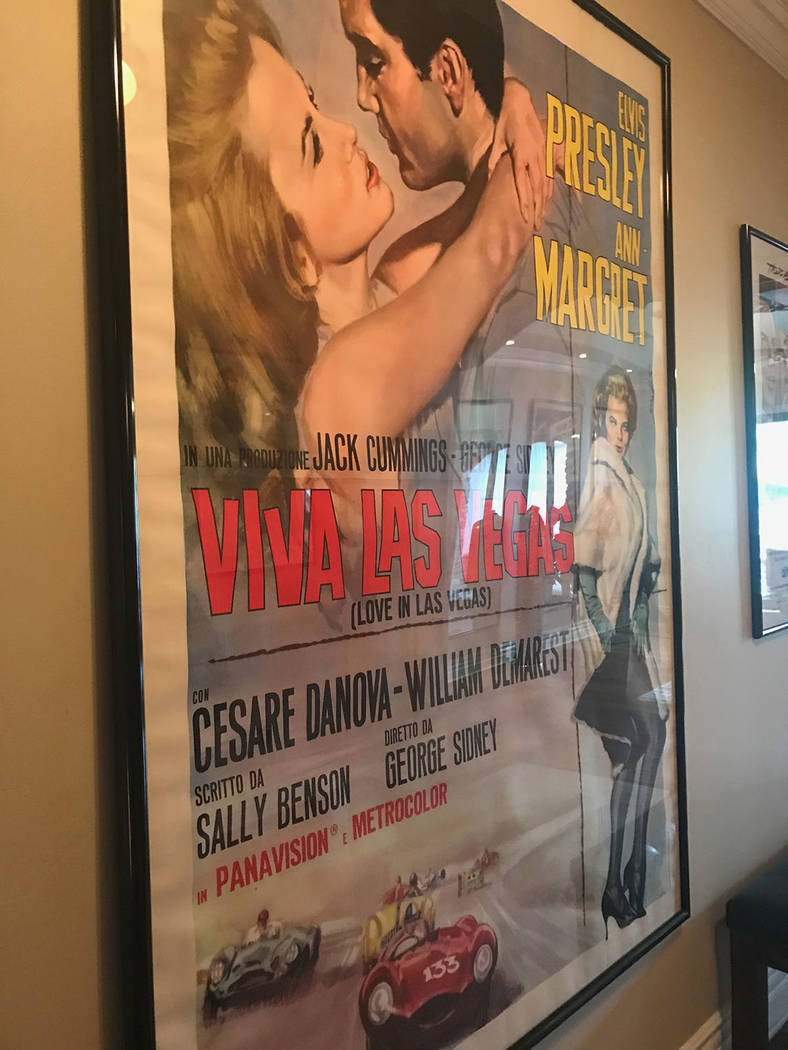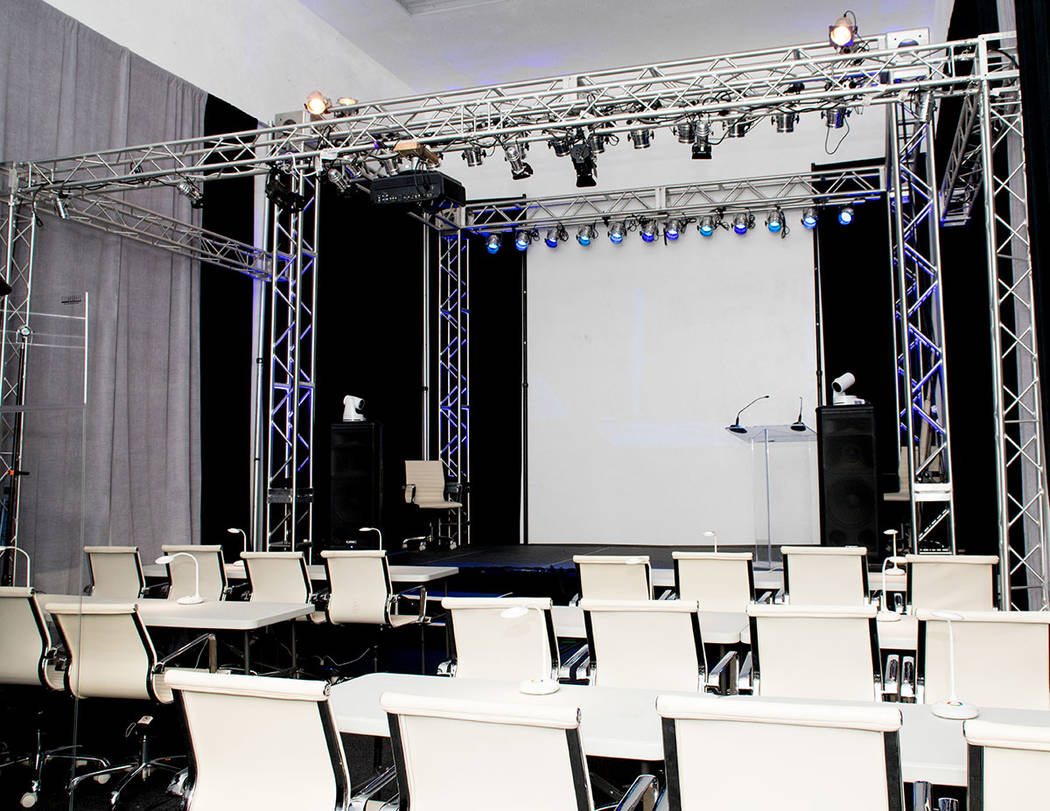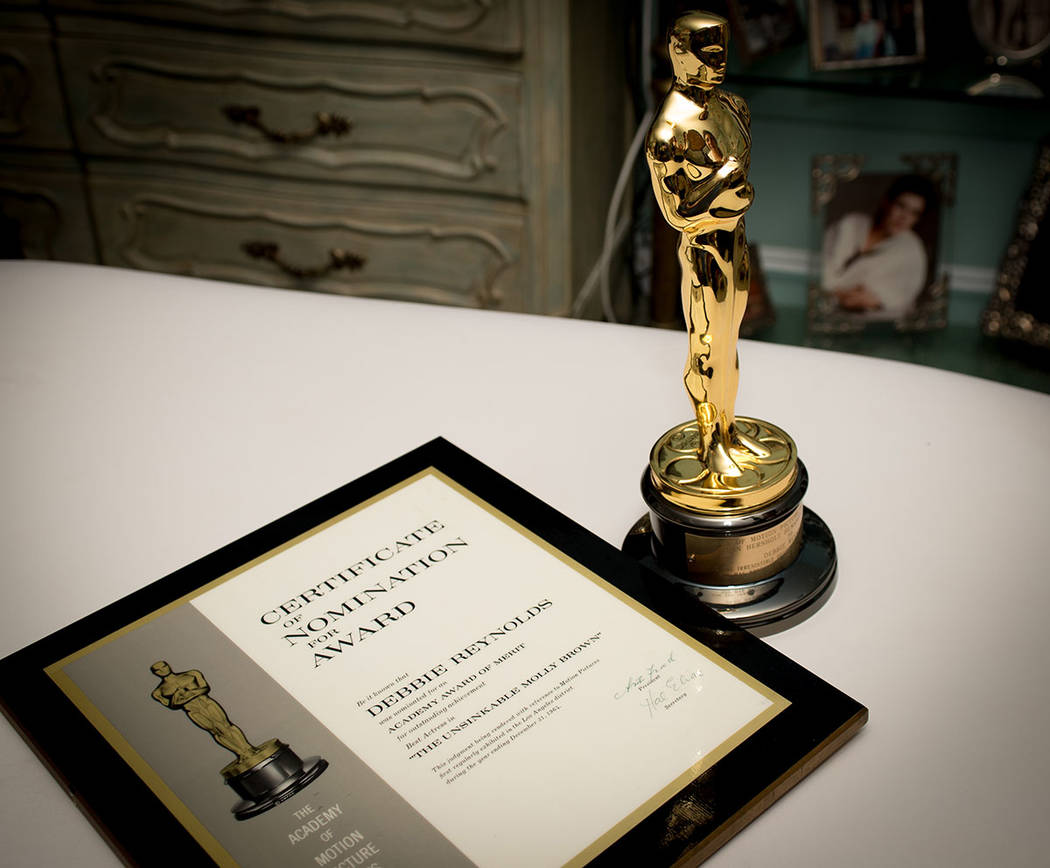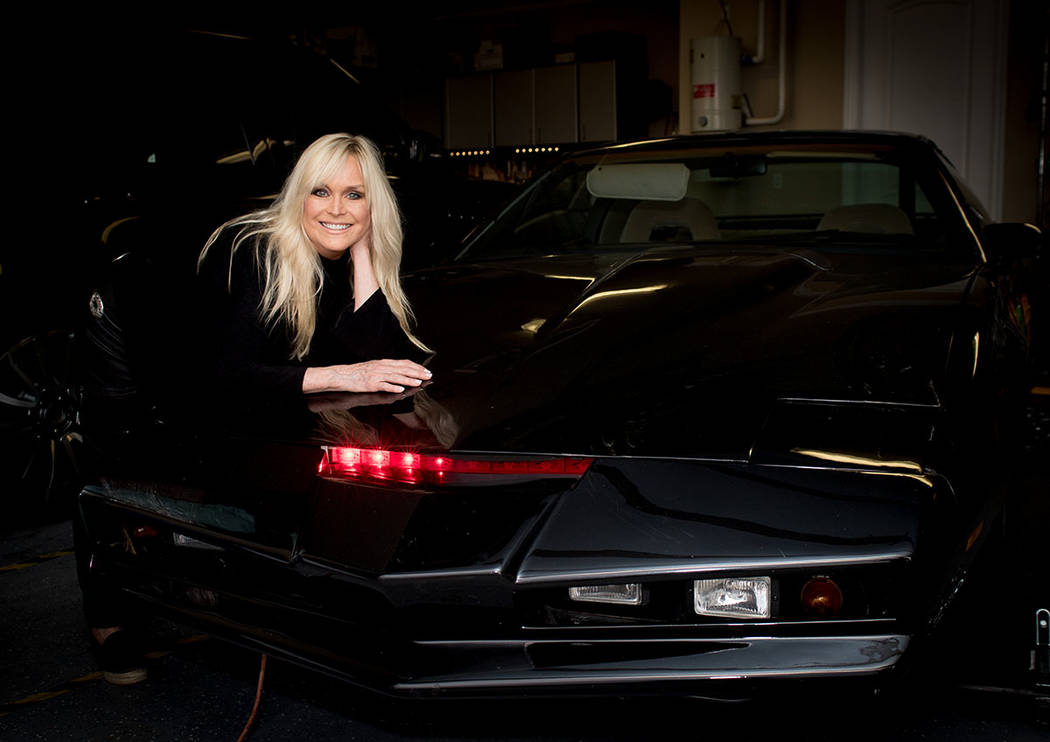 California native Todd Fisher was introduced to Las Vegas via his mother's career — show business. Debbie Reynolds performed frequently at the Riviera, Sands and Desert Inn. She and her son built and ran the Debbie Reynolds Hotel in the 1990s before it closed, a victim of forces documented in his recently published memoir, "My Girls: A Lifetime with Carrie and Debbie."
The book celebrates the lives of his sister, actress/writer Carrie Fisher, and Reynolds, who died just a day apart in December 2016.
He has since abandoned the Golden State for a more carefree life in Las Vegas, citing the lower tax rates, less hassle for business owners and better lifestyle choices, including close proximity to the Strip's entertainment options.
Fisher lives in southwest Las Vegas with his wife of seven years, actress, hypnotist and entrepreneur Catherine Hickland. They invited Real Estate Millions into their memorabilia-laden estate on a recent rainy day, or a "Singin' in the Rain" day, as Fisher said by way of greeting.
Their two-story house sits behind an iron privacy gate at the end of the short street. It has a well-tended landscape of mature sumac and plum trees and a perimeter surrounded by fruit trees. A paver-lined driveway leads to a set of leaded glass doors, where a winged angel figure greets visitors. The doormat reads: "Peace to all who enter here. Grace to all who depart."
Every room in the house, and the guest house that Reynolds lived in on her Las Vegas visits, is saturated with movie memorabilia, and much more is in storage, just waiting for the optimal placement.
Fisher enthusiastically shows off his extensive collection of original movie posters, starting with the entry. Each room has a theme and the entry is all about Vegas, said Fisher, who explained the difference between the oversized, Italian "Viva Las Vegas" movie poster and its smaller, American-made counterpart.
In the foyer, a table holds the original scripts from many of Reynolds' films.
A mannequin sports the orange polka-dot blouse with matching hip-hugger bell-bottoms that Carrie Fisher wore for her teenage singing debut in the Desert Inn showroom in 1969. Beside it is the 15-pound ornate gold gown Reynolds wore to accept the Screen Actors Guild 2014 Lifetime Achievement award, as well as for her final performance in 2014 at The South Point, which was documented in the movie "Bright Lights." The prize itself, plus her Oscar, resides in the guest house, along with her furniture, many photos and family mementos.
The 1.14-acre lot holds the five bedroom house, 1,000-square-foot guesthouse, 3,000-square-foot video production building and garage, basketball court, hen house and ample pool and patio. Of the deck-jetted fountains pool with water slide, Fisher recalled: "When she first saw this, Carrie said 'it's the Caesars Palace swimming pool.'"
Hickland, who appeared on the TV shows "Knight Rider" and "One Life to Live," made Las Vegas her home a decade ago.
"This is my favorite place I have ever lived. I was on a 30-city book tour (for "The 30 Day Heartbreak Cure") This was my last city, and I went home, sold my apartment then bought a house in Southern Highlands. I just love it."
But the community's homeowner association rules became problematic, Fisher said. "We'd come home off the road at 2 in the morning. I would roll up in my tour bus to her house and they'd freak out and start writing us violations."
The couple began a search for new digs and settled on the home in January 2012. It was difficult to find the combination of acreage, rural (R-E) zoning and lack of a homeowners association they were seeking, Fisher said.
"We put in offers on a couple houses, but in those days (2011-2012) everything was so complicated with short sales. You could hardly buy anything that made any sense. There were plenty of houses on the market, but (none in) an area to have the freedom we wanted."
Then, after having languished on the market for years starting at $3 million dollars, their dream home dropped below the million-dollar price point. Fisher said he thinks the price had been drastically reduced because several on-site projects were not complete and the owner couldn't get financing. Fisher was out of town, so Hickland toured the property and shared it via Skype.
"I looked at the floor and crown moldings, the pool system, the cabinets and shutters. I could tell it was worth it. I said: 'If you like it, just put in an offer at par, seven days close, all cash.' They bought it for $960,000.
Now, when they return from work, they put their 40-foot bus in its own garage, right next to his Korean war-era, flat-fender army jeep, (think "M*A*S*H"), the Tesla Carrie Fisher bought shortly before her death and KITT, the talking car from "Knight Rider," which Hickland bought and rents out for events.
Parked nearby is the Mercedes van Fisher outfitted to comfortably transport his mother during her waning years, complete with satellite TV, internet and blinds.
"She liked to go to (Baskin Robbins) 31 Flavors," Fisher said. "When she was coming back from her stroke, that was the one thing she wanted to do every day. She wanted to go there; she didn't want someone bringing it back to her."
Reynolds sold her condo in the Las Vegas Country Club Tower when they bought the house.
"She was worried that she'd be in our way," Hickland recalled. "Nothing could have been further from the truth."
Shortly after buying the house, Fisher unsuccessfully attempted to contact the owner of the adjacent vacant lot. Then one day, he recalled, "I heard this noise, and it was a Realtor pounding a sign in the ground. I walk out there, and said, 'What's going on?' And he said, 'I just listed this lot.' And, I said, 'Really? You got your paperwork with you? I'll write you an all-cash offer right now. I've been trying to make a deal (with the lot owner) for two years."
The couple has acquired all the lots between their house and the nearest wall. A family member owns 3.75 acres directly south of theirs, and the plan is to turn it into a compound with an aviary, expanded production facility, a private museum and family archives depository.
Fisher, who has been involved in theatrical production since his teens, outfitted the production building with state of the art gear.
"We've brought $10 million dollars' worth of production equipment to Vegas that otherwise you'd have to go to L.A. to get. Nobody has what we have here," he said.
Currently, they use it to host Hickland's hypnosis training seminars and loan it to entities that occasionally need a recording studio. He recorded the audio book of "My Girls" here, communicating live with the production's director in New York. "We could see each other live," he said "It was a lot of fun, except for the last two chapters," which dealt with the family deaths.
The production studio is not the only state-of-the-art facility they own.
Hickland is quite fond of her chickens, so much that her pet rooster, Nugget, has free reign of the house. Their hen house has all the accoutrements of a luxury resort, including air conditioning and a mister system.
"Sometimes, this world is very angry in the climate that it's in right now, so this is my happy place," she said. "I love them," she says of her 21 pet chickens, all of whom she identifies by name, and distinct personality. "They were born in an incubator in the house, and we raised them. I'm the mama and these are the girls."
Another benefit: They get 18 fresh eggs a day.
"These chickens eat better than most humans," Fisher said. "They don't eat any food with chemicals, so they eat better than we do. These eggs are probably about $75 apiece after costs. I don't particularly believe in reincarnation, but if I did, I'd want to come back as one of her pets."
Fisher studied at the Southern California Institute of Architecture, and plans to remodel the house.
"Certain things don't make sense," he said.
Like a wall blocking the pool view, which he plans on removing. Plus, relocating the kitchen and bar to a different area.
He plans on adding collapsing glass doors to make the view wide open, and relocating the master bedroom to a new wing.
Fisher credits his mother for exposing him to great architecture by allowing him to travel the world at a young age.
The couple is selling their ranch in San Luis Obispo County, California, and plan to live exclusively here, Fisher said.
"I consider myself something of a dual citizen, because I was born there, but what's happened over the last 10 or 15 years politically and tax-wise is horrifying … . I've been a resident here since the 1990s when we had the hotel here, and I've always considered this to be a superior state from a tax perspective. We chose to be here."
Or, to put it another way, this pair of free birds have flown the coop.