Frank Marino doles out $4 million on remodel — PHOTOS
November 21, 2016 - 12:10 pm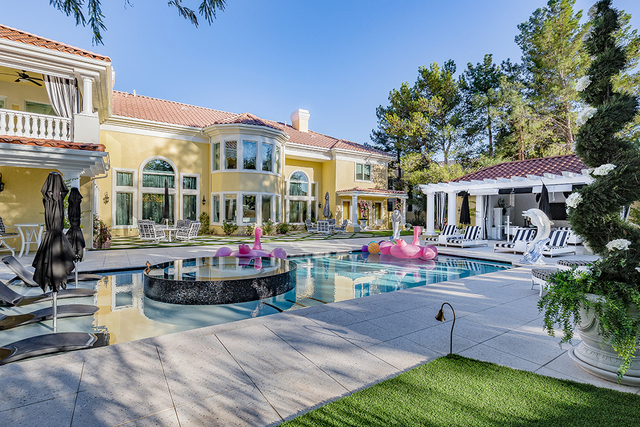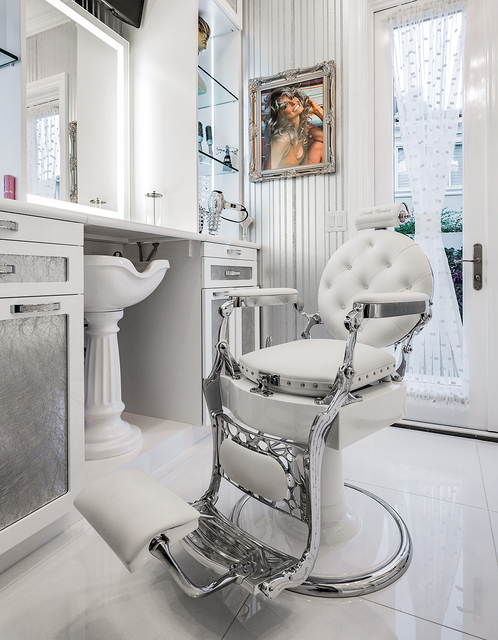 When Frank Marino's Realtor took him to see a home for sale in Summerlin's Eagle Hills, it reminded him of his native Long Island and of California, where his partner, Alex Schechter, hails from.
"You can have the glitz of the Strip and then come home to a neighborhood that feels like New York and California," said Marino, longtime Las Vegas female impersonator and star of "Frank Marino's Divas" at The Linq. "It's like Wisteria Lane from 'Desperate Housewives.'"
The duo bought the $2 million, 8,000-square-foot home in October 2014.
"Alex walked in and walked right out," Marino said of his partner, the vice president of SPI Entertainment, which produces "Divas Las Vegas." "It looked like the Palace of Versailles meets Mount Charleston."
After more than two years and a $4 million remodel, the former marble-and-wood concept throughout the home is nowhere to be found in the now 15,000-square-foot home.
New additions include a family room, expanded master bedroom, closet and patio.
"It's a great party house now," Marino said. "It's like a master-planned house; it's designed to have every function where you need it to be."
Unique additions include a gift wrapping room, movie theater, guesthouse and concert hall area for a piano.
Also, in true diva fashion, a hair salon was added and features glass doors etched with Marino's picture from his show with rhinestones for the earrings.
The salon door isn't the only place you will find rhinestones in Marino's home.
The movie theater is outfitted with rhinestone padded walls.
"There are more rhinestones in my home than on all of the Bob Mackie gowns in my show combined," he said. "My motto is 'too much is just enough,' and even though it's my home – it's definitely over the top."
The details don't stop inside his home. They overflow into the backyard, which features an expansive in-ground pool and Jacuzzi flanked by dolphin statues.
Marino's also spiffed up his garbage can with a Louis Vuitton logo wrap.
"Every time I put out the garbage, that's when I get the most knocks on the door by men saying their wives want it," he said. "It's covered with a wrap from a car wrapping place and costs as much as a car would."
Marino added, "I should really stop looking in magazines because it's costing me."
Another one of Marino's ideas for his home came from the magazine Architectural Digest.
"We saw the Ferrari red lacquer, and it was one of the few things we both loved," he said.
The duo incorporated the color into their kitchen, which also boasts small Disney character statues.
Marino's love for Disney can also be found in the couple's home theater.
"Every time I've been asked over the past 31 years I've done my show what I do when I'm not working, I say go to Disney," he said. "I got to bring it into my home."
When asked what his favorite part is in his home, Marino couldn't come up with just one.
"All of the rooms are equally spectacular," he said. "We left no detail unturned."
One of the spare bedrooms upstairs is inspired by the 1961 film with Audrey Hepburn, "Breakfast at Tiffany's," and boasts a bed spread that mimics a Tiffany's box with a bow and sayings from the movie on the walls.
Another has thousands of different colored stuffed animals in it, which Marino said he receives from fans.
"That room looks like the little girl's room they always have in a model home with a canopy bed," he said. "I get a lot of gifts at the show, and when they start to fill up, I give them to children's hospitals."
While Marino has been in his home for more than a month, he said it's finally starting to feel like home.
"The house is perfect, and I can't conceive of changing anything," he said. "I finally feel like I live here."
About the home
Cost of remodel: $4 million
Location: Eagle Hills, Summerlin
Size: 15,000 square feet, five bedrooms and eight baths
Features: Hair salon, home theatre, inground pool and Jacuzzi
History: Built in 1997. Current owner, Frank Marino