Master Designers build a shrine to their expertise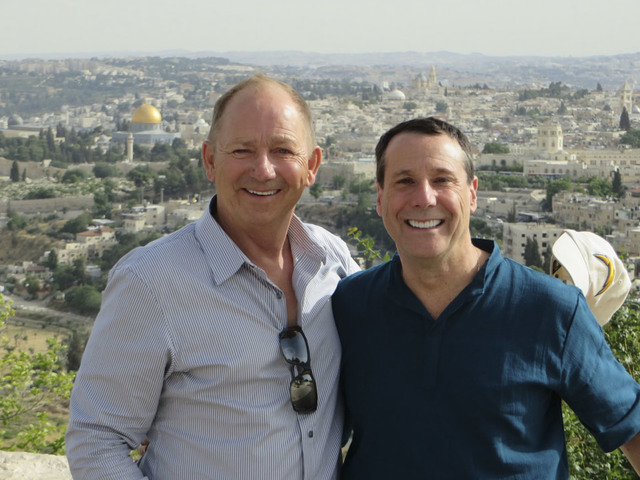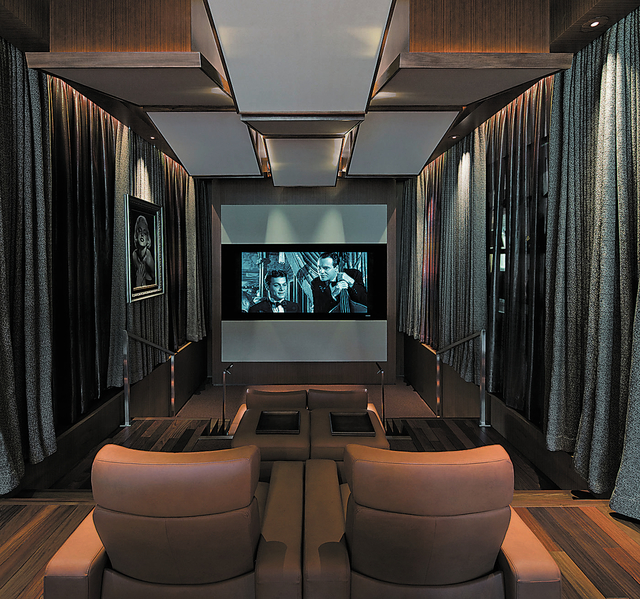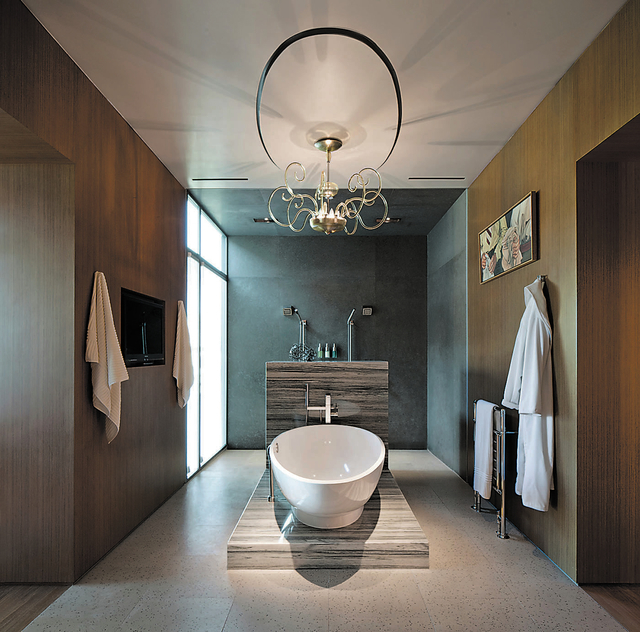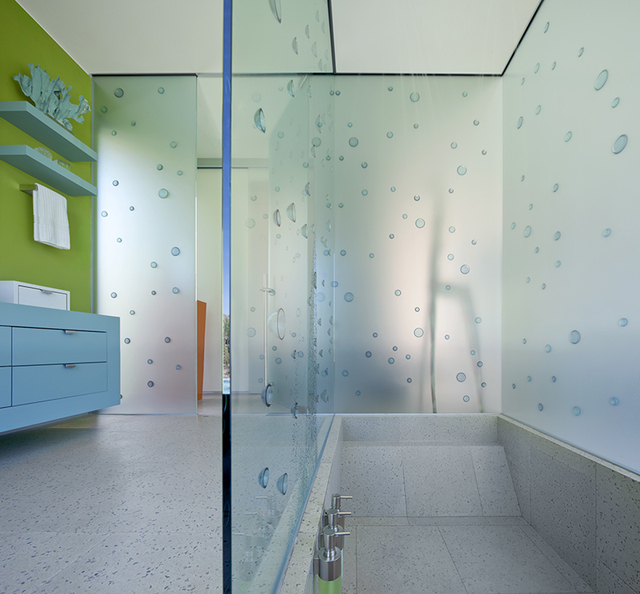 Las Vegas-based architects John Klai and Jon Sparer know their resorts. They've designed enough of them.
Having had a hand in shaping most of the Strip's skyline over the past three decades, the two men also have helped design resorts, hotels, casinos and high-rises throughout the U.S., Beijing, Macau and the Philippines.
When it came to designing their own home, the men mined their knowledge from every sector of their field, hired young, up-and-coming architect Eric Strain and spent nine years — meeting each week — to plan and build their home at 7 Sable Ridge Court. It's a shrine to efficiency, contemporary desert living and entertainment; but it's world-class resort feel is balanced with homey touches.
Sparer talks about clipping cilantro and tomatoes from the garden to make salsa on a summer afternoon. In the garden area, four irrigated concrete planters hold vegetables and a peach tree.
"It's a big home, but very warm and comfortable," said Sparer, who recently retired from his global architecture firm, YWS Architects. He and Klai started their Las Vegas career at Marnell Corrao Associates, a longtime Las Vegas architecture firm, before striking out on their own. Klai and Dan Juba founded Klai Juba Architects in 1995, and Klai is its president.
Priced at $15.9 million, the tri-level home is bathed in ambient light filtering through the 24-foot window walls with views of Bear's Best Golf Course's fairways from its great room.
The great room also has a Steinway grand piano. The ceiling is covered in acoustical fabric, making for theater-sound quality home concerts.
Klai's sister Jill Lorenz is the Berkshire Hathaway Realtor showing the home. She said most of the furniture, which was custom-designed for the home and the artwork is included in the sale.
One of the home's most striking elements is the 140-foot, zinc-covered "wing," that crowns the residence. It looks like the wing of a jumbo jet, and is nearly as long. Atop the structure are solar panels that help generate power for the extravagant residence, which is in The Ridges atop the west valley, near Red Rock Canyon National Conservation Area. In fact, the home's cul-de-sac has a little dirt path leading to hiking trails.
Lorenz said one of the unattended delights of the wing is that it reflects the sunrise glow, projecting a warm, rosy color throughout the third-foor master bedroom.
Another feature of the home is the rammed-earth wall, which is 140 feet long, 22 feet tall and 3 feet thick. The architects borrowed from ancient adobe building technology to protect the home from the sun and add to its energy efficiency.
Klai and Sparer designed the home with a slits and slots theme, which sounds very Las Vegas but looks like an upscale resort. The 13-foot-tall, 7-foot-wide custom teak entry door opens easily on its pivot hinges, and sets the understated theme with slits of glass embedded into it. Zinc and cooper slots are highlighted in the interior's custom concrete tile floor with recycled glass chips.
This home is made for entertaining. The men support community organizations such as Nevada Public Radio, UNLV, Lied Discovery Children's Museum, The Gay and Lesbian Center of Southern Nevada, Jewish Family Service Agency Las Vegas and Congregation Ner Tamid. They often hold fundraisers for these groups in their 13,255-square-foot home. Sparer said one event had as many as 420 guests.
"We wanted a home where we could entertain in a big way," Sparer said.
These upscale fundraisers have put the interior and outdoor kitchens through their paces. Lorenz said it isn't uncommon for four hotel chefs to be working in different areas of the home.
The main commercial-style kitchen was custom designed by Italian-based Arclinea and houses two Wolfe cooktops and grills, refrigerated drawers, storage cabinets and rolling ladders. The nearby service kitchen has a laundry area, deep counters and more refrigerated drawers.
The hotel designers also made sure the home had a back of the house space for supplies, equipment, laundry area, dumbwaiter and materials. This area is also where their two dogs with special sensors on their collars can access the computerized, covered dog run. A few steps outside is the outdoor kitchen, which has a wood-fired pizza oven, Wolfe barbecue and warming drawer, near the zero-edge pool, spa and water and fire features.
The patio adds another 7,219 square feet to the five-bedroom, nine-bath home.
The home is cleverly designed to accommodate busy traveling professionals.
Off the kitchen on the midlevel, the elevator, which is hidden in a walnut burl wall, has hooks to hang dry cleaning and garment bags. It also has a sentimental side with digital picture frames loaded with family photos. The buttons are labeled, Sleep, Eat, Play.
The Sleep part of the home is on the third floor. The master suite has a patio with a day bed, fire feature and sweeping views of the Spring Mountains. It also has a master closet that's bigger than some studio apartments. Any traveler would covet the large packing counter with drawers underneath and overhead hanging space. There is also a nearby laundry room with a sink.
As architects, Sparer said the two men happily sketch suggestions for couples who want to modify the home to meet their needs. He said one man didn't think the closet was big enough for him.
"He didn't mention his wife," he said.
The Play part of the house refers to the 5,700-square-foot basement where there are two Brunswick bowling alleys (the shoes are neatly hidden in a pull-out pocket wall), full bar with an entire South American maple tree as a table top, home theater, steel pool table, custom refrigerated wine room, spa, gym and patio.
Sparer said the bowling alleys were the one thing they added later in the planning process. He said Klai had just finished designing a Hard Rock Hotel suite that had a bowling alley, and he rented it for Sparer's 50th birthday.
"We had so much fun we ended up putting one in our house," Sparer said. "We designed our perfect home."
There are fire features throughout the house and its outdoor areas were inspired by the owners' travels. The men partnered with CLEO Design and JOB Builders. New York lighting designer David Singer created the home's lighting systems. Creston Control Systems is the residence's brain, controlling the lighting, electronic shades and drapes, audio and visual systems, seven fire features, 26 televisions, 10 security cameras and the home theater.
Although the home has fresh, clean contemporary lines, open, flowing spaces and is made of glass, stone, concrete, teak, eppy (the same type of wood used to make the Treasure Island ships on the Strip) and maple woods, zinc, copper and bamboo, there is a little bit of swanky old Vegas in it.
With its disco ball, custom "bubble" glass walls and sunken bath, the casita is something Frank Sinatra would have gone gaga over.
Another unexpected find is the library that houses a secret door in the bookshelves leading to a half bath, laundry and an outdoor shower near the pool.
The outdoor areas are filled with desert landscaping that has mature trees and shrubs.
The main garage has room for three cars and there are two car ports within the secure grounds.
The two longtime Las Vegans said they want to downsize and have purchased a penthouse in the downtown high-rise, Juhl.
"We love downtown and we are really looking forward to being a part of it," Sparer said. "We believe in it."