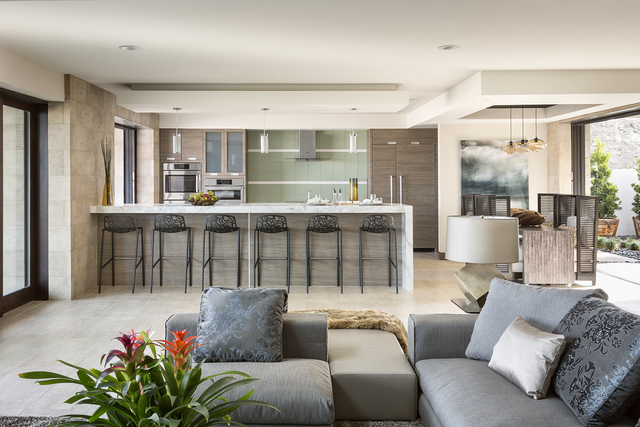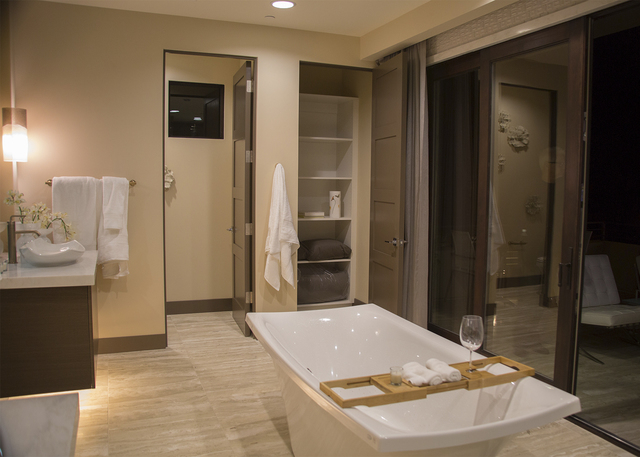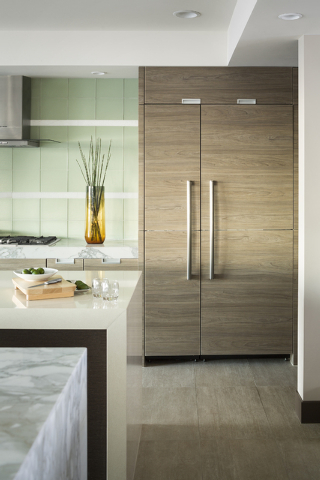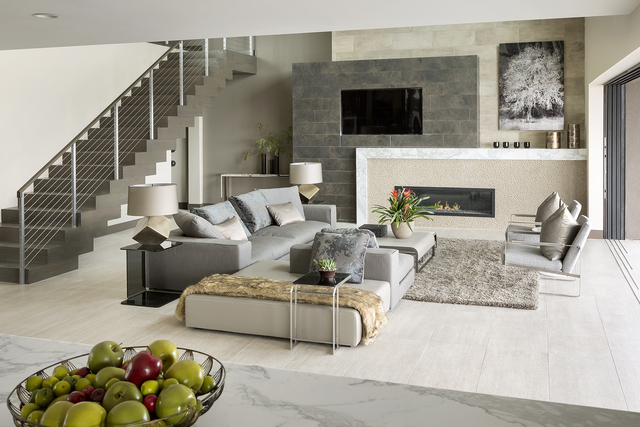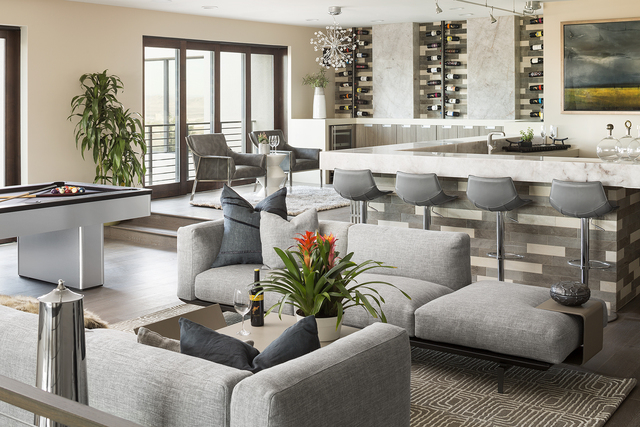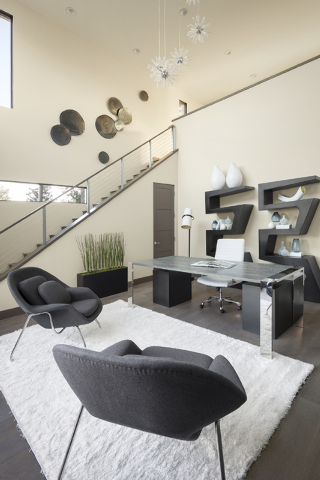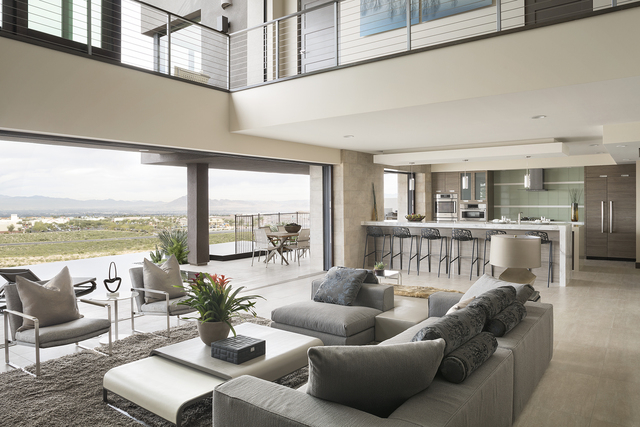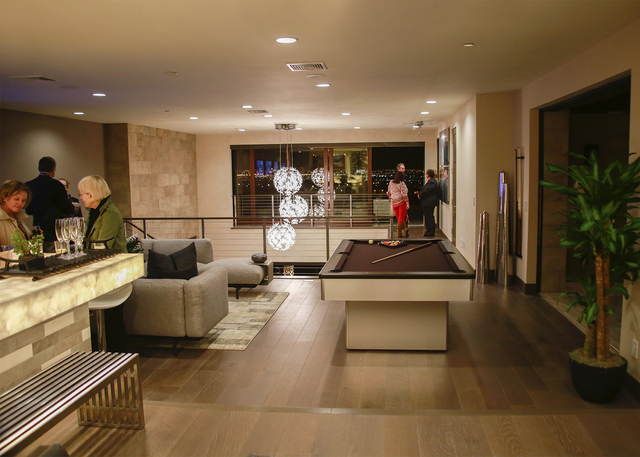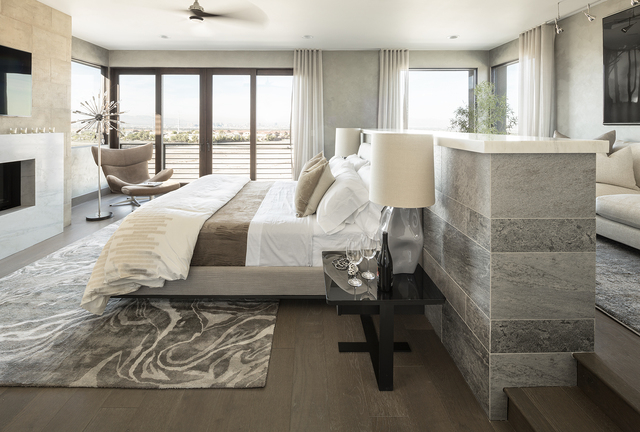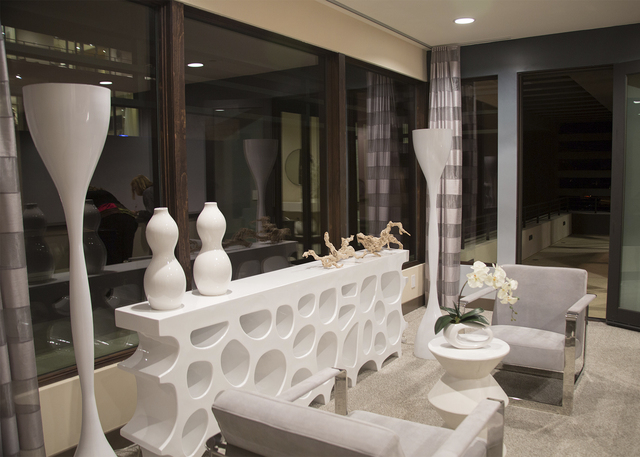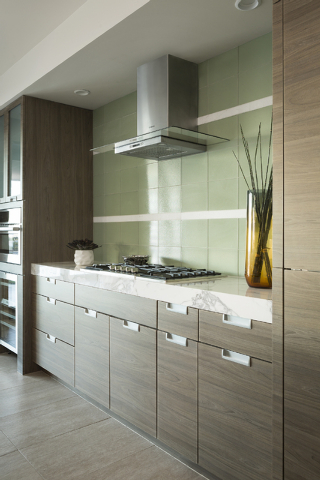 Net zero energy homes are a burgeoning trend in the new-home market, and Blue Heron's award-winning New American Home 2015, unveiled for an award ceremony last week during the National Association of Home Builders' International Builders Show in Las Vegas, is a dazzling energy-efficient gem.
Perched high up in Henderson's Sky Terrace community, the home overlooks the Las Vegas Valley. What makes this eye-catching desert contemporary such a standout is that it looks and feels like a high-end custom residence, but you needn't be a hedge-fund manager to own it. Prices start at $669,990.
Blue Heron's owner/designer Tyler Jones' main objective in building the residence was to incorporate sophisticated technology and design so that it could be sold as production homes with lots of options. He calls it "predesigned custom" homebuilding.
That same objective gained Jones the New American Home designation for homes built in 2009 and 2013.
That the Sky Terrace home was chosen as this year's prestigious New American Home 2015 by the National Association of Home Builders is a testament to the painstaking details it embodies.
"I'm so excited. It's a pretty cool honor being chosen for the New American Home, especially with this not being a custom home," Jones says.
From the home's inception, Jones and his Blue Heron Design team aspired to create a home that was superior in its design elements while incorporating the latest cutting-edge, energy-efficient technologies.
Key to maintaining costs was keeping design and construction tightly controlled and streamlined with no reliance on outside architectural firms or designers. Jones believes integrating these practices is what allowed the incorporation of the highest standards of energy efficiency and the countless impressive design elements throughout the desert contemporary home.
"Everybody wants to save money and have a better-built home," Jones says. "It's not a hard sell at all."
From its intricate water and stone-themed courtyard to its modern multiuse stone, tile, glass and woodlike interior design, the 2015 New American Home is just under 5,900 square feet and built with an efficient compact design, the home packs every conceivable amenity into each of its living spaces.
The first-floor open great room, kitchen and dining area front an entire wall of massive glass sliding pocket doors that, when open, meld with the spectacular city view, multilevel patio area and pool to create a seamless living experience. To the rear is a library and separate family/entertainment room, or would-be guest quarters.
The open floor plan is a favorite of Jones. "The floor plan fits a modern lifestyle. It's a little bit more casual and less structured than a traditional home," he says. "People just respond to it. They want these big, open spaces."
The second floor is full of unexpected delights. Ascending the open steel and wood staircase, and overlooking the great room, is a large area for entertaining with ample seating space for a large get-together. Special features include a back-lit, granite U-shaped bar and deluxe glass fronted temperature-controlled wine cellar.
Every one of the four bedrooms, cleverly tucked away for privacy, has its own bathroom and outdoor balcony, while the more private spacious master bedroom with separate seating area duplicates the downstairs with sliding glass pocket doors to the second-floor balcony. The master bath mimics a high-class spa with free-standing tub that fills from a faucet in the ceiling creating a spectacular waterfall effect.
One last delightful surprise is up the spiral staircase from the master balcony: a rooftop loft with views in every direction.
Combining the indoor and outdoor for everyday living is important to Jones' design.
"The objective of the floor plan is the (aesthetic) flow and creating constant air circulation. It's about relationships between the indoors and outdoors," he says. Jones devotes as much time to the outside living space as to the interiors so that "it all has an organic feel," he says, a mantra he repeats often.
The 37-year-old Las Vegas native and a Gorman High School graduate has always been passionate about green homebuilding.
"I have been involved in the construction and design industry my whole life. Right from the very beginning for me, whether you are environmentally sensitive or not, we would call energy-efficient construction a best practice. You can design a home and build it poorly or do it right."
That the 2015 New American Home is built right is an understatement. The home is days away from the prestigious LEED platinum certificate, the highest level of merit from the U.S. Green Building Council, which certifies that the home has exceeded all categories of environmental and energy-efficient building practices. And it has already earned the top Emerald Status by the National Association of Home Builders under its National Green Building Standard.
An impressive array of energy-efficient technologies went into the home's construction: cell-foam insulation in the attic and walls; basement walls of insulated concrete forming technology that reduces the home's heating and cooling; tankless water heaters; desert landscaping to conserve energy and water resources; and solar panels to actively monitor energy use and store the sun's electricity.
"We look at everything (technologically) available and choose what is best for this climate," Jones says. "We want all the systems to last."
And in this era of high-tech gadgetry, home automation ranks up there with everyday appliances for must-have built-ins. The home is prewired for an integrated audio-visual sound system, lighting control and a monitoring system that relates how much energy is being consumed. Add in remote smartphone controls, wireless communications and data systems, and the home becomes a dream come true for those who prize the latest innovations.
"We will continue to push the envelope of creative ideas. If there's anything new, we'll play around with it," Jones says.
Luckily for the public and building trades alike, the 2015 New American Home won't be closing its doors anytime soon. It will remain open as a model home and should have scheduled tours in the future. There are also five available floor plans in the Sky Terrace area, with 44 lots in three communities.
Blue Heron Homes has built seven residential communities in the Las Vegas area over the past decade. Jones likes to think of his company much like its namesake, the great blue heron that is also a native of the area. Jones said he chose the name as a metaphor for his company.
"It's a water bird, something different but natural. It's unexpected but completely organic. That's what we embody in our company."