Multislide doors create indoor-outdoor living
January 15, 2018 - 8:07 am
Updated February 20, 2018 - 12:35 pm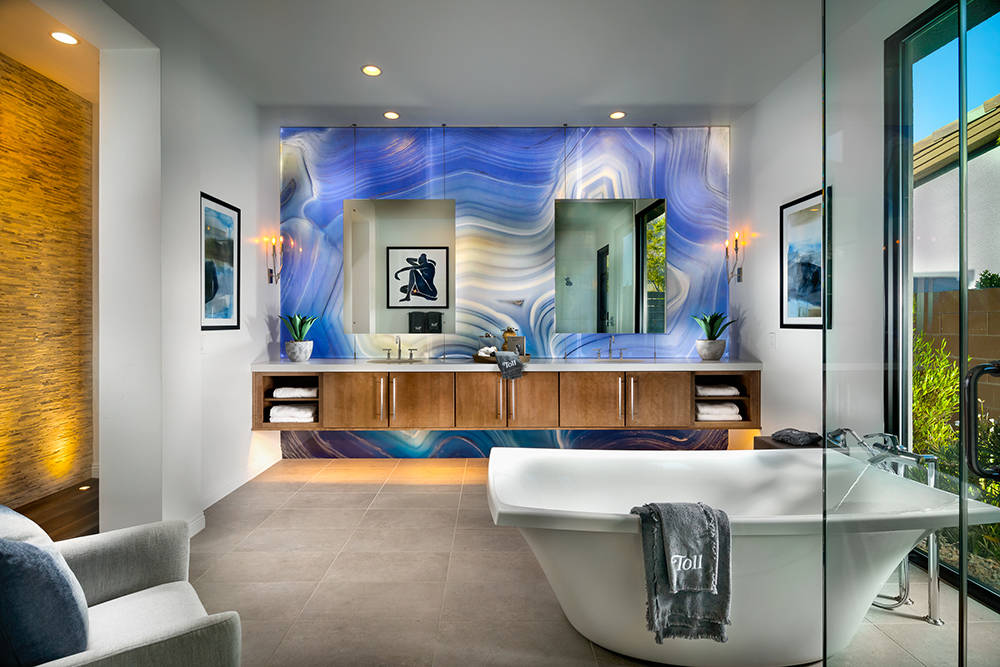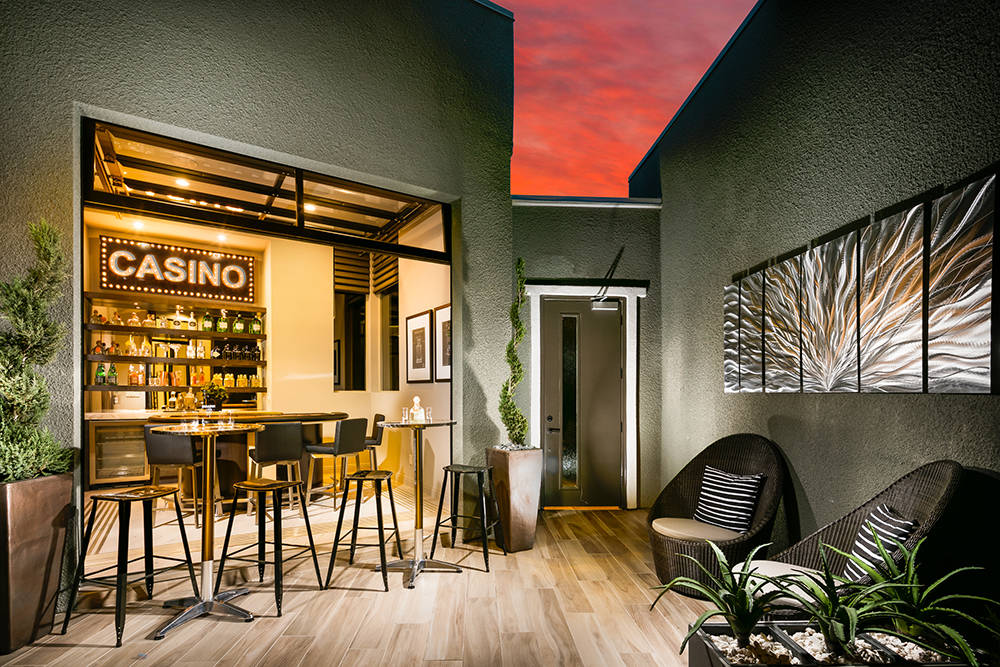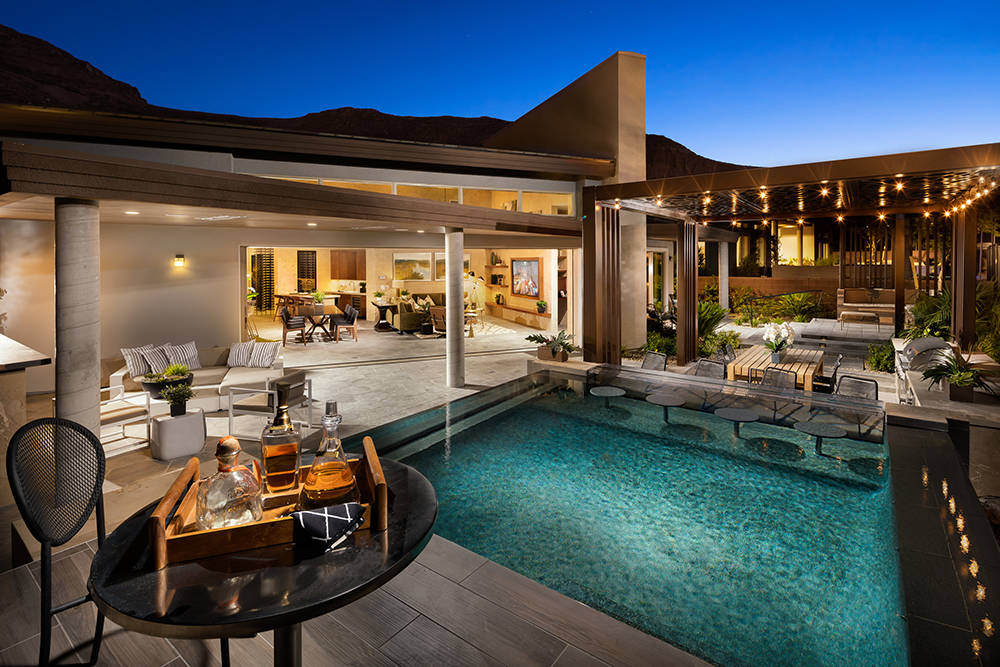 With the newest Toll Brothers community in The Cliffs in Summerlin, homeowners are getting a front-row seat to its namesake at Granite Heights.
The private gated community is at its closest point to the Spring Mountains with a background of picturesque cliffs and ridgelines along with views of the Strip.
It's the essence of indoor and outdoor living with three, one-story models with open floor plans designed for entertaining.
Michele Tancredi, the sales manager for Granite Heights, said The Cliffs is taking shape on the area's terraced landscape, which she said has set the tone for the village's look blending with the environment.
"It's an exclusive, beautiful community and enclave of homes up against the Spring Mountains, and it's quite spectacular," Tancredi said. "It's a nice location. It's 10.5 miles from the airport and the same distance to the center of the Strip. You have Bishop Gorman here, which is a pretty sought-after school and Downtown Summerlin nearby."
Granite Heights opened a year ago as part of a sister community and has 85 lots with base homes prices starting at $803,995. Some of the homes exceed $1 million for upgrades that can include design and structural options.
The sister community is Ironwood, a single-story enclave of 77 lots that's just below Granite Heights.
While Ironwood has homes between 2,500 and 2,800 square feet and has prices in the $500,000s, Granite Heights has larger homes between 3,156 and 3,291 square feet with a three-car garage as standard.
The models at Granite Heights offer three to five bedrooms and from three to five baths. Ceiling heights ranges from 10 feet to 16 feet.
"They all have private courtyards because indoor-outdoor living is what we're going for with these designs," Tancredi said. "These are brand new plans for Toll, and we're proud to roll them out. The trend is modern contemporary at the moment, and these homes were thoughtfully designed keeping in mind that we're at the base of the Spring Mountains.
Just being nestled and cocooned in this beautiful enclave is something that lends itself to these plans."
The three models are single-story as part of a theme of open flow and multislide pocket doors provide that indoor/outdoor living experience, and private courtyards are an extension of the living space and giving a sanctuary feel, Tancredi said.
"Our homes suit everyone's needs," Tancredi said. "We're family-suited. If you're family of four, five or six, we can accommodate those needs and if you're coming in from out of town it's a second home for you, we can accommodate that as well. Our homes are very transitional in that sense."
The largest of the three models at 3,291 square feet is the Quartz floor plan. It is modeled as three bedrooms, but can have four bedrooms or a pocket office option.
It features expansive sliding glass doors that open up the great room to a covered patio. The master bedroom features a master bath and king-sized walk-in closet, while secondary bedrooms each include walk-in closets and full baths.
A gourmet kitchen has a waterfall island opening to the wet bar.
"The Quartz plan is open and thoughtfully designed," Tancredi said. "The gourmet kitchen is very special about this plan. You have a really large open island here and state-of- the-art built-in appliances. We feature high-end finishes in our homes, and you have lot of beautiful cabinetry. It lends itself to family gatherings and entertaining. The wet bar is something you can choose for home, and if you don't, you can have a secondary dining area almost the same size as the formal dining area. There's really multiple choices of entertaining spots around the house. Even outside in covered (patio), you can have your flat-panel screen mounted to watch Sunday football games or music playing out there for a barbecue with family and friends."
There are multislide pocket doors that are structurally engineered and designed for the house inside a pocket of the interior of the home. There's a complete and open space as the doors disappear into the wall.
The Quartz is the lone model with a corner pocket door with two sides opening instead of one in the other models, Tancredi said.
"It's a forward contemporary look," Tancredi said. "The thought is to open up the indoor and outdoor flow. In Las Vegas, we have sunshine nine to 12 months a year and temperatures cool down in the wintertime, but at least eight months a year these doors are open and people are enjoying indoor and outdoor living."
The Topaz floor plan spans 3,238 square feet for three to five bedrooms and features an impressive sliding door system that unifies the main living areas with outdoor living spaces, including a covered patio. The master bedroom is complete with a sitting area, dual walk-in closets, a luxurious master bath and covered patio access.
A guest suite overlooks the interior courtyard that can also be a sitting room, workout room, bedroom or office, Tancredi said.
The Onyx floor plan, the smallest of three, is centered around an intimate entry courtyard and offers a den that functions well as a home office, Tancredi said. It spans 3,156 square feet with access to a covered patio, he said. It has three to five bedrooms. There is an option for a multigenerational living area and a courtyard-entry casita with a kitchenette.
"So many people right now have parents who are coming to live or live-in help or older kids coming and going," Tancredi said. "It has its own living room and attached to bedroom with walk-in closet and full bath.
The cool thing is that it has a sink. You can add some appliances with a refrigerator and dishwasher, and there's cabinetry. It is really important for families right now."
The model homes show what people have the ability to do on their own after they close the sale. There could be a spa, barbecue, bar, sitting area and fire pit.