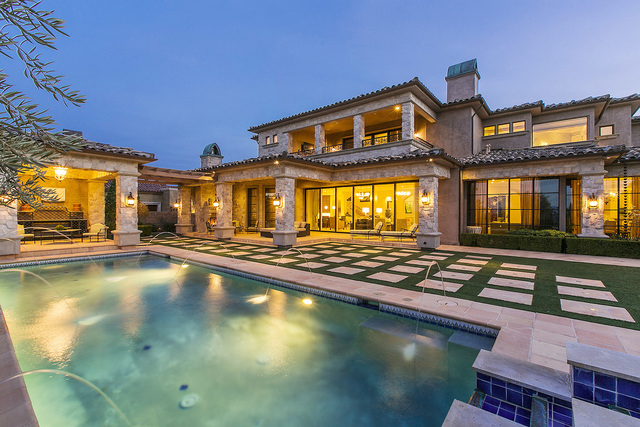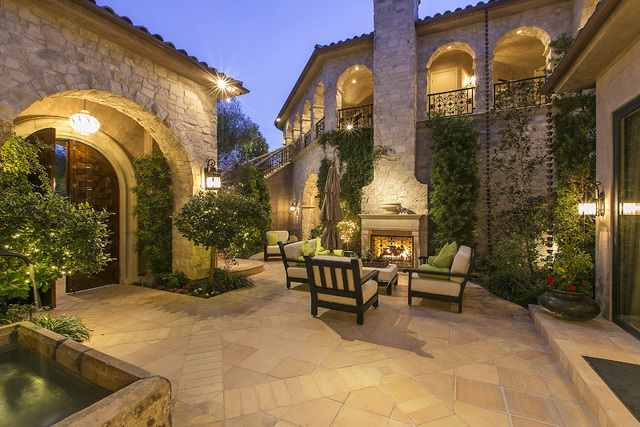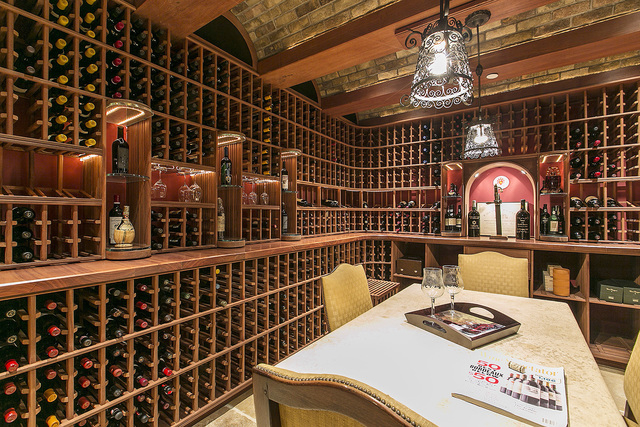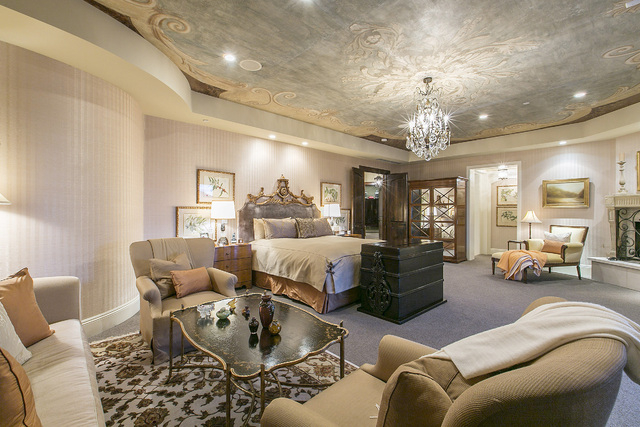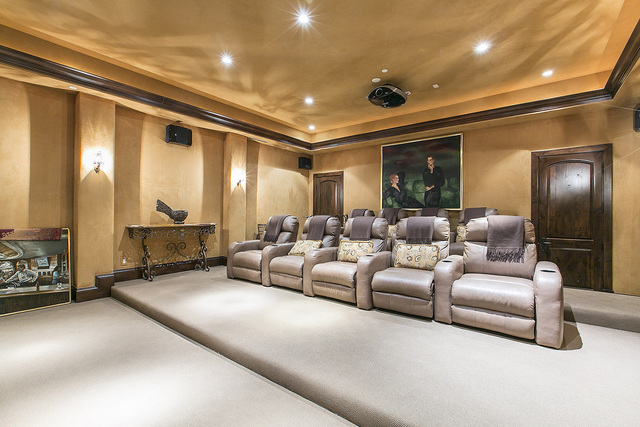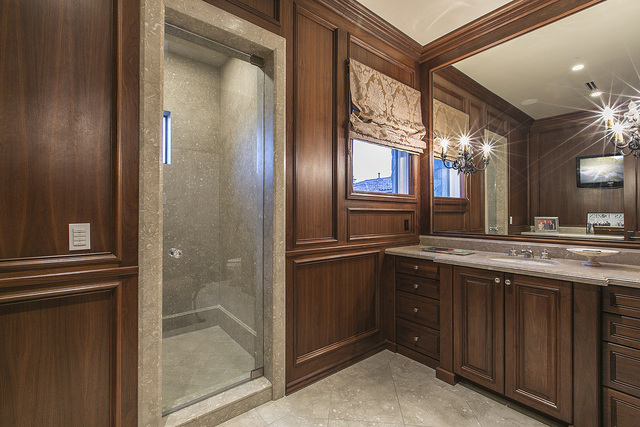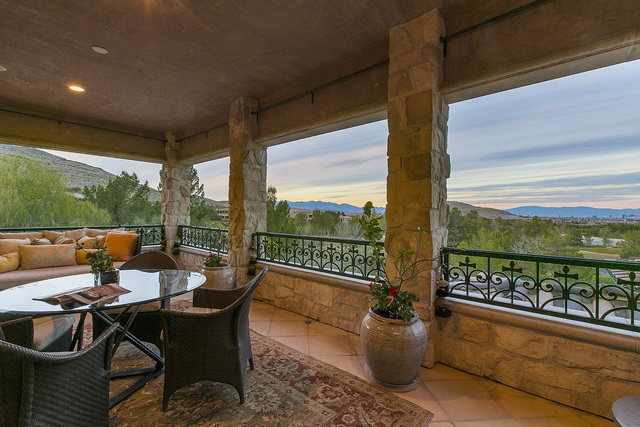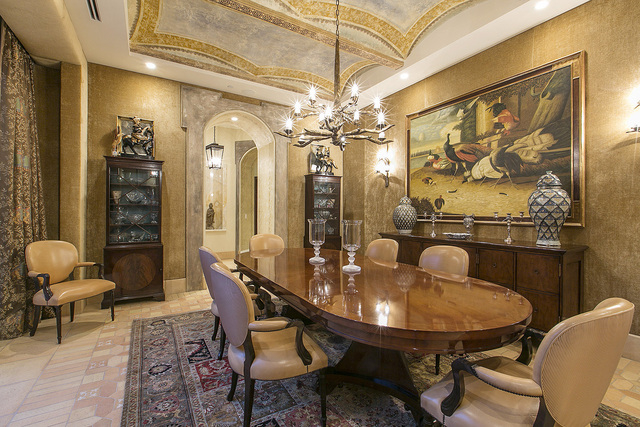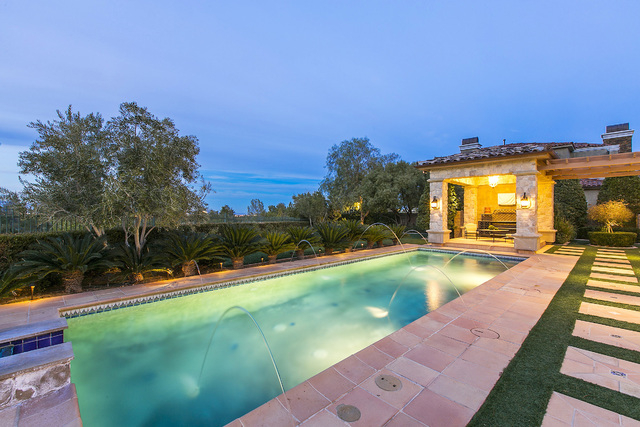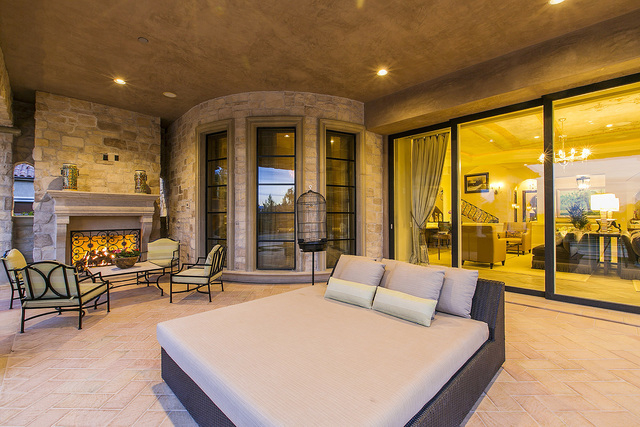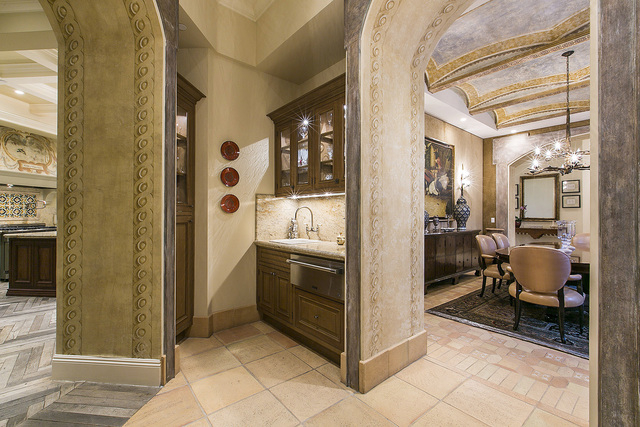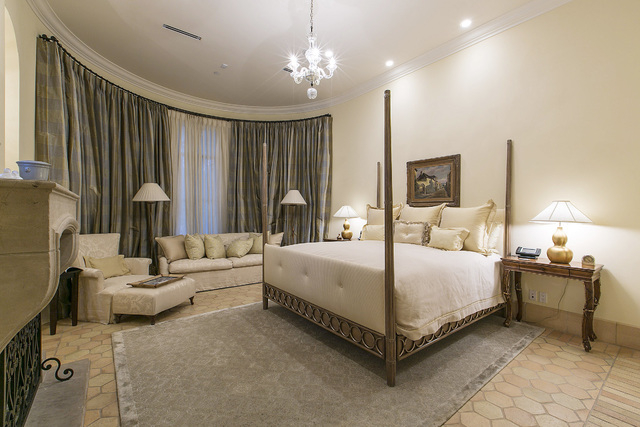 Abbondanza!
That's what the hand-painted artwork in the kitchen of this classic Mediterranean-style Italian villa says, and it's the theme of this custom-built residential home within the Southern Highlands Country Club.
Interior designer Joan Behnke &Associates of Beverly Hills teamed up with architect Caitlin Kelley from San Diego, to create in home in the Southern Highlands Country Club on 46 Olympia Hills Circle. Originally built in 2006, this residential home has been listed at $8.5 million by Shapiro and Sher Group, Berkshire Hathaway Home Services. It is near two fairways alongside the country club golf course. Five full bedroom suites, six baths, six fireplaces and several bar areas are in the 10,726 square feet of living space on 0.64 acres of land.
"You won't find many homes in Las Vegas like this one," said real estate broker Florence Shapiro. Shapiro lived in Paris and New York before moving to Southern Nevada and building a 40-year real estate career here.
A visitor feels a strong connection to the Earth, both indoors and outdoors, while strolling on terra cotta tile and reclaimed oak wood floor materials imported by Exquisite Surfaces from France. The walkway designs have been interspersed with intricate patterns and colorful mosaics.
Behnke enhanced the natural connections of the home to the outer world by integrating marble, granite, antique French limestone, onyx, copper, hand-forged iron, bronze, oak and mahogany throughout the living space. Silk and linen draperies are used for window shading. Custom-built cabinetry by Castle Cabinets includes hand-carved pieces and wavy glass. Some of the cabinet drawers throughout the home also hide refrigeration units, towel-warmers and even a dishwasher.
Glass chandeliers and sconces by Murano and other artisans also are featured extensively throughout the home.
Ceilings have been hand-painted on embedded canvas by Los Angeles artist Richard Turner to reflect classical Renaissance themes.
Kelley's architecture blends Old World European styles with domed ceilings, archways, cozy nooks, courtyards and patios arranged in playful perspectives that make walking through the home an adventure. Many of the rooms and second-floor balconies look out onto the Las Vegas skyline and the lush green landscape of the Southern Highlands Country Club and golf course.
Kelley had studied feng shui, geomancy and other natural artistic disciplines that she applied when aligning the building's floor plan and its orientation to the local environment.
"I study the flow of natural energies like sun angles, light intensity and wind, as well as the contours of the surrounding land and scenic views," she said. "This home was one of my favorite design projects. I enjoyed working with all the participants."
It shows. The features and amenities abound.
When entering the home, a visitor steps onto terra cotta tiles up a long walkway to access a hand-carved mahogany door with iron fixtures. Stepping through the door feels like a portal into Old World Europe, as a landscaped courtyard with antique limestone fountain and fireplace evoke a retreat.
Terra cotta and reclaimed oak wood flooring continue through the interior of the house and out to the backyard patio area, revealing a view of the Las Vegas skyline and landscaped golf course. The main floor features a family room, dining room, kitchen, laundry room, library, entertainment room and guest bedroom. The family room includes a full bar and opens onto the main patio through curved-glass Wyland doors that disappear into nearby walls.
The outside living area occupies 3,000 square feet of verandahs and patios, including a stone gazebo, two fireplaces, outdoor kitchen and sunken bar.
Water cascades from a Jacuzzi down into a vanishing edge swimming pool that includes multiple fountains emitting vertical streams. An ozone generator minimizes the amount of chlorine additives required to condition the water.
Inside, the dining room has a hand-painted, curved ceiling and chandelier.
The main kitchen features a Thermador professional six-burner oven with a hand-painted ventilation hood by Richard Turner. A large central island features more custom cabinetry. Viking refrigerator and freezer have been installed side by side. Other kitchen appliances include a Thermador combination microwave and warming oven, built-in Miele coffeemaker and steamer oven, as well as two farmhouse sinks, two Thermador dishwashers, filtered water and an instance-hot water dispenser.
A nearby laundry room includes a Whirlpool Duet washing machine and steam dryer, a Northland caterer refrigerator, and custom cabinetry.
An entertainment room features a billiard table, as well as its own kitchen and bar area finished with black granite countertops. Custom cabinet drawers house a Subzero under-counter refrigerator, two dishwasher drawers by Fisher &Paykel, and a KitchenAid ice making machine. A walk-in closet provides logistical support.
Step down past the bar into a 4,750 square-foot finished basement area that creates a third sub-level for the home.
The basement level includes a wine cellar with wine racks handmade from Malaysian mahogany that can hold 2,880 bottles of wine. The wine storage area is independently climate-controlled by a Cellar-Tec system. The home's security system also monitors room temperature 24 hours a day, sending out a silent alarm to the security service if air temperature rises above a programmed threshold.
A movie theater is next to the wine cellar. It has a projection screen system that includes 7.1-speaker surround sound and nine cushioned easy chairs.
Powder and exercise rooms are next to the movie theatre, as well as an elevator that connects all three levels.
The elevator has custom wood finishes, including reclaimed oak wood flooring. It ascends to the second and third levels above the basement. Or climb a terra cotta stairway inlaid with mosaics while holding onto a hand-forged iron railing.
Antique mirrors adorn the upstairs walls along the walkway to give an "Old World" feel.
The master bedroom suite occupies 2,100 square feet on the second floor, including his-and-her baths. The ceiling is hand-painted on canvas. French sliding doors open onto a large balcony with terra cotta tile and hand-forged iron railing, revealing another panoramic view of the Las Vegas Strip and country club landscape. Appliances include a coffee bar with built-in Miele coffee maker, a sink with reverse osmosis water filtering system, and two Subzero refrigerator drawers.
Her master bath includes marble floors with inlaid mosaics, a sink area and separate vanity covered in granite. Other amenities include a Thermador towel-warming drawer, bathtub with Bain Ultra Spa system and keyless entry to a large closet with floor-to-ceiling custom cabinets. His master bath is furnished with Honduran mahogany walls and cabinets, as well as sea glass marble on countertops, floors and shower.
All other suites have a full bath attached and walk-in closets. A nanny suite, or casita, has separate access from the garage, up a private stairway to the second floor.
Eleven Lennox air-conditioning and forced-air systems maintain internal climate control.
A Crestron automation system continually adjusts temperature, lighting, window drapery shading, keyless locks and provides interactive controls for the movie theatre, music and multiple televisions throughout the home.
The garage area occupies 1,498 square feet with room for seven cars and a tool bench area.