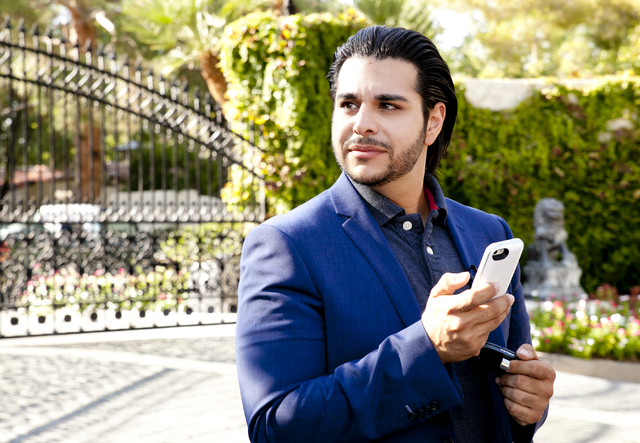 Las Vegas' real estate is among the most interesting in the country and reality TV knows it. Real estate professionals are making second careers by appearing on camera to highlight some of the best deals.
Among those discovering a place in this niche field is Realtor Zar Zanganeh, who in recent weeks appeared in segments of the nationally syndicated "OK! TV" and the brand-new local "Valley View Live!" daytime talk show.
Both shows feature segments highlighting luxury homes and lifestyles in Las Vegas and air on KTNV-TV, Channel 13. The Sept. 15 premiere episode of "Valley View Live!" showcased the home of entertainer Holly Madison and her husband, producer Pasquale Rotella.
"Valley View Live!" also featured Madison as its first celebrity co-host alongside regular co-hosts Megan Telles, Rikki Cheese and Dao Vu at the 2 p.m. weekday time slot.
The interview with Madison and Zanganeh was filmed recently in Madison's and Rotella's home with "OK!'s" Las Vegas-based producer Jade Delgado, a cameraman and Real Estate Millions in tow. A longer version appeared on the talk show than the national entertainment show.
Zanganeh appeared at ease during the taping. Perhaps that was because this was not his first time in front of the camera as he had appeared in previous "OK! TV" segments about high-end Southern Nevada real estate. Zanganeh is the Realtor who represented Madison and Rotella in their 2013 purchase of the 10,435-square-foot residence in the first place.
National Segments About Las Vegas LUXURY LIFESTYLES Gets the 'OK!'
"OK! TV" seems committed in continuing to include segments about Las Vegas Valley real estate and luxury lifestyles on its nationwide entertainment news show (appearing locally on Channel 13). It selected Las Vegas as the site of one of its three news bureaus.
Delgado explained the appeal of creating a news bureau with a full-time producer, full-time video journalist and two part-time correspondents (Telles and Las Vegas entertainer Jaymes Vaughan) alongside its New York City and Los Angeles bureaus.
"Las Vegas is the 'Entertainment Capital of the World' and is like the perfect place for a well-rounded entertainment show to have a bureau, along with Los Angeles and Times Square in New York as our other two bureaus," Delgado said.
"Las Vegas is just a really good location that people have not really capitalized on yet. The real estate aspect in Las Vegas is very interesting. There are a lot of beautiful communities here and a lot of celebrities living here, making it a great place for segments focused on real estate and lifestyles," she said.
Delgado added that segments on valley real estate and celebrity living are featured a couple of times a month, with Zanganeh making regular appearances. Zanganeh says that his involvement in "OK!" along with media attention have evolved from having high-profile clients such as the late superstar Michael Jackson.
"A lot of the media attention came originally from my working with Michael Jackson. He was a client of mine for over four years. For the first three years nobody really knew, and then during the fourth year people knew and they contacted me," the Luxe Estates &Lifestyles real estate agent said, explaining that things "snowballed" with media contacting him along with high-end clients.
"That organic kind of press and referrals to other high-end buyers led to my appearing on TV."
His previous Las Vegas-focused segments have included the restoration of the Liberace mansion, Jackson's former residence, a high-floor Trump Towers condo and Britney Spears' home. Within the next few weeks "OK!" will record a segment featuring Lenny Kravitz's contributions as a designer to SLS Las Vegas.
cOULD WE HAVE ANOTHER reAL eSTATE reality tv SHOW for Las Vegas?
There have been mutterings that another national real estate show based in Las Vegas may be on the horizon. In August, a media report mentioned that Bravo will bring a version of its nationally syndicated "Million Dollar Listing" to Las Vegas, a report that its producer denied through an email to the Las Vegas Review-Journal's Real Estate Millions editor who was seeking comment.
However, Zanganeh confirmed that he has had discussions with World of Wonder Productions (which creates "Million Dollar Listings") on a possible yet-to-be named show, but cannot disclose details.
Another local Realtor — Kamran Zand of Luxury Estates International — has also been in talks with an unnamed network on an unnamed project.
"… I have been in recent talks with an associate at a major network in regards to a luxury real estate reality show coming to Vegas. Nothing is set in stone, but time will tell," said Zand, whose televised appearances include in a cameo part on A&E's "Flipping Vegas" and having a high-profile $3.8 million listing featured on "OK! TV." Upcoming projects include episodes of "Vicarious Escapes" and "Behind the Gates" for AWE Television.
"I feel having a reality show about the Las Vegas luxury real estate market would make great television. We have some great strong personalities in our local agent community, not to mention the even stronger personalities of our clients! If viewers think they like what they have seen in L.A. or New York, then they certainly have yet to see what Vegas has to offer," Zand said.
"I feel real estate has gained interest in the television industry primarily because of the entertaining drama that comes with each deal. I, myself can't believe some of the things I hear and see on a daily basis."
Other Las Vegas Real Estate-TV Connections
Different aspects of Las Vegas real estate also have gained national attention in segments of other shows. A sampling includes "Sale of Two Cities," "House Hunters," "Property Envy," "Extreme Makeover: Home Edition," the infamous "Lifestyles of the Rich and Famous" and numerous entertainment news shows.
Among the real estate-related shows with Southern Nevada connections are "Flipping Vegas," "Property Brothers" and "Buying and Selling."
Appearing on A&E in its third season, "Flipping Vegas" follows husband-and-wife team Scott and Amie Yancey as they purchase fixer-upper homes, renovate them and then put them back on the market. In its third season, the show appears at noon Saturdays.
"Property Brothers" and "Buying and Selling," both shown on HGTV, highlight two brothers — Drew Scott and Jonathan Scott. In "Property Brothers," they try to help potential buyers "find, buy and transform extreme fixer-uppers into the ultimate dream home," according to the HGTV website. In "Buying and Selling," they help homeowners renovate and sell homes. Drew, a real estate agent, and Jonathan, a contractor, founded Scott Real Estate Co. which has offices in Las Vegas; Vancouver, British Columbia; and Calgary, Alberta.