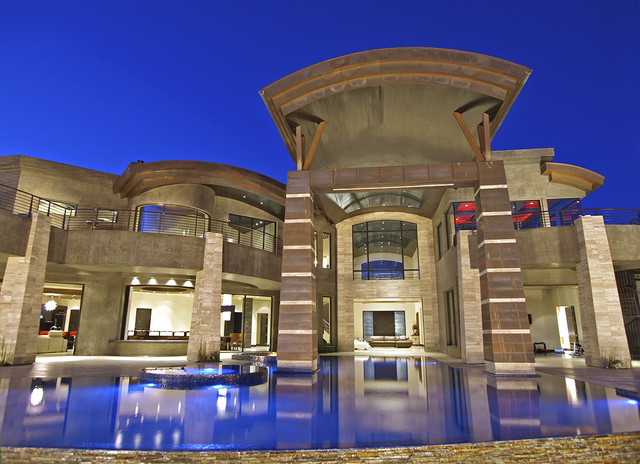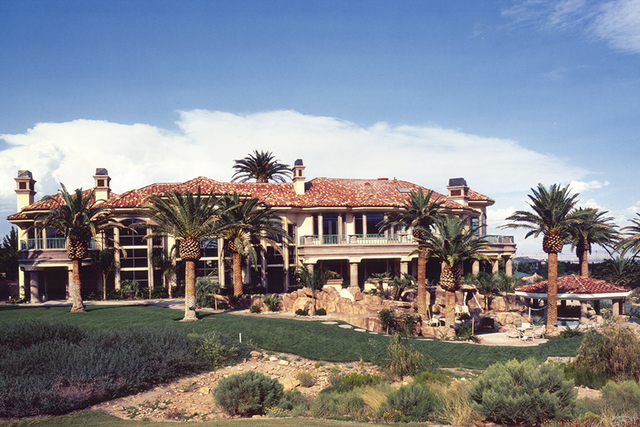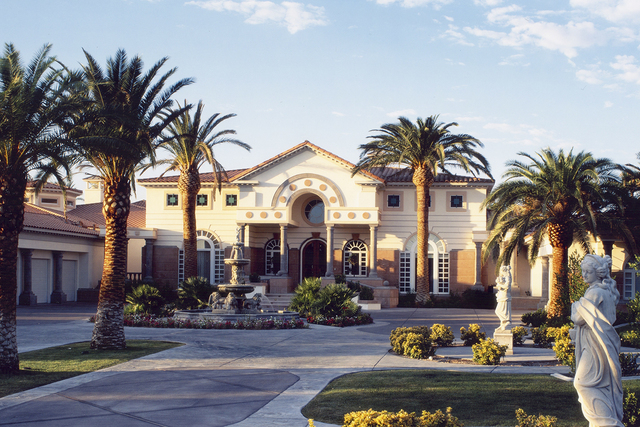 Richard Luke may be a famous architect known for his designs of million-dollar homes all across Las Vegas, but that's not what people remember about him.
Clients and colleagues speak instead of his relaxed demeanor and unusual ability to get along with everyone.
"He's a very easy man to work with, and I found him quite accommodating," says Sheldon Adelson, chairman and CEO of Las Vegas Sands Corp. "He's a very nice man."
"I'm sure he has to deal with some very unique requests," says Gordon Miles, president and chief operating officer of Berkshire Hathaway HomeServices Nevada Properties, "but I've never heard a bad word about him in his reaction to his clients. He seems to be a very calming influence in this experience, and that's unique."
Luke agrees with their assessments, adding, "I'm not an egotistical architect, like 'You do it my way or the highway.' I think I'm very approachable and easy to work with."
Indeed, Luke's Australian accent and easy grin give him a boyish charm that could easily disarm even the most demanding ultrarich client.
And Luke has more than his share of ultrarich clients. He has designed more than 500 homes in Southern Nevada ranging in value from $1 million to $50 million.
His homes are considered by many to be works of art because he manages to make them unique while staying within the architectural confines of the master-planned communities they are in.
Those architectural confines, ironically, have given Luke the opportunity to experiment with many styles, from contemporary to Italianate to Pueblo to Mediterranean to Frank Lloyd Wright.
"He can take those regulated design elements and create something of beauty," says Miles, whose real estate company specializes in luxury homes. "He really brings a different flair to our architecture in the residential sector that is really much needed. It's nice not just seeing stucco and tile roofs."
It's those unique designs that have garnered attention from many of Las Vegas' rich and famous. Luke has designed homes for comedian Rich Little; gaming industry icon Stephen Greathouse; Michael Morton, founder of 9 Group, which owns N9NE Steakhouse, Nove Italiano, Rain, Moon, Ghostbar and the Palms Pool &Bungalows; and abodes for several members of the Maloof family. The Maloofs built the Palms, and their current ventures include Maloof Productions, which produces reality series for Spike TV, Speed Channel and E! Reality TV.
And, of course, there's Adelson, who recently made Forbes' list of the richest people in the world with an estimated worth more than $36 billion.
Luke collaborated with San Francisco architect Andrew Skurman on Adelson's multimillion-dollar home in Summerlin's Tournament Hills community.
Adelson gives Luke the highest praise that can be bestowed upon an architect.
"When people go to sell a house, they say it's a Richard Luke design," he says. "It's an advantage in selling a home."
Luke's first exposure to great architecture was in his native Canberra, the capital of Australia. Canberra is one of the few planned cities in the world. Australia held an international contest to choose an architect to design it in 1911, and Chicago architects Walter Burley Griffin and his wife, Marion Mahoney Griffin, were selected. The city's design was influenced by what was known as the garden city movement and incorporates significant areas of natural vegetation centered around an artificial lake.
Luke's father served as the first secretary and consul to the Australian Embassy in Washington, so Luke moved to Washington. When he graduated from high school, he decided to see the country before going back to school. He ended up in Vail, Colo., where the architecture reminded him of Europe. "Most of it was classical, international-style architecture," he says. "It was like a Swiss village, with chalet-style hotels."
Luke liked Colorado so much, he actually considered skipping school altogether and just staying there. He was a bartender in Vail making $100 a day in tips. Life was good.
But everyone knew he had the talent to be a superb architect: He was artistic, and math and science had always come easy to him. It was the perfect combination.
Then he heard about a program in Australia that would allow him to work and study at the same time. So Luke packed his bags and headed back to his roots.
Nearly three decades ago, after he graduated, he moved to Las Vegas because his then-wife was from here.
He found that his design work in Australia gave him carte blanche when it came to job opportunities, so he chose to work with J. Christopher Stuhmer, president of Christopher Homes, a large-scale luxury homebuilder in Las Vegas.
"I found out that I could open my own practice and go out on my own rather quickly," Luke says.
He is more comfortable in a smaller firm, he says. While with Christopher Homes he had 40 people reporting to him. Now he has four assistants.
"I like to keep it simple."
Luke says it takes approximately six months to design a luxury home. His fee is $7 to $10 per square foot, but he charges extra for clients who ask him to oversee the building of the design. For those clients, he inspects the building at least once a week.
Luke's private practice has received the Golden Nugget Award for a Custom Residence, Street of Dreams Award for Best Architecture and the Las Vegas Silver Award for Custom Residence.
Luke uses all the design elements that inspired him to create his Las Vegas masterpieces.
His favorite style?
"I love doing contemporary designs," he says.
He designs the home's landscaping, too. "It all has to blend and be consistent with the architecture of the house."
Many of his designs are reminiscent of Hawaiian resorts, with indoor-outdoor transitions that are seamless with sliding pocket doors that disappear when they are open and barely visible thresholds between the floor and the patio.
He uses water features, misters and strategically designed courtyards to create the oasis in the desert most of his clients are looking for.
His swimming pools are often infinity-edge pools that disappear — not into the ocean, as they do in tropical locales — but into a beautiful golf course or the natural desert vista, back-lit by the city's mountains.
Luke's signature elements, however, are his ceiling treatments and staircases.
He uses unusual shapes and a lot of detail in his designs along with strategic lighting that accents the ceiling and creates shadow and texture for the rooms or furniture groupings below, "particularly at night. A lot of times the ceiling defines the room."
His staircases are eye-catching, with banisters made of wrought iron and stairs that appear to almost float up to the next level.
"I try to make them a real sculptural element," Luke says. "I do a lot of spirals, and the geometry of it is just beautiful."
He has included some unusual features at the request of his clients: basketball courts, bowling alleys, billiard rooms and massage rooms. And, of course, almost every home he designs includes the now-requisite theater or media room.
Some clients like their media room to be set up exactly like a movie theater, Luke says, while others want a more relaxed, comfortable "family room" or den.
What they all have in common is a huge screen and a state-of-the-art sound system.
Luke says he has never looked back since moving to Las Vegas.
"I love Las Vegas. It's my home. What keeps me here is now it's starting to boom again, and I just see a great future for Las Vegas."