Towering above the 'renaissance of downtown'
August 10, 2014 - 4:00 am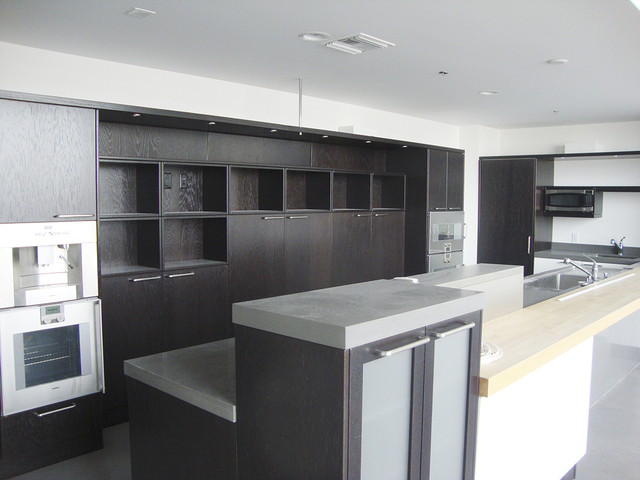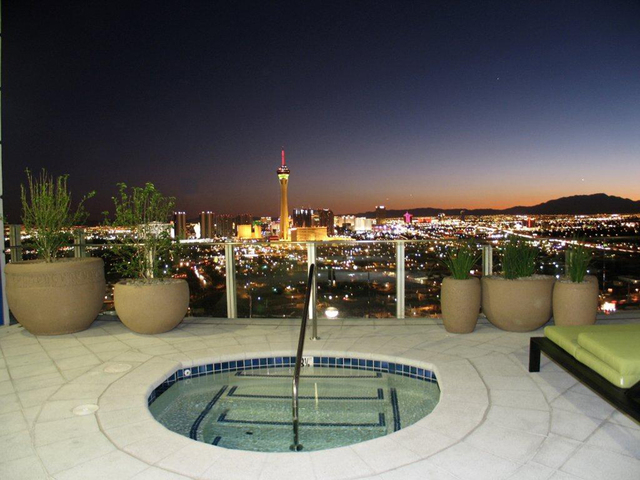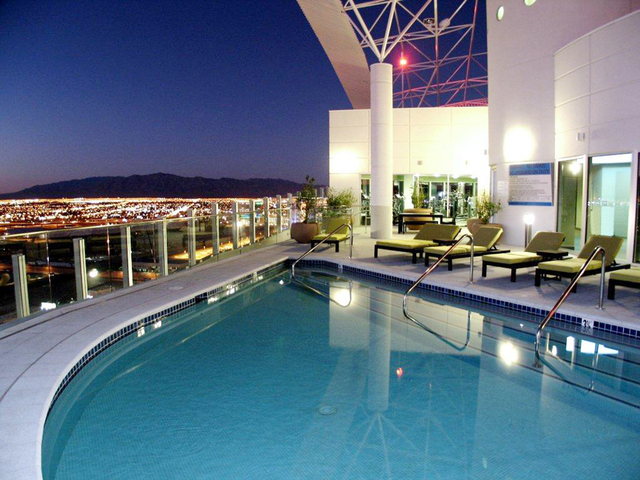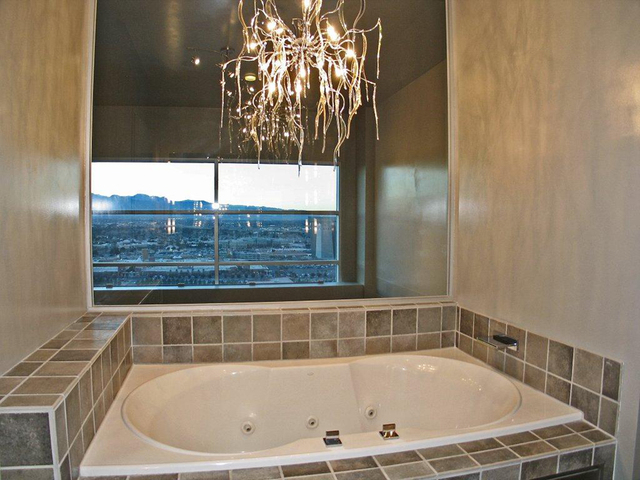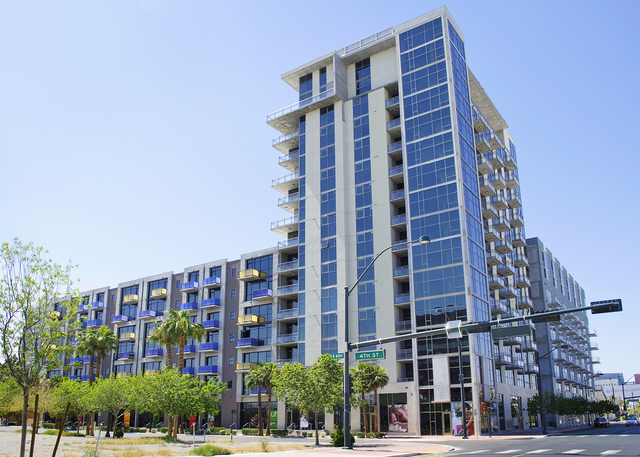 Downtown luxury high-rises have been on a roller-coaster ride since they were built in the mid- to late-2000s.
At one point, condos were priced beyond $1 million and sold off blueprints. Then, the valley's real estate market crashed, and prices dropped below construction costs.
Like other valley developments, legal entanglements with financial institutions arose as well as bankruptcy and foreclosure. Two high-rise buildings eventually turned unsold condos into rentals alongside owner-occupied homes.
Once again, things have changed and the market is in an upswing with signs of recovery. The new owners of two downtown high-rise properties foresee this as the right time to restart sales at the Ogden, previously called Streamline Towers.
"Starting this fall we are going to bring the Ogden back to a condominium building as it was and the reason why is the strength of the Las Vegas real estate market. We have spent a lot of our time researching the Las Vegas market, and it is the perfect time to return the Ogden for sale," said Uri Vaknin of KRE Capital, one of the owners of the Ogden and Juhl.
A sales center will open at the Ogden and a waiting list is forming at ogdenlv.com. Priced from the low $200,000s to the mid-$600,000s, the condos will range from one bedroom to three bedrooms plus a den, 1½ to 2½ baths, and 815 to more than 2,000 square feet. Those who are leasing residences will be given the opportunity to purchase first. The Ogden has developed a list of preferred lenders for prospective buyers.
"The downturn of our real estate market turned properties that were designed as high-quality condominiums into rentals, which brought people to the downtown and high occupancy. Now, the downtown market has shifted again in Las Vegas," said John Tippins, CEO of Northcap, which purchased the Ogden and Juhl in partnership with Dune Real Estate Partners and KRE Capital in December.
"While we are in complete recovery, the pricing is not yet in complete recovery with prices (at some developments) at 46 percent of the high point of Las Vegas. In the downtown, there is low inventory but the prices are still great and the mortgage rates are still at incredible lows.
"This is the perfect time to invest in a home in Las Vegas, especially in downtown Las Vegas, where there is practically no inventory," Tippins said.
"The new ownership of the Ogden and Juhl has a long-term strategy to return them to ownership. They have the greatest amenities on site and a variety of floor plan types, and we've been curating the best retail opportunities in downtown at the ground floor of both buildings," Tippins said.
Recently, each high-rise has attracted media attention for high-profile Southern Nevadans choosing their properties. Well-known architects Jon Sparer and John Klai purchased a penthouse at Juhl. Calling the Ogden home is Zappos CEO Tony Hsieh, a proponent of downtown redevelopment and a driving force behind the $350 million Downtown Project, which strives to create a vibrant, connected urban core.
Four downtown high-rises — Soho Lofts, Newport Lofts, Ogden and Juhl — have been among the numerous projects that have changed the street-scape as part of what some have coined a "renaissance of downtown." Their development took downtown living to a new level — both literally and figuratively — and has been an important redevelopment component with 900-plus new condos that have resort-style on-site amenities and an urban-living vibe.
These four were not the only residential downtown high-rises planned. When the valley's real estate and lending markets went downward, blueprints for other developments were shelved.
The first downtown high-rises: Soho Lofts and Newport Lofts
During the mid-2000s, then Mayor Oscar Goodman was trumpeting revitalizing downtown Las Vegas. The 17-story Soho Lofts and the 24-story Newport Lofts, both by Cherry Development, were at the forefront of redevelopment efforts when sales began in 2006 and 2007, respectively.
Soho Lofts, 900 Las Vegas Blvd. South, features 120 condos starting at 1,336 square feet with penthouses at more than 4,900 square feet. Just down the street, Newport Lofts, 200 Hoover Ave., offers 168 loft-style condos starting at 911 square feet and penthouses at more than 3,000 square feet.
Both brought something new to downtown: High-rise living, on-site resort-style amenities and higher-end price tags.
According to Helen Michel, high-rise condo specialist with Simply Vegas, the two were the first to introduce New York-style loft design to downtown with the characteristic open floor plans sans walls, exposed duct work along the ceiling, and numerous options to divide the space with partitions, movable or more defined walls.
"They came with polished concrete flooring. They featured open floor plans that some people chose to subdivide and others chose to keep open like you might find in New York lofts," said Michel, who has represented clients at both high-rises.
They were also the first to provide resort-style amenities. Soho Lofts features a grand lobby entrance; a doorman; enclosed parking garage; a rooftop pool, spa tub and sun deck; fitness center; and sauna. On-site amenities of Newport Lofts include a doorman; enclosed parking structure; a rooftop pool, spa and running track; SkyRoom with a billiards table, lounge area and movie room; and fitness center.
Like other developments throughout the valley, both experienced severe price drops when the real estate market collapsed.
"Soho Lofts was very successful, the market was strong and we sold homes on paper," Michel said. "Newport was only a year behind Soho. The market was already dipping and the building (Newport Lofts) was not able to sell preconstruction like the other did," she said. Newport Lofts auctioned its last units in 2009.
The importance of timing: Ogden and Juhl
When the Ogden and Juhl entered the downtown market, both faced the challenges of timing as the valley's real estate and lending markets were in a downturn.
The Ogden, 150 Las Vegas Blvd. North, encompasses 275 units ranging from 815 to 2,044 square feet within a 21-story building near the emerging entertainment district, which includes The Smith Center for the Performing Arts. Juhl, 353 E. Bonneville Ave., is a mixed midrise and high-rise property that includes six- and 15-story towers and 341 lofts that range from 600 to 2,200 square feet.
Amenities are abundant in each. The Ogden features retail space at street level; rooftop pool terrace and spa; a secure parking garage; concierge services; 16th floor clubhouse and conference room; and a 15th-floor fitness center. Juhl offers residents access to street-level businesses; a two-story fitness center; rooftop pool and spa; 10th floor wine patio; covered gated parking and garage parking; and on-site concierge.
Low inventory of downtown high-rises for sale to soon change
The effects of the cyclical market and turning the Ogden and Juhl into combined owner-rental properties have led to few downtown high-rise condos for sale, according to Dan Angelo, Realtor and property manager of the Prescott Cos. Angelo previously sold brand-new Soho Lofts condos as its director of sales with Cherry Development. Only nine downtown high-rise condos were listed on the Multiple Listing Service during the last week of July: two for sale at Soho Lofts, a 12th-floor, 1,590-square-foot unit for $349,900 and an 11th-floor, 1,357-square-foot residence for $359,900, both listed through Angelo; and five condominiums for sale at Newport Lofts, ranging from a 1,065-square-foot condo on the 18th floor for $239,900 to a 1,613-square-foot condo on the 16th floor for $519,900; a 963-square-foot unit at the Ogden for $245,000; and a 994-square-foot unit at Juhl for $225,000 listed with a pending offer.
"The downtown high-rise market has a low inventory, but it is coming back. There is not that much inventory because most of the condominiums have already been sold at least once when prices dropped. They have already gone through short sales and foreclosures … The prices have been steadily increasing. For example, at one time, some of the original homes at Soho Lofts were sold for $400 and more per square foot. The prices floundered to around $100 per square foot and now it is back up to more than $200 per square foot," Angelo said.
"What we have now are traditional sales and steadily increasing prices, and there is still a great deal of cash in the market … Buyers are still very savvy and they look at the comparable listings. If the high-rise units are priced right, they are going to sell," Angelo said.
According to David Tina Sr., 2013 president of the Greater Las Vegas Association of Realtors and managing broker/owner of Urban Nest Realty, which is the listing agent for two of the Newport Lofts condos, the challenge to selling a high-rise condo is finding the right buyer.
"There is a certain owner looking to live downtown in a high-rise like a couple, a single person or a part timer. Those who are actually married with children are not going down there, not yet," Tina said. "There's a limited pool of people who are buyers, and there is also a very limited pool of units for sale. Basically, in all of downtown, there are only two high-rises (Soho Lofts and Newport Lofts) that are really available for sale and the inventory became very tight because two (Ogden and Juhl) are mostly rented and that took the inventory out."
This sales inventory is expected to dramatically increase when the Ogden's owners return condos that are leased through its leasing office to the sales market.
"We already know that there is a strong demand because there is practically no inventory in downtown Las Vegas. In the past years, downtown has been going through a renaissance with new projects, the Container Park opening, restaurants, and businesses all within walking distance.
"Downtown is where it is happening. In the downtown, you can walk out your door and not have to use your car. You can walk to a restaurant, walk to your dry cleaners, walk to entertainment. … We know from our experience that people want that lifestyle, and this is what the Ogden offers, the ability to walk to where you want to be," KRE Capital's Vaknin said.
Changes at Juhl are underway
"Our focus on Juhl is to maintain it as a leasing strategy. It will remain the premier building in downtown Las Vegas … We are very close to signing five new retailers at Juhl, which is in the 'core district' of downtown, the area between Fremont and the Arts District," Vaknin said.
"By bringing in the exact right retailers, it will overnight increase the livability of the core district while simultaneously connecting the four districts in the downtown corridor. This has been the dream of the downtown stakeholders," Vaknin said. "Curating new retailers at Juhl and returning the Ogden to the market represent the revival and renaissance of the condo market and of downtown Las Vegas."
Tina is optimistic about downtown.
"I am originally from New York, and if you take an area like Brooklyn … it was doing badly and it is now back and is considered 'the place' to live. That is how I feel about downtown Las Vegas. I believe that downtown's future is very strong … I see it as desirable now. I see it as up and coming. I also see it as going to take time as the city emerges and changes, but I think that is true with any city that is revitalizing and coming to good terms," Tina said.
Michel concurs.
"Downtown is a … unique area and a lot of things are happening with the development of The Smith Center, the Discovery Children's Museum, Fremont Street becoming divided from ' old Fremont Street' and 'new Fremont Street,' the Container Park, restaurants, and bars," Michel said.
"More businesses are moving to downtown and people need a place to live. Most of the law offices and the courthouses are downtown, and that attracts a different crowd. This all makes downtown a very appealing and unique place to live," she said.
Gordon Miles, president and chief operating officer of Berkshire Hathaway HomeServices, offers an unusual perspective of downtown high-rise living — that of someone who had lived there at the forefront of change.
"Several years ago, I bought a penthouse at Newport Lofts. It was a short sale and the prices had dropped significantly. We lived there for six months but then we left because … the infrastructure was not there and the revitalization of the neighborhood wasn't there. We were there 'too soon,' before the redevelopment actually took place," Miles said.
"That has since changed and now I would love to live there. Now you have the Arts District, The Smith Center, the new City Hall, Zappos. The area has excelled and the whole dynamic down there has totally changed. When I lived there, there were a lot of investors and … now you have a totally different crowd. You have young executives who are buying the units. Many live and work in the downtown and everything is changing for the better."
Miles foresees new development in time.
"There's been some talk about other possible projects, but construction financing is much more difficult than it was. Also, the price that you can sell a home is starting to get back to a higher level. All of that is going to take time to work through. I don't expect new projects in the immediate future, but as the prices adjust and the construction financing change, it will happen. You will see more of that distinct downtown corridor and lofty downtown lifestyle."