LVCVA cancels Ralenkotter's consulting contract amid charges
Updated September 13, 2019 - 7:21 pm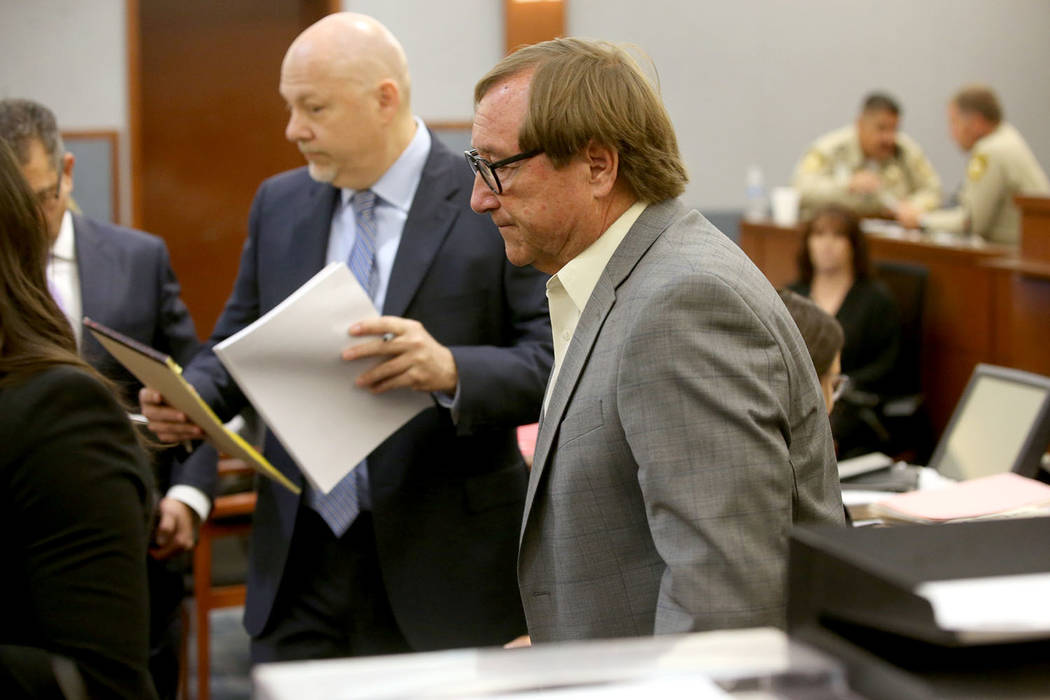 The Las Vegas Convention and Visitors Authority has terminated the $15,000-a-month consulting contract for former CEO Rossi Ralenkotter in the wake of criminal charges against the once-powerful tourism boss, the board's chairman said Friday.
Ralenkotter's successor, Steve Hill, took the action, effective immediately, after consulting with the four members of the board's executive committee, according to the chairman, Larry Brown.
"Once the conversation took place, Mr. Hill felt that the board sentiment was to terminate the contract right away," Brown said, adding he supported the decision.
Hill sent an email to Ralenkotter Friday initially informing him of the decision and followed it up with a formal letter, Brown explained.
Ralenkotter's civil attorney, Terry Coffing, declined comment.
The LVCVA board approved the 18-month contract in August 2018 as part of Ralenkotter's $455,000 retirement package. At the time Ralenkotter was the target of a police investigation into the mishandling of $90,000 in Southwest Airlines gift cards bought by the tax-funded convention authority.
The agency had the ability to end the contract, which was set to expire on March 31, 2020, "for any reason," Brown said.
Canceling the contract, Brown said, is another step in the LVCVA's effort to put the gift card scandal behind it.
"My focus is moving forward," he said. "We have done a lot of things in the last 18 months, and that's where the focus will stay."
Despite Friday's action, Brown had praise for the embattled Ralenkotter.
"I'm not taking away anything that transpired with the gift cards," Brown said. "But people need to know the good that Mr. Ralenkotter and the authority have accomplished over the last 25 years. There are a lot of good things that came out of the authority, and Rossi's fingerprints are all over it."
Prosecutors filed felony charges Monday against Ralenkotter and two other top former executives in the gift card investigation. A Southwest employee also was charged.
The seven-count complaint came after a yearlong investigation of the LVCVA that police said was prompted by Review-Journal stories disclosing audit results of the secretive gift card purchases. The newspaper has been investigating excessive spending and lax accountability of gifts to staffers and board members at the LVCVA, most of which occurred during Ralenkotter's tenure.
LVCVA records obtained by the Review-Journal in May showed that Ralenkotter continued a pattern of luxury traveling at taxpayer expense as a consultant while providing little written justification of his work. He has been receiving a nearly $300,000 annual state pension since his retirement.
Ralenkotter, 72, once one of the most influential public officials in the state, was charged with theft and misconduct of a public officer, both felonies. He has repeatedly denied criminal wrongdoing.
His former chief marketing officer, Cathy Tull, 52, also faces charges of theft and misconduct of a public officer. Her lawyer, Paola Armeni, has vowed to "zealously" defend Tull.
Brig Lawson, the agency's former business partnerships director, was charged with theft, forgery and unlawful use of public money. His lawyer, Chris Oram, said he plans a vigorous defense.
Police allege that Lawson, 49, instructed Southwest employees to hide the gift card purchases in promotional invoices between 2012 and 2017.
Eric Woodson, 54, a Dallas-based Southwest Airlines marketing executive, was charged in the complaint with theft and forgery. His defense lawyer, Pete Christiansen, did not respond to a request for comment Friday.
Lawson handed out thousands of dollars in gift cards to Ralenkotter and other convention authority staffers for their personal use, the complaint alleges.
Ralenkotter used roughly $17,000 in cards on personal travel, and Tull bought airline tickets for herself and family members with $6,000 in gift cards, police and LVCVA records show.
Both executives reimbursed the agency, and Tull agreed to pay $8,700 in fines for violating the state ethics law. Ralenkotter is still facing an ethics investigation.
The Review-Journal is owned by the family of Las Vegas Sands Corp. Chairman and CEO Sheldon Adelson. Las Vegas Sands Corp. operates the Sands Expo & Convention Center, which competes with the LVCVA-operated Las Vegas Convention Center.
Contact Jeff German at jgerman@reviewjournal.com or 702-380-4564. Follow @JGermanRJ on Twitter.
Related
Ralenkotter's LVCVA consulting contract in jeopardy after criminal charges
Ex-LVCVA boss Ralenkotter, 3 others face felony charges over gift cards
Southwest Airlines exec tied to misuse of gift cards by LVCVA
Audit of LVCVA's use of airline gift cards questioned by police
Police probe: Ex-LVCVA boss gave taxpayer-paid gift cards to staff