12-year-old's love of sports helps him become one of the best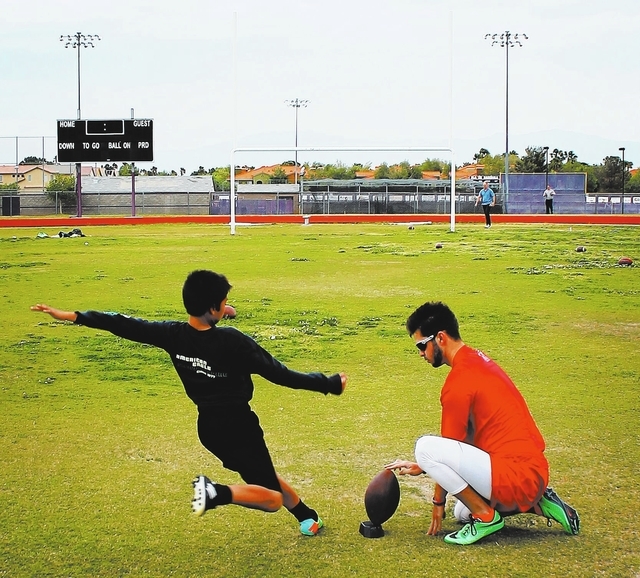 Dillon Fedor is a sixth-grader at Canerelli Middle School who not only maintains honor-roll grades and participates in efforts to end bullying, he also appears to be the No. 1 kicker in his age group in the nation.
"We've been told he's the top kicker for the graduating class of 2020, so we're really going on that," said Dillon's father, Greg Fedor. "He's kicking 42-yard field goals in the sixth grade, and there's no one else in the country his age (who) can do that."
Additionally, Dillon received a 17th-place award in the NFL Punt, Pass &Kick competition, in which more than 60,000 kids nationwide participated.
Dillon has worked hard, always dedicating his time to sports that will benefit his work in the future.
"We had him swimming by 2 years old, and then we moved onto gymnastics at 3½ years old so he could develop balance, which proved to be so beneficial," Fedor said. "Then we went to karate and tae kwan do, where he got concentration, respect, focus, flexibility and confidence, and from then we put him in a bunch of sports so he could decide what he liked. He loved martial arts, soccer, wrestling, and of course football is his No. 1."
Balancing sports has not been a problem for Dillon. He does an hour of homework after school before going to martial arts for two hours, and then either kicking or soccer practice, depending on the day.
Even when Dillon is taking a break on vacation, he looks forward to taking every opportunity to hone his sports talents.
"Last year me and my dad went to a trip to Hawaii, where we stayed on the beach," Dillon said. "I loved just hanging out with my dad and playing sports on the beach with him. We mostly played catch when we hung around."
Greg Fedor said Dillon's love for sports is key to his success.
"He has to enjoy it," he said. "If he doesn't enjoy it, we don't do it. He knows that every sport he does is an opportunity. He doesn't slouch anywhere. He gets up early and wants to go train."
Along the way, Fedor said, Dillon has caught the eye of sports figures.
"He's gone on radio shows for Fox and got to meet Joe Montana, after Joe saw his videos," he said. "He's met movie stars and world-champion fighters, but he's always been shy, humble and modest."
This summer, Dillon plans to attend a kicking camp at Ohio State University, where he will be the youngest participant.