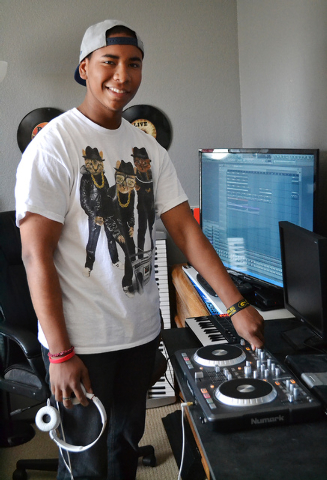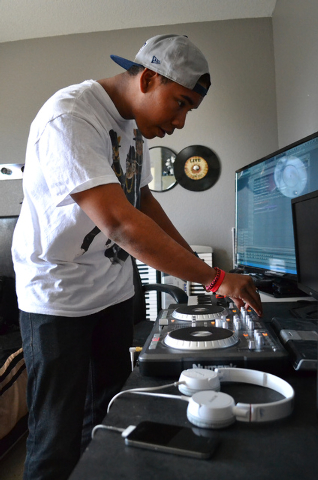 The lights are flashing.
The air is electric.
There is a faint scent of mist as teenagers and party animals alike wait for the bass to drop at a house party in Henderson, where partyers have come to bask in upbeat, heart-thumping music.
At the center of it all, stands the creator of this powerful eardrum-pounding sound, Andamo Hondo, a 17-year-old DJ-producer from Henderson.
He's a Coronado High School senior, and music production is his passion.
"I first picked up DJing when I was 13," Hondo says. "My uncle was a DJ, and watching him perform live was such an amazing experience."
Hondo describes the experience as life-changing.
"I lived in California for a while, and when I moved here, I didn't have a lot of friends," he says. "I was never close to family either, so I always kept my distance and let my music speak for my emotions."
Hondo, who goes by the stage name DJ Beat Rokka, says his favorite part of DJing is seeing the crowd reacting to and reveling in what he's playing.
Hondo, who primarily plays progressive house, avidly uses social media and other online sharing tools such as SoundCloud to get his music heard. He says his favorite DJs are Martin Garrix and Dada Life, who became his friends after he met them while performing on the Strip.
"These guys are just amazing, and great people," Hondo says, describing Garrix and Swedish DJ duo Dada Life.
Hondo says the most special moment of his career so far occurred during a performance.
"I was in the middle of one of my sets and a kid came up to me and said I inspired him to continue his desire into music," Hondo recalls, stating that he had felt so moved by this that he has strived to work hard every day.
After graduating, Hondo plans to pursue DJing and filmmaking, and studies at Full Sail University in Winter Park, Fla. Besides creating more than 30 tracks in four years, and releasing 10 of them to the public, he has recently finished writing the screenplay for his debut small-budget film, "Playing With Fire," and made YouTube videos with his new comedy group, Comedy Cries.
Hondo's ultimate aspirations are to DJ at Las Vegas' Hakkasan nightclub and the annual Ultra Music Festival in Miami.
"DJing really changed my life," he says. "It's given me so many opportunities to share what I love with everyone. Also, it's a great way to get over a bad day and just let go.
"On bad days, I can always find that track that cheers me up or gives me a good feeling.
"Instead of waiting for the next great song to come on the radio, I've decided to make it myself."