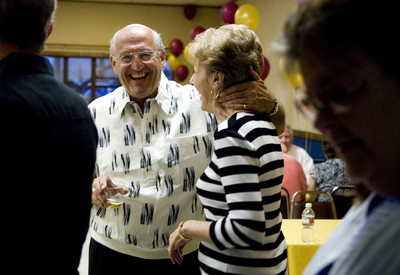 On the grounds of St. Andrew Catholic Community in Boulder City, and included among the 3,000 or so trees, plants and bushes that thrive on the property, are some impressive Italian cypress trees that soar 20, maybe 30, feet tall.
But the Rev. Joseph Annese — who planted not only those trees but pretty much everything else there is, physical and spiritual, at St. Andrew — remembers when the trees weren't so impressive.
"Those were 13 inches high back in 1980," Annese says, smiling. "Twenty cents apiece at Kmart."
It's the sort of total recall that comes with having spent three decades as pastor of St. Andrew. But more important to Annese than the church's lush landscape are other things that have taken root at the parish during his tenure.
Sense of mission. Love of God. And, Annese says, his relationships with parishioners, with whom he has laughed, cried, worshipped and socialized during the past 30 years.
Annese, 75, officially retired June 30. While he's leaving St. Andrew, he won't be leaving the Las Vegas diocese. In fact, he's moving to Green Valley where, he says, "I'll be helping out (saying Mass) on weekends, where I'm needed."
And, he adds, smiling again, "when I want to."
Dorothy Caputo, a parishioner at St. Andrew, arrived at the parish the same year Annese did.
Right now, "we're in kind of a grieving process," she says. "It's hard to let go.
"If you look at St. Andrew, it's the church Father Joe built. He's in every nook and cranny."
Bill and Irene Spillan's tenure at St. Andrew predates Annese's by two years. Before Annese arrived, "it was a little church," Irene recalls. "He's the one that built the church."
Bill will miss Annese's ability to make Scripture readings both understandable and relevant.
"I've been a Catholic all my life, and he's by far the best homilist I've ever been privileged to hear," Bill says.
While "anyone can build a church," he adds, "it's your talent, your understanding of people" that creates a faith community.
Annese was born in the Boston area to a large Catholic family — he is one of nine kids — and entered the seminary following eighth grade.
How did he know he had a calling? "I always use the analogy (of), you look out and see this guy who's been married 30, 40, 50 years. How did you know to take Susie? How did you know to take Harry? It's like falling in love."
Annese entered a missionary order with hopes of becoming an overseas missionary. Six months before ordination, he had filled out an application listing the six or seven choices in the world where he wished to serve.
"I signed up for eight countries, and Africa was the first," he says.
When the time came to find out where he would be sent, "we lined up in the corridor going into the superior's office," Annese recalls. "I go in and the father says, 'It's God's will you go to Erie, Pennsylvania.' I said, 'Where is Erie, Pennsylvania?' "
Annese spent four years — "four great years" — teaching high school in Erie, followed by teaching assignments in New Jersey and Los Angeles. At the urging of a friend, he came to Southern Nevada and, in 1970, became a priest of the then Reno-Las Vegas diocese.
In 1978, Annese was made pastor of St. Andrew, which was founded in 1931 to serve the growing population of the town. In 1980, Annese and parishioners broke ground on what would become the present church building.
"It was fun," Annese says. "Even at my age, if the bishop said, 'Here's $10 million. Why don't you build a church?' I'd jump at it. It's in my blood.
"I got that from my father. He was in construction. He was a bricklayer. This is why I have a trowel on my desk: to remind myself of my roots."
The new church was dedicated in 1981. And, for the past three decades, Annese has been its pastor, even agreeing to continue serving 10 years after he, theoretically, could have retired.
Now, he says, "it's time."
While Annese plans to continue serving as a priest in the diocese, he'll also have more time for other pursuits. For example, Annese finally got that trip to Africa earlier this year, and spent three months visiting seminary classmates and missionary friends. (His blog of the trip can be found online at frjoeinafrica.blogspot.com/)
Once, Annese says, someone asked if he was sorry he didn't get his ordination wish to go to Africa. "I said, 'God writes straight with crooked letters.' My story, my 46 years (as a priest) have been just so beautiful."
Every parish, Annese notes, "takes on the personality of the pastor."
Annese hopes that would mean his congregation shares his "love affair, my relationship with God," and that it would make St. Andrew a mission parish that knows Christianity is about caring for those others may forget.
"I think if you ask most of the people here, 'What's Father Joe's favorite and most challenging Scripture passage?' it's Matthew 25," he says. " 'What have you done for my sisters and brothers?' He's not going to ask us when we go up there what your bank account is or how many degrees you have."
Parishioner Caputo agrees.
"It's the most wonderful church to be a part of, because everybody reaches out to one another."
Annese is told that leaving the serene, lush grounds of the church he has overseen for so long must be difficult. But, he says, "my biggest joy isn't the grounds or the building.
"People have asked that question often: Aren't you going to miss these beautiful grounds? No, that's easy to walk away from. I take pride in it, but that's not what I'm going to miss."
"What I'm going to miss is the wonderful spirit we have here," Annese says. "That's what I think any pastor would miss: the relationships.
"I mean I've been here 30 years. I know these people better than I know my own family. I've had more trouble burying parishioners than I did my mother and dad and sisters and brothers."
"I've been with these people 30 years," Annese says. "That's beautiful."
Contact reporter John Przybys at jprzybys@reviewjournal.com or 702-383-0280.