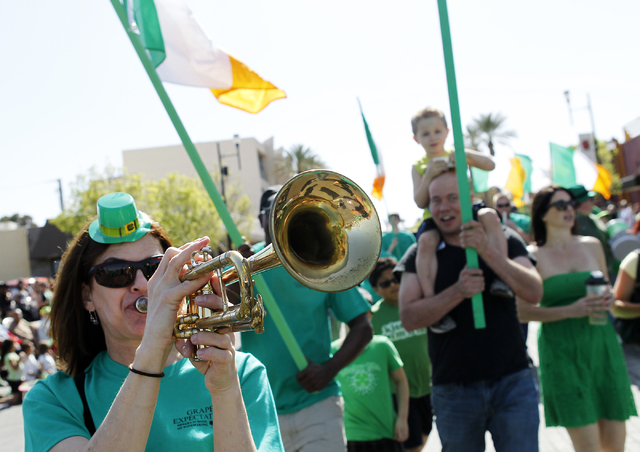 If you're looking for Donna Brown at the Southern Nevada Sons & Daughters of Erin St. Patrick's Day Parade & Festival this year, keep your eyes peeled for a woman with green hair and green eyebrows.
Brown, a member of the Sons & Daughters of Erin and director of marketing for the festival, said she plans to dye her hair and don a kilt for the 50th annual event, set to be hosted by the city of Henderson from 5 to 10 p.m. March 11, 10 a.m. to 10 p.m. March 12, and noon to 9 p.m. March 13 at the Henderson Events Plaza, 200 S. Water St. Brown's husband, Don, also plans to go green-haired, including his mustache.
Activities are set to kick off with a festival and a carnival with rides and games on March 11. On March 12, the St. Patrick's Day Parade is slated from 10 a.m. to noon; a carnival and festival are set from 10 a.m. to 10 p.m.; and a car show is planned from noon to 5 p.m. Highlights for March 13 include a festival from noon to 7 p.m. and a carnival from noon to 9 p.m.
Food vendors and Irish whiskey tasting contests also are scheduled, as are performances from students at the Carrolier Academy of Irish Dance, 7835 S. Rainbow Blvd., Suite 6, and Scoil Rince Ni Riada Irish Dance, which has locations at 1400 N. Rampart Blvd. and 270 E. Horizon Drive, Suite 103.
"We will have beginners to our adult dancers," said Tara Reid, owner of Scoil Rince Ni Riada Irish Dance. "We perform all year 'round, but St. Patrick's Day is the biggest time of the year that we perform, and I would say the Henderson festival is our biggest event of the year."
Bands that are slated to perform include The Angry Brians; Killian's Angels; Holes & Hearts; Flashback; Finnegan's Wake; The Machine Gun Kellys; Darby O'Gill and the Little People; and Bogtrotter's Union.
A portion of proceeds from the festival, including a head-shaving event set from 5 to 5:55 p.m. March 12, is scheduled to benefit the St. Baldrick's Foundation. Visit stbaldricks.org.
Brown said the theme of the festival is 50 years of Irish tradition, and the parade's grand marshals will be past presidents of the Sons of Erin, as well as the group's Sons of the Year and Daughters of the Year from the past five decades.
More than 100 floats are slated to take part in the parade, said Kim Becker, public information officer with the city of Henderson. The same goes for the car show, she said.
The parade is set to leave from Water Street at Ocean Avenue and head south, ending at Victory Road. Bleacher seating is set to be available along Water Street near the parade departure point, at the Purple Heart Street and Army Street intersections and between Pacific Avenue and Victory Road.
Food trucks are set to be parked along Water Street from Basic Road to Atlantic Avenue, with vehicles in the car show displayed along the same stretch.
Parking is scheduled to be available at the garages at Henderson City Hall, 240 S. Water St., and the Henderson Justice Court, 243 S. Water St., Becker said. Street closures planned throughout the festival and other additional details about the event are available at tinyurl.com/hendersonstpatrick.
To reach Henderson View reporter Cassandra Keenan, email ckeenan@viewnews.com or call 702-383-0278. Find her on Twitter: @CassandraKNews.
Patrick's Day Festival
Hours: 5 to 10 p.m. March 11, 10 a.m. to 10 p.m. March 12, and noon to 9 p.m. March 13
Address: Henderson Events Plaza, 200 S. Water St.
Visit tinyurl.com/hendersonstpatrick.