Ask a Lawyer: DUI checkpoints – Are they legal and what are your rights?
December 30, 2014 - 10:55 pm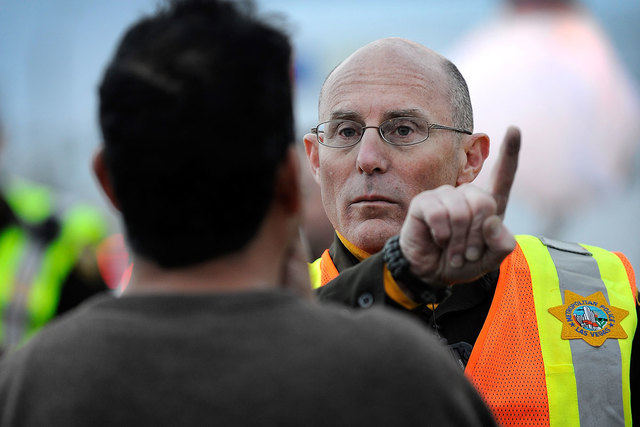 They go by a number of different names: DUI checkpoints, administrative roadblocks, mobile checkpoints, or as they are referred to by the Las Vegas Metropolitan Police Department, sobriety checkpoints. No matter the title, they all have the same effect: to allow the police to stop your vehicle for no articulable reason, ask for your license and registration, and ask you questions such as, "Where are coming from?" "Where are you going?" and — most importantly — "Have you been drinking?"
Under normal circumstances, an officer cannot stop your vehicle and ask you questions unless you have committed a traffic offense or the officer has a reasonable suspicion that you are engaged in some type of criminal behavior. This right we all have against "unreasonable seizures" is deeply embedded in the Fourth Amendment to the United States Constitution.
However, the United States Supreme Court decided in the case of Michigan v. Sitz, 496 U.S. 444 (1990), that a DUI roadblock, while in fact a "seizure within the meaning of the Fourth Amendment," and therefore a constitutional violation of an individual right, was reasonable. The court utilized a "balancing test" and determined that the slight intrusion motorists experience at a checkpoint is outweighed by the "State's interest in preventing drunken driving."
Consistent with the U.S. Supreme Court Opinion, Nevada law allows police officers to set up sobriety checkpoints, referred to in the statute as an "administrative road block," with specific requirements that the officers must follow.
Under Nevada Revised Statute (NRS) 484.B570, the following must be completed for the roadblock to be constitutional:
The roadblock must be clearly visible to approaching traffic for a distance of at least 100 yards in either direction.
A sign must be placed at the center line of the road displaying the word "Stop" at not less than 50 yards from the administrative roadblock.
At least one red flashing light must be at the side of the roadway, clearly visible to oncoming traffic at a distance of at least 100 yards.
The above requirements that indicate that a road block is ahead allow the driver to opt out of driving through the checkpoint, as long as there exists a legal turn the driver can make onto another street. Most people think that as they approach a sobriety checkpoint, they must continue straight into the lanes associated with the narrowing of traffic until they are inevitably met by the officer ready to question them. However, the statute does not require a driver who is approaching a sobriety checkpoint to continue into it, if a legal turn can be made. If you are late for an event (because most sobriety checkpoints are during holidays) or simply do not feel like waiting in a long, slow-moving line of cars, you are within your rights to make any legal turn onto another roadway.
It is extremely important to understand that while you are permitted to make a lawful turn before arriving at the roadblock, failing to stop at a sobriety checkpoint (i.e. driving right through) is a crime. So, once you are in the line of cars that are going through the checkpoint and a legal, alternative route no longer exists, you must comply with the officer at the end of your lane. Proceeding through the checkpoint without stopping and disobeying the lawful orders and/or direction of the police officer handling your lane is a gross misdemeanor which is punishable up to 1 year in prison. (NRS 484B.580).
When your vehicle approaches the officer, he or she can either waive you through or order you to stop and lower your window and ask you a series of questions. If after asking you questions the officer suspects that you are under the influence of drugs or alcohol, or if the officer suspects any criminal activity (possession of drug paraphernalia, warrants, traffic citations, etc.), then you will be instructed to proceed to a nearby area for further testing or processing.
What is interesting to note is that the state of Nevada and the Metropolitan Police Department recognize that stopping an automobile without probable cause or a reasonable suspicion that the driver has committed an offense can be considered a government intrusion.
Not only did the Nevada Legislature require the police to provide citizens with sufficient warning that the checkpoint is ahead through the use of flashing lights and signage, but Las Vegas police themselves have adopted some of the recommendations of the National Highway Traffic Safety Administration (NHSTA) regarding checkpoints. One of the more notable recommendations is that police departments publicize their impaired driving efforts by announcing their intentions to conduct sobriety checkpoints in advance. Metro follows this recommendation by announcing checkpoints on its website.
Remember – this article is written for law abiding citizens and no one who chooses to drive while intoxicated should attempt to evade detection. According to the NHSTA, one alcohol-related crash fatality occurs every 33 minutes. With that staggering statistic, there is no question that drunk driving is a very serious and often deadly issue. Any intoxicated driver presents a danger to us all – and a sobriety checkpoint furthers the interests of stopping those illegal drivers from harming other citizens.
My advice is one of zero tolerance – driving after any consumption of alcohol is a risk to your own freedom and safety. Taking a taxicab home or getting a ride from a friend is certainly better than spending the night in jail, the hospital or the morgue.
In sum, whether it be New Year's Eve, Memorial Day, Labor Day, or any other holiday, you can expect to see sobriety checkpoints conducted by the Metropolitan Police Department throughout the Las Vegas Valley. Be cautious and do not drink and drive.
This information is for educational purposes and should not be considered specific legal advice. Always consult with a qualified attorney regarding your individual circumstances.
Marc Saggese is the owner of The Law Offices of Saggese & Associates. He has been a Las Vegas personal injury and criminal defense attorney for over 15 years. Mr. Saggese writes weekly about various issues of the law for reviewjournal.com. For more information visitwww.MaxLawNV.com or connect with him on Twitter, Facebook or Linkedin.