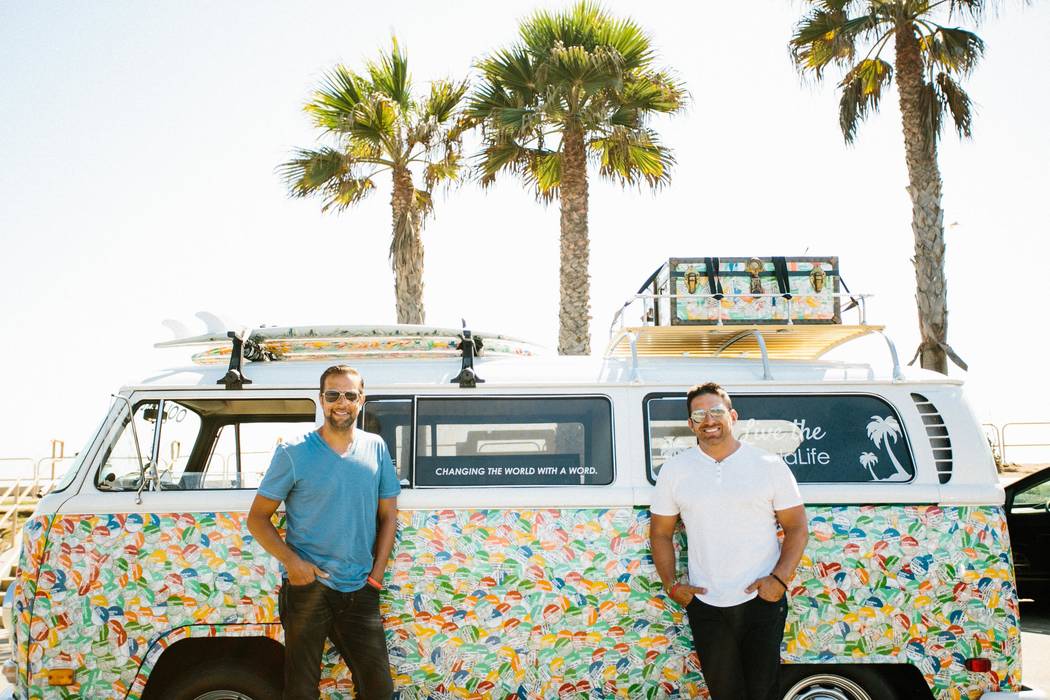 Since 1997, authors Dave Braun and Troy Amdahl have been meeting at the Hard Rock Hotel in Las Vegas every December.
The annual meetup was like many trips men take to Las Vegas in that they were here to take a break and have fun. It was unlike most trips in that part of this visit meant sitting on the floor of one of their hotel rooms with 21 notecards and a couple of Sharpies, writing down their goals and dreams.
The cards were divided into seven categories, with three cards for each category — family, friends, field, finance, fitness, faith and fun. Over the following year, each would try to reach the goals they wrote down. Balancing those seven areas would become a guiding principle Braun and Amdahl would later call "Oola," when outlining their first book in 2012, "Oola: Find Balance in an Unbalanced World."
The duo were back in Southern Nevada last week promoting their second book, "Oola: Find Balance in an Unbalanced World For Women," which came out this spring, and was written with the multitasking woman in mind.
They stopped at Findlay Volkswagen dealerships in Las Vegas and Henderson and held a book signing at the Henderson Barnes and Noble.
"This whole thing has a Vegas connection," Amdahl said. "It started in Vegas."
That meeting 20 years ago led not only to friendship, but also a three-book deal with the original publishers of "Chicken Soup for the Soul" and a coast-to-coast tour via an old VW bus. They were here last week in that bus, which has no air conditioning or working fuel gauge, on the hottest week of the year so far.
"It always says (the gas tank's) empty," Amdahl said. "There's no air conditioning, no power. But it's so fun."
They brought the bus along — when it worked — to let people put their dreams on stickers and affix them to the bus.
A question that has come up often on their tour: What is Oola? Derived from "ooh la la," they said it's that feeling you have when your life is balanced in the seven core areas. "State of awesomeness" is another way they describe it, and Braun and Amdahl both feel they've reached it.
That doesn't mean life is always easy. Braun said that when he drifted from Oola, he found himself divorced, broke and living in a motel.
Reconnecting with Amdahl, who had accomplished his 11th-grade goal of being debt-free and retiring in his 40s, returned Braun to the Oola principle and a more balanced life.
"When I reached out to (Troy), I was living in a motel," Braun said. "I lost everything. I told him, 'If I get my crap back together, if Oola works, we're going to write a book and share this.' Two or three years after that conversation, and him helping me through the process, I got my life back on track."
The first sticker that ever graced the bus was from Braun and Amdahl: "We're going to change the world." Now, the bus features dreams that say "lose 100 pounds" or "survive stage-four cancer," and Amdahl said no two dreams are identical. They're at over 40,000 "dreams" right now, with the bus 12 layers deep in stickers. Their goal? One million stickers.
The tour is on hiatus now until fall, when they'll resume working toward bringing Oola to all 50 states.
"It's turned into this almost movement," Amdahl said. "We're telling people, 'You be you.' It's just reconnecting people to (their dreams) and giving them the tools with the book to go get it."
Contact Katelyn Umholtz at 702-383-0279 or kumholtz @reviewjournal.com. Follow @kumh0ltz on Twitter.