Awards presented at Clark County Medical Society dinner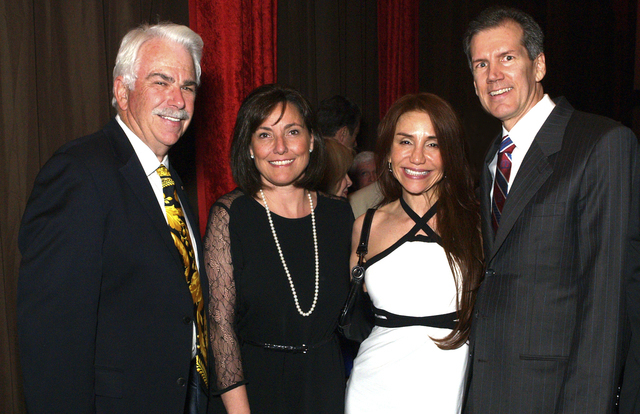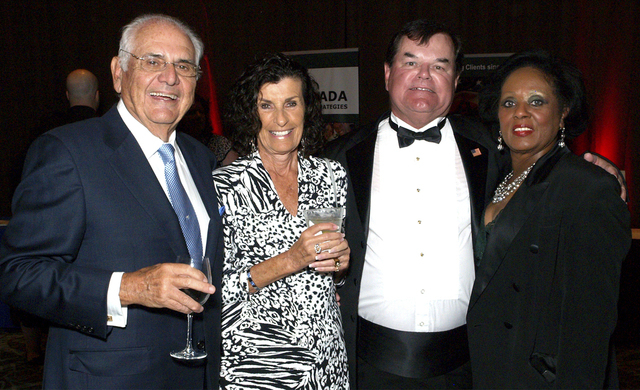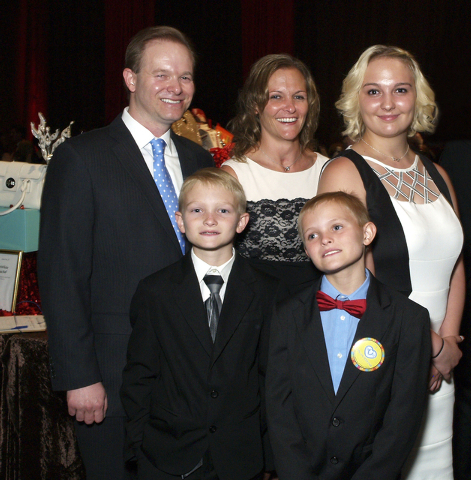 The Clark County Medical Society presented its 60th Presidential Installation Dinner and Awards ceremony recently at Red Rock Resort. The event recognized people and organizations who share the passion to achieve the best in medical care for our community.
The evening commenced with a reception and silent auction where old friendships were renewed and new friendships were made.
Among the guests were Bernard and Elaine Feldman, Debbie and Neil Swissman, Maureen Kane, John Hunt, Selma Bartlett, Jeffrey Cummings, Beverly Neyland, William Boldt, Marcia Turner, Larry Lehrner, and Florence and Gard Jameson.
Master of ceremonies Steve Schorr of the Las Vegas Review-Journal was joined onstage by TV anchor Beth Fisher of KTNV-TV, Channel 13. The Nellis Honor Guard was followed by the national anthem sung by Recine Zeller.
Dignitaries introduced were Secretary of State Ross Miller; state Sens. Barbara Cegavske and Joseph Hardy; Assemblywoman Irene Bustamante Adams; university Regents Kevin Page, Mark Doubrava and Allison Stephens; Barbara Atkinson, planning dean for the University of Nevada School of Medicine; UNLV President Don Snyder; Shelley Berkley, CEO and senior provost of the Touro College and University System in Nevada and California; and District Judge Jennifer Togliatti.
Among the award winners, the Harold Lee Feikes, MD, Memorial Award went to clinical cardiologist Dr. Keith G. Boman. He helped found The Meadows School and the Las Vegas Performing Arts Center Foundation. The Boman Pavilion at The Smith Center for the Performing Arts is named in his honor. In 1997, Boman along with the Boyd Gaming Corp. conceived and implemented the first lifesaving AED program in casinos utilizing security officers. Automated external defibrillators are now in casinos around the world. Dr. Boman wasn't able to attend the dinner, so his award was accepted by two of his three children, Allison and Jeffrey Boman.
Rising Star Awards were presented to Elizabeth Telles Richardson, a student at the University of Nevada School of Medicine, and to Ori DeVera of Touro University.
The MD Award named for the late Robert W. Schreck was presented to Congressman Joseph J. Heck, R-Nev., also a medical doctor.
The Winged Heart Award for nonprofits was presented to Cure 4 The Kids. Other finalists were Adam's Place and the Children's Free Clinic of Southern Nevada.
Janet Maran received the Winged Heart Award for nurses. Other nurse finalists were Krystal Coffman and Angela De Tie.
Dr. Keith Brill, outgoing Clark County Medical Society president, made the presentation of the President's Awards to nurse Sandra Hotchkiss and Dr. Leon Steinberg. Accepting for Steinberg was Dr. Mark Winkler.
The 2014 incoming medical society President Dr. Michael Edwards presented the 2014 Presidential Awards to Dr. Gerald Higgins of Desert Orthopedics, a member of the Southern Nevada Sports Hall of Fame, and Marc Stalls of the Clark County Medical Society.
The Milestone Award for practicing for 50 years was presented to Dr. Parvin Modaber Jacobs.
Recognized for 40 years attending were Alvin Blumberg and Donald Dombrowski. Frank Nemec was honored for 30 years and Samuel Green and Emil Stein were honored as 20-year members.
The 2014 medical society officers installed were Drs. Michael Edwards, president; Andy Eisen, president-elect; Arezo Fathie, secretary; Staci McHale, treasurer; and Lesley Dickson, delegate chair.
Past presidents seen in the crowd were George Alexander, Howard Baron, Weldon Havens, Florence Jameson, Edwin Kingsley, Bernard Feldman, Heather Allen, Joel Davidson, Neil Swissman and William Stephen.
Also among the guests were Dee Snyder, Amelia Blumberg, Rachelle and Charles Jagolinzer, Stacy Woodbury, Carolyn Elf, Bill Kephart, and Jennifer and Carlos Blumberg.