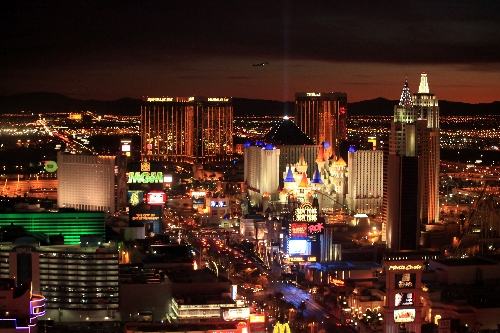 We've come to the point in our Best of Las Vegas banquet where it is time for dessert. And we promise it will be satisfying.
We're wrapping up this three-week balloting process with Eat & Drink and Locations. Regardless of how you fared in the other ballots, we guarantee you will find plenty of happy choices here.
But before we build up an appetite to go out for breakfast, no, burgers, or maybe something Chinese — we get so easily distracted when it comes to food — we need to bring you up to date on this, the 30th anniversary edition of the Review-Journal Best of Las Vegas readers' poll.
We opened with Best Hotels and Best Entertainment on Jan. 9, followed by Best Shopping, Best Sports Spots, Best People and Best of the Worst on Jan. 16. Voting has ended on the first ballot, but the deadline for newspaper entries of the second ballot is 5 p.m. today (because of a technical glitch, online voters will have until 5 p.m. Tuesday on the second ballot).
Today's ballot will repeat in Thursday's newspaper. Online voting is available 24 hours a day at bestoflasvegas.com/vote2011. All voting in Eat & Drink and Locations will cease at 5 p.m. Jan. 31, ending the whole shebang.
If you have been filling out the ballots with us — and we thank you — then you will end up with a total of three ballots cast in eight categories. And, if you filled out everything, that would be 195 decisions. Why, you should win a prize for that (more on those possibilities later).
But back to today's ballot. Three new subcategories have been added to Eat & Drink: Best Tapas, Best Cupcakes and Best Food Truck. We hope these give you something fun to chew on. In all, there are 37 choices to make, from Best Diner to Best Doughnuts, Best Microbrewery to Best Meal for Less Than $10, Best New Restaurant that opened in 2010 to Best Restaurant With a View. Feel free to savor your options.
While it's not as tasty, Best Locations should leave you hankering to get out and about more often. Everyone has a favorite park, a place for picnicking and a place to hide out from tourists. Admit it, you love to spot celebrities and people-watch as much as we do. You probably will be able to fill out all 17 categories or close to it. And think of the fun you will have!
We'll make a dash through the rules, and then you can get at it. First and foremost, no stuffing. This isn't a scientific poll by any means, but we want to give everyone a fair chance. Those caught stuffing will be banished to the land of poor losers. Also, if you're filling out a paper ballot, be sure to write legibly. We accept only real newspaper ballots, no photocopies.
That takes care of that. Now, about those prizes. We do have a random drawing for those who participated in the poll. Prizes include two tickets to see the Best All-Around Performer; two tickets for the Best Show; dinner for two at the Best Gourmet Restaurant in a hotel; dinner for two in the Best Gourmet Restaurant not in a hotel; lunch for two at the Best Place for a Power Lunch; a gift certificate to the Best Mall; and a grand prize of a night on the town, including dinner, a show and an overnight stay at a local hotel.
We'll announce the prize winners along with everything else in the newspaper and online on March 27.
Vote online