October 26, 2008 - 9:00 pm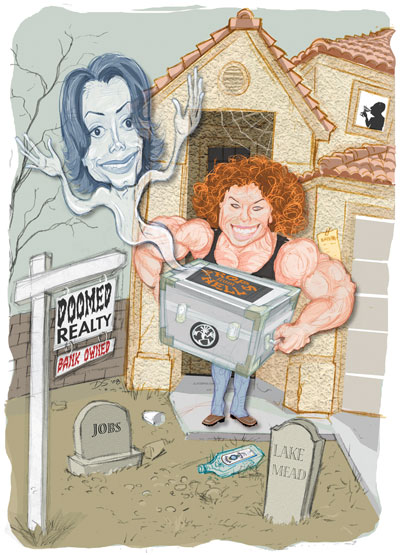 Halloween is one of the most popular holidays in the United States, with people spending big money on costumes, haunted houses, parties, anything for a good, old-fashioned fright.
But locals don't have to spend a dime to scare the hell out of themselves. They're lucky enough — or unlucky, depending on how you look at it — to live in Las Vegas, where every day can be as frightening as a horror movie.
Here are 13 reasons Las Vegas can be a scary place to live:
1. Colonoscopies: In 2000, network newswoman Katie Couric underwent a colonoscopy on live television. It was a way to show the rest of us that, scary as the idea is, it's a perfectly safe and useful procedure, one that can potentially save lives. Maybe so, but clearly she never envisioned one local clinic's take on the procedure: assembly line exams in which vials of medication and equipment were reused, potentially exposing more than 40,000 patients to hepatitis B, hepatitis C, or HIV. If that doesn't make you afraid of a routine doctor's visit, nothing will.
2. Michael Jackson: Maybe you've seen him around town and didn't even know it. Jackson has long been fond of disguises when out in public, reportedly wearing anything from wigs and glasses to full-body burkas. He has been spotted in Las Vegas wearing gauzy scarves on his head and bandages on his chin and nose, making him part mummylike and, dare we say, a little devilish? And it's not even on Halloween. These days, he's looking more like a character from his "Thriller" video than the king of pop.
3. Carrot Top: For the past few years, this regular Strip headliner has been working on his physique. Gone is the skinny, geeky comic Carrot Top of old. You know, the unassuming prop comic who looked like a strong gust of wind could knock him down? Not anymore. He has a bodybuilder physique complete with bulging biceps and quads. It's a tad bit intimidating and his jokes seem to come with a subliminal message: "Laugh. Or else."
4. North Las Vegas Airport: There was a time when we worried about airliners falling out of the sky. These days, Las Vegans get to duck and cover when a small aircraft flies overhead, at least since August. Within one week, two small airplanes crashed in local neighborhoods after taking off from the North Las Vegas airport. Four people died and three homes were destroyed or damaged. Forbes magazine had ranked the airport the most dangerous in the nation.
5. Housing foreclosures: Declining home values. Overgrown yards. Swimming pools turning into stagnant swamps. Squatters. The destruction of the U.S. economy. It's so hard to pick just one reason to fear our local housing market. Be afraid. Be very afraid.
6. Lake Mead: A study by Scripps Institution of Oceanography found that the lake, the one that supplies our valley with water, could be dry within 13 years if nothing is done about it. A tiny little scientific fact: Humans cannot live without the daily intake of water. If it happens, at least we can all go to local casinos and play slot machines to get comped drinks. That would stimulate our economy. Which brings us to our next reason to fear daily life in Las Vegas …
7. Job market: With the state unemployment rate at 7.3 percent, more than a percentage point higher than the national average, locals have a real reason to live in fear. Don't be surprised if this year's top costume happens to be a business suit and you see more adults than kids going door to door. They're not looking for candy, they're looking for jobs.
8. Public art: You know those lifelike, bronze statues in Green Valley, the ones that depict people going about their daily lives reading the paper, playing in a water fountain, leaving the golf course? They don't inspire us to play tennis or golf or frolic in the library. They look like some futuristic warning of what will happen to you if you walk on the grass in Henderson. And those giant turtle carvings that can be spotted along U.S. 95? They were freaky before we knew what they were (public art); that feeling hasn't changed.
9. Traffic: Ramp meters on highway onramps are supposed to improve safety and the flow of traffic on the freeway. If that's the case, why do we get so jittery when we're trying to merge onto Interstate 15? Drivers refusing to let people merge; still others guerrilla driving on the shoulder. If driving in Las Vegas doesn't scare you, you're not driving.
10. Construction: Scary on so many levels. Few jobs for construction workers. Those who do have jobs have to contend with the ominous fact that 12 construction workers have been killed in the past 18 months, many of them on Strip job sites. Then there's the frightening thought of construction halting, putting a damper on our hopes for a quick turnaround in a sour economy.
11. Mayor Oscar Goodman's liver: For all of his bluster, martini-loving Mayor Goodman seems like a genuinely nice guy, even when he's threatening to whack somebody. But we wouldn't want to meet his liver in a dark alley. That thing has been so well-nourished — by Bombay Sapphire gin, we think — it has probably achieved sentience by now. Which might not be a bad thing for the mayor, who can't seek re-election because of term limits. Maybe his liver can run for office.
12. Fanny packs: The valley is full of tourists walking around, casually wearing one of fashion's biggest enemies, the fanny pack. They flaunt them with not an ounce of shame, freely using them to store their keys or wallets. If these things are so great, why aren't locals wearing them as they go about their business? Imagine for a moment if exotic dancers wore fanny packs. Or Cirque du Soleil performers. Maybe showgirls. The thought is horrifying.
13. Tourism: Each month seems to bring a little bit more bad news in the tourism department. Fewer airline flights are bringing fewer people to Las Vegas. So far, tourism is down 1.5 percent for 2008. As much as we make fun of the way tourists dress or act or drive, we need them. If people don't come to Las Vegas, scary things will happen to those of us already here.
Contact Sonya Padgett at spadgett @reviewjournal.com or 702-380-4564.