October 9, 2010 - 11:00 pm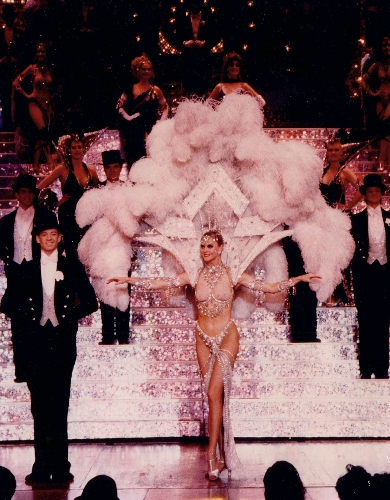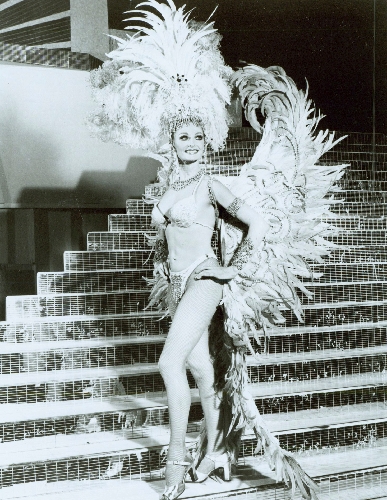 It's strange that the showgirl should remain the symbol of Las Vegas when only a couple of dozen remain here. (Even America's bald eagles number in the thousands.) That's why our list of the top 10 Las Vegas showgirls of all time leans so heavily on the past.
Flesh-and-feather shows helped build this city into the entertainment capital it has become. For so many decades, so many beautiful ladies worked so tirelessly, and thanklessly, that the R-J has decided to at least try to reverse the thankless part.
Our list runs in no particular order.
AKI ALMA LEVIN
1995-2000 "Enter the Night," Stardust
2001 Bally's "Jubilee!"
Physically flying this showgirl was possible in the late '90s, when her face adorned the tail of Western Pacific Airlines' Las Vegas-bound planes. Levin was the beneficiary of a Stardust campaign to build a name for a single high-kicker. "Aki: Showgirl For the 21st Century" was so successful, Donald Trump once requested a private backstage audience.
"The Stardust executives said I shouldn't," says Levin, who at 44 practices commercial litigation at the Morris Peterson law firm.
Levin ignored her bosses and met with Trump anyway. She says he was the perfect gentleman.
"He was very interested in the fact that I was studying law," she recalls. "Being a showgirl was a great way to make a living, but I always had a plan for afterwards."
BETTY BUNCH
1956 Moro-Landis Line, Sahara
1962 "Gotta Get to Vegas," Dunes
1963 Dick Humphries Dancers, Riviera
1964 Jimmy Durante Girl, Desert Inn
1965-1967 "Bottom's Up," Castaways
This Texas native calls being a showgirl "the answer to a lifetime dream."
"I knew when I was 9 that I was going to be a professional dancer," says Bunch, 76, who today writes for Prime View (a publication of Stephens Media, parent company of the Las Vegas Review-Journal).
Bunch — who dated comedian Shecky Greene for three years — says showgirls were treated "like royalty" back then.
"We could go into any showroom and the maitre d' would just say, 'Oh hi, come in and have a drink.' They might not have known us by name. But they recognized the showgirl makeup and the height."
VALERIE PERRINE
1968-1969: "Lido de Paris," Stardust
As a showgirl, she didn't leave much of a mark. After she left the Stardust, however, Perrine became the Megan Fox of her day, starring in a chorus line of Hollywood films as the sizzling romantic interest. In 1975, Perrine single-handedly legitimized having a topless showgirl past when she received an Oscar nomination for starring opposite Dustin Hoffman in "Lenny."
"I was just incredibly lucky," Perrine, 67, told the R-J last year.
JILLIAN HRUSHOWY
1960-1965 "Folies Bergere," Tropicana
1967-1969 "Casino de Paris," Dunes
1970-1975 "Pourquoi Pas?" Pariscope, and "Lido de Paris," Stardust
This Rhodesia-born beauty was the consummate cabaret performer, according to those who had the pleasure of working with her.
"She just had it," Rizzo says. "Those Bette Davis eyes, that incredible body. And she was such a humble person to have such dynamics on stage."
Now the stage manager for "Legends in Concert" at age 71, Hrushowy looks back on those days with nothing but fondness.
"It was a joy to be on stage in beautiful costumes, performing," she says. "I loved it."
LINDA GREEN
1974-1976 "Casino de Paris," Dunes
1981-2004 Bally's "Jubilee!"
Green went on almost as long as her legs. For 30 years, she lined up with — and stacked up to — every fresh crop of 18-year-olds.
"They don't come any better," says former "Lido de Paris" and Bally's "Jubilee!" choreographer and director Rich Rizzo. "Very reliable, very professional. And she looked great. She still looks great."
Green was 51 in 2004, the year she was finally asked to hang up her headdress by "Jubilee!" manager Fluff LeCoque.
"I told her I wouldn't voluntarily retire," says Green, now 57 and an assistant to her chiropractor husband in town. She adds: "I still looked and performed well. But I didn't look 18 anymore."
SHIRLEY ALLEN
1964-1965 "Rangerettes," Riviera
1965-1966 Copa Girl, Sands
1966-1968 "Rome Swings," Caesars Palace
1968-1971 "Pzazz," Desert Inn
1971-1988 various "Lido" shows at Stardust
During her 24-year run, Allen commanded attention.
"When she came on stage in a line of seven other ladies, she had a way of looking at the audience that almost said, 'My name is Shirley Allen,' " Pratt remembers. Allen commanded the attention of one particularly well-known performer in 1970.
"I dated Elvis," Allen admits. "He would call, and I'd get my girlfriends and we would just party and have good times and order food to his suite."
Allen says she's sure the King of Rock 'n' Roll had "hundreds" of other playthings, "but that was the highlight of my life."
At age 65, Allen now manages a Las Vegas real estate office.
"It was quite a different life from now," she says.
HEATHER CLIPPERTON VICTORSON
1963-1965 and 1970-1974 "Lido de Paris," Stardust
1965-1970 and 1975-1980 "Casino de Paris," Dunes
Victorson was a classically trained dancer with astonishing enthusiasm.
"She came across like every performance was an opening performance," says Lou Anne Harrison Chessik, former "Jubilee!" dancer and producer of the annual Showgirl Art Competition and Costume Exhibition.
Victorson — who nowadays teaches ballet and gives her age only as "up there" — remembers looking out into almost any given audience and spotting stars such as Cary Grant, Frank Sinatra and Sammy Davis Jr.
"That was the time," she says. "Total glamour."
FELICIA ATKINS
1959-1978 "Folies Bergere," Tropicana
This Australian model — named by Playboy magazine as its Playmate of the Month for April 1958 — titillated "Folies" audiences for 19 straight years.
"You held your breath when you saw her," says Michael McKensie Pratt, former "Lido de Paris" company manager. "She didn't have classical training, but she made up for that. She was very well-endowed."
Atkins is believed to be living out of the spotlight back home in Australia.
JANU TORNELL
1995-2009 "Folies Bergere," Tropicana
The last individually celebrated Las Vegas showgirl has a uniquely modern claim to fame. Tornell says she still gets recognized for her part in the 2005 reality show "Survivor: Palau."
The former Miss Nevada USA followed in the heel steps of her mother, a showgirl in pre-Castro Cuba. She calls "Folies Bergere" "the best 15 years of my life."
Now a French professor at the University of Nevada, Las Vegas, Tornell says she doesn't look back — except when friends drag her to see musicals.
"I look at the lines of legs, their shoes and their makeup, and I miss being on stage," she says.
JAHNA STEELE
Late 1980s-1992, "Crazy Girls," Riviera
One of the Strip's sexiest showgirls was by far its most unique. Steele grew up in San Antonio as John Matheny before undergoing a sex change in his early 20s. "She was a diva and she was talented and she was able to come as close to perfection as she could get it," Rizzo says. "It was all plastic, but it was beautiful."
Steele was fired after being outed in 1992 by a tabloid TV show. She returned to the Riviera in 2004 to host a transsexual beauty contest and was working on a tell-all autobiography when she died of a drug overdose in 2008.
"It's too bad she's gone now, because she could be a superstar because of how society accepts things more now," Rizzo says.
Best in Showgirls interactive