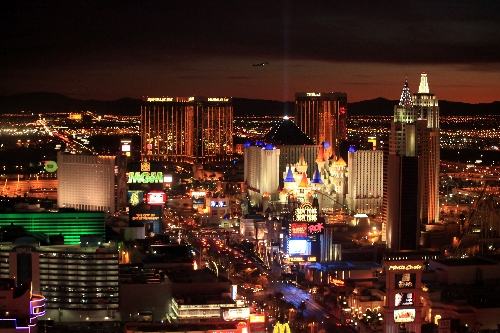 Sure, filling out the Hotels and Entertainment categories in the Best of Las Vegas readers' poll has been fun. Well, guess what? There's more.
So, sharpen those pencils or flex those fingers for another go-round, this time picking your favorites in the Shopping, Sports Spots, People and Best of the Worst categories.
But first, a recap of where we are in this three-week process. You can actually cast votes in the first ballot, which doesn't officially close until 5 p.m. Monday. The Hotels and Entertainment ballot ran in the newspaper three times last week, and voting continues online at bestoflasvegas.com/vote2011.
But don't delay, because much awaits you in this week's ballot on Pages 6 and 7. While the Hotels category is the granddaddy of them all with 43 subcategories, Shopping is no slouch, featuring 35 decisions.
In fact, two new choices have been added for your voting pleasure: Best Internet Provider and Best Tanning Salon. We're betting plenty of you have opinions on those topics.
Shopping is the most wide-ranging category, designed to appeal to as many interests as possible, from home accessories to tobacco stores, with stops at outlet stores and used-book stores along the way. And, frankly, a guilty pleasure for us is waiting to hear what Las Vegas souvenir is the hottest buy when folks come to visit — or leave town.
In contrast, Sports Spots is a small, but energetic category, featuring six decisions involving walking, jogging, riding a bike, hitting a golf ball, knocking down pins and working out. Whew, it makes us tired just thinking about it, and truthfully, that's about all we do in this category.
And who doesn't like the People category? TMZ has nothing on us when it comes to identifying the Best Celebrity Resident and Best Celebrity Tourist, not to mention the Best-Dressed Las Vegan. This category also is the place to tip your hat at those who are colorful, generous, talented, and, yes — and we're not being facetious here — deceased. In all, there are 19 ways to honor your favorite Las Vegans.
On the other hand, there is one category that seems to be a guilty pleasure for readers — we sit this one out — and that is the Best of the Worst. TMZ has nothing on our readers in picking out the Worst Celebrity Tourist and Entertainer Who Needs a New Act. This is where the backhanded compliment is the best anyone can hope for (although most would hope not to appear anywhere near the 14 subcategories listed here).
And that's the lineup for this week's ballot. The ballot will repeat in the Las Vegas Review-Journal on Monday and Thursday and is available 24 hours a day online at bestoflasvegas.com/vote2011.
Voting in these categories will cease at 5 p.m. Jan. 24.
The final Best of Las Vegas ballot, featuring Eat & Drink and Locations, will appear Jan. 23, repeating on Jan. 24 and 27. All voting ends at 5 p.m. Jan. 31.
Before you have at it, remember the rules. You can vote only once on each ballot, for a total of three ballots presented during three weeks. This creates a temptation to cheat, but please resist. You're banished when caught being a poor sport. And for those filling out paper ballots, please write neatly. After 30 years of this, our eyesight isn't what it used to be.
And when it is all over and we assure you it will end, we will announce the winners — on March 27 — and award these lovely prizes: dinner for two at the Best Gourmet Restaurant in a hotel; dinner for two in the Best Gourmet Restaurant not in a hotel; lunch for two at the Best Place for a Power Lunch; two tickets to see the Best All-Around Performer; two tickets for the Best Show; a gift certificate to the Best Mall; and a grand prize of a night on the town, including dinner, a show and an overnight stay at a local hotel.
You may begin.
Contact Patricia Morgan at pmorgan@reviewjournal. com or 702-383-0267.
Vote online