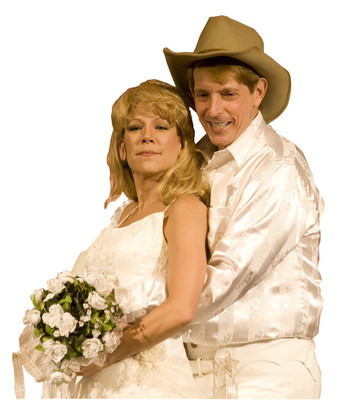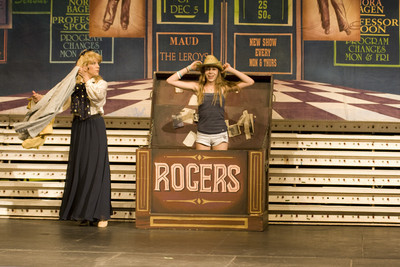 Bump him up a century, aim a camera or microphone at him, arm him with today's hot-button topics and he'd likely earn … nothing.
No fans. No attention. No respect.
What a woeful misfit Will Rogers would be in the modern media world. And how woeful is that?
Famously, the actor/vaudevillian/columnist/cowboy/comedian/commentator never met a man he didn't like. If only verbal flamethrowers Sean Hannity, Keith Olbermann, Bill O'Reilly, Rush Limbaugh and Bill Maher could say likewise in this Age of Snarcasm (snark plus sarcasm) in which venomous rants are rewarded with ratings and polarizing audiences is a national bloodsport.
"People who fly into a rage," Rogers said, "always make a bad landing."
Nearly 75 years after his death, the easygoing oracle of Oklahoma still has human nature nailed.
"That kind of down-home charm is needed desperately today," says Jim Carey, director of "The Will Rogers Follies: A Life in Revue," the splashy song-and-dance-and-showgirls show that celebrates the folksy philosopher in a production by Musical Actors Theatre, opening today for a 16-performance run through Aug. 2 at the Summerlin Library Performing Arts Center.
"It's important to go back to those roots. Some of the things Will stood for back then are still holding true today."
The early-20th-century entertainer was a superstar before our hype-mad media culture coined the word, dominating every medium. The highest-paid performer in the country, he conquered stage ("The Ziegfeld Follies"), screen (71 movies — 50 of them silent, 21 talkies), radio (humorous punditry), newspapers (more than 4,000 nationally syndicated columns) and politics (well, sort of, as a semiserious presidential candidate), all while amusing Americans with his cowboy colloquialisms, lasso tricks and wise, good-natured commentary on the nation's foibles.
"It isn't what we don't know that gives us trouble," he once observed. "It's what we know that ain't so."
Consider whether this Rogers remark resonates today: "If there's one thing that we do worse than any other nation, it's try and manage somebody else's affairs."
Yet Rogers could deliver it without rancor in a way that eludes today's aforementioned Five Commentators of the Apocalypse.
Elaborately recalled in this 1991 Tony winner — originally mounted on Broadway by mega-musical maestro Tommy Tune with Keith Carradine as its star — Rogers' life is reimagined as an exuberant journey through the 20th century's first three and a half decades that isn't merely a warmly nostalgic throwback to an earlier era, but a full-blown rocket ride in reverse. A high-kicking, red-white-and-blue-spirited eruption of energy, this Rogers retrospective hangs its narrative on showy numbers detailing every chapter of his life. Along the way, audiences glimpse more intimate moments recalling Rogers' relationship with his wife, Betty, and father, Clem, among others, and a chronology of how he became so vital to the life of the nation in his 55 years, up until his tragic death alongside aviator Wiley Post in a plane crash in Alaska in 1935.
"It's a very bright show, very colorful, a lot of laughs in it," Carey says about a piece that spins Rogers' tale against the backdrop of "The Ziegfeld Follies," of which he was a frequent headliner. "When you walk in, everybody's going to be extremely impressed, scenicwise. There's four portals that light up, the steps light up, I've got girls tap-dancing down the stairs. It's a very big show."
Bolstered by a 30-plus-member cast backed by a six-piece band, the Musical Actors Theatre production hands the lead role over to local theater vet Michael Brown, who's prepped for the part since October, researching Rogers' life and mastering some skills via lariat lessons.
"Luckily, we had the opportunity to meet a person who taught most of the Will Rogers actors in the past and he's been teaching me the ropes, so to speak," Brown says. "Even though we're only doing three or four of the basic tricks, it's taken almost four months, working on it every day. I can do the basics — the Flat Loop, the Wedding Ring and the Texas Skip, in which I have to jump through the rope three or four times. And learning the guitar was tough. We're only semifaking it now."
Rogers often addresses the audience, as well as Flo Ziegfeld, whose voice (supplied by Bob Cummings) often breaks in to direct the show-within-a-show and dress up Rogers' saga with added drama. At one point, Ziegfeld tells his star that it's time to "meet the girl," and even though Rogers first encountered Betty Blake at a train station, Ziegfeld gooses it with theatrical pizzazz — Betty makes her grand romantic entrance lowered from a moon. Ziegfeld also insists that their wedding in the show be delayed so it can climax the first act.
"I had to read the script two or three times because there's three different perspectives going on," says Gary Columbo, who plays Clem. "You've got Will telling his story in time, you've got Will telling his story out of time, and you've got Ziegfeld telling his story for him. It was harder to read than it is to see. Seeing it, it makes perfect sense."
A highlight arrives when President Herbert Hoover asks Rogers to cheer the nation as it struggles through its worst economic crisis. "It's a radio speech he gave during the Depression," Brown says. "It's quite lengthy, a very emotional piece."
Among the songs in the upbeat score are the rollicking opener "Will-a-Mania"; "Favorite Son," in which Rogers is enthusiastically prodded into his presidential run; "The Big Time," as Rogers lays out the vaudeville life to his wife; and the poignant ballad that sets to music his signature phrase, "Never Met a Man I Didn't Like."
"It's a fabulous score," says Heidi Jackson, who plays Betty. "I've had a wonderful career doing musicals all over the country and this is absolutely my favorite one. The tunes just stick in your head, and I get to sing everything from a beautiful ballad to a torch song, with me on top of the piano."
A stylistic smorgasbord, the score was a bit tricky to vocally navigate. "With the harmonies, we try to get that barbershop quartet sound, but with a Western feel," Columbo says. "With the dancing and the ropes, to still bring in some quasi-barbershop sounds was really difficult."
Tuneful as it is, the core of "The Will Rogers Follies: A Life in Revue" remains the man's enduring fame for blending insight and entertainment without sacrificing civility, a talent woefully undervalued in American discourse decades later.
As a guide for living a gentleman's life — are you listening, Sean, Keith, Bill, Rush and Bill? — here's advice from a 20th-century sage to 21st-century screamers:
"Live in such a way that you would not be ashamed to sell your parrot to the town gossip."
Or put it on national television — right, Will?
Contact reporter Steve Bornfeld at sbornfeld@reviewjournal.com or 702-383-0256.
PREVIEW
What: "The Will Rogers Follies: A Life in Revue"
When: 7 p.m. Thursdays through Saturdays, and 2 p.m. Saturdays through Aug. 2
Where: Summerlin Library Performing Arts Center, 1771 Inner Circle Drive
Cost: $22-$25 (278-3143)