Business Hall of Fame honors four individuals
February 28, 2010 - 12:00 am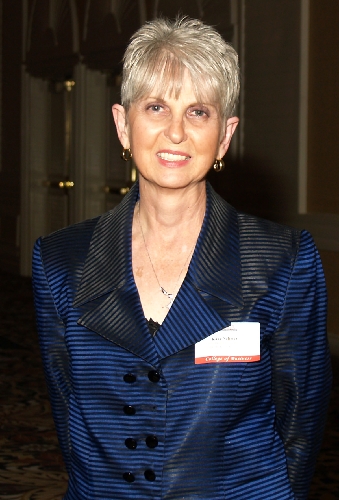 The ninth annual Business Hall of Fame dinner and induction ceremony took place Feb. 11 at The Mirage.
Honored were four individuals who have helped chart the course for a prosperous and progressive Nevada. Honored were John Ascuaga, founder of the Nugget Casino Resort in Sparks; the late Sam Boyd, gaming innovator; Southern Nevada Water Authority general manager Patricia Mulroy; and the late R. Keith Schwer, who headed University of Nevada, Las Vegas' business and economic research for the past 20 years.
UNLV President Neal Smatresk mingled with guests Larry Krause, Gary Smith, Souzan ElEid, Robin Jenkins, Gladys and Steve Comer, Joanne Blystone, Beverly and Jim Rogers, Rose Falacco, Susan and Tom Warden, Jay Kornmayer, Ira Sternberg and Gina Polovina, U.S. Rep. Dina Titus, Councilman Stavros Anthony and Bernadette Anthony.
Also attending were Sheral and Ed Guthrie, Scott Wasserman, Linda Faiss, Greg McKinley, Karen and Michael Sharp, Susan Black, Ivan Eisenberg, Nasser Daneshvary, Stephen Ascuaga, Thalia Dondero, Susan and Mark Jennette and Chase Jennette and Bill Boyd and wife, Judy, with family members Marianne, Willie, Sam and Donella Boyd.
Sue Manteris, news anchor at KVBC-TV, Channel 3, emceed the event.
Smatresk and Paul Jarley, dean of UNLVs College of Business made the presentations and thanked sponsors Delotte & Touche, Bank of Nevada, Bell Trans, Boyd Gaming, Bank of America, Cannery Resorts and Wells Fargo.
SPLENDOR IN THE GLASS: Southern Nevada Public Television had its 21st annual wine and beer tasting to benefit Vegas PBS on Feb. 13 at the Las Vegas Hilton Center.
Southern Wine & Spirits of Nevada and Comstock Wine and Spirits presented the best wines from more than 30 well-known vineyards and eight breweries for tasting.
Hundreds of guests, including Ann Michael, Roberta Gardner, Lee Solohche, Amy Stone, Kiley and Brian Barton, Irene Vogel, Tiffany James, Nadine Morris, Cindi Brimer, Berni Goodemote, Pat Sutherland, Marilyn Kirkpatrick, Michael Burke, Mary Lou Newbold, Carol DeLapp, Shane Carney and Lee Jacobson, socialized while participating in a silent auction for 95 items as they enjoyed entertainment by the Lynn Ross Quintet.
Tony Goitia of Southern Wine & Spirits conducted a live auction for rare wines and extra large bottles of wine. Tom Axtell, general manager Vegas PBS, was joined by board members, including president Reggie Burton, secretary Lori Lea, and treasurer James Dionizio. Charlotte Hill was the event chairwoman.