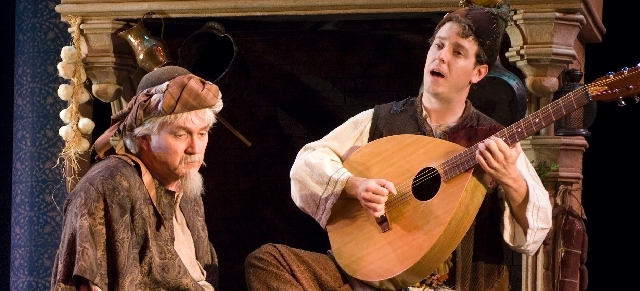 Cerca country comes into full bloom with bike rides, nature walks, festivals, rodeos and the Tony Award-winning Utah Shakespeare Festival.
Friday, Springdale, Utah: Road Respect Bicycle Extravaganza. This event is for cyclists of all ages and abilities. Enjoy a kids bike rodeo, bike skills course, trail rides and free bike checks. Springdale Town Park. 435-772-3434. www.springdaletown.com.
Friday through June 2, Winnemucca: Winnemucca Mule Race and Show. Competitors from throughout the country come to take part in dozens of events. Vendors, food. Winnemucca Events Complex. 775-623-5071. www.muleshow.com.
Saturday, Lake Tahoe: National Trails Day. This is a celebration of South Shore trails. There will be trail building and family activities. Volunteers of all ages and skill levels may participate. Tahoe Rim Trail Association. Van Sickle CA/NV Bi-State Park in Stateline. 775-298-0012. www.tahoerimtrail.org.
June 2, Lake Tahoe: 22nd annual America's Most Beautiful Bike Race. This event features a 35-mile Fun Ride, 72-mile ride around the lake and a full 100-mile century. 800-565-2704. www.bikethewest.com.
June 6, Zion National Park, Utah: Thursday Trek. Explore the park with a naturalist and learn about the animals and plants that call Zion home as well as the geological activity that formed Zion. Reservations needed. Zion Canyon Field Institute. 800-635-3959. www.zionpark.org.
June 6-9, Gardnerville: Carson Valley Days. This valley favorite is in its 103rd year and includes tractor pulls, tug-of-war competitions, arm wrestling, a carnival, parade, live music and food. Lampe Park. 775-313-6913. www.carsonvalley2030.org.
June 7-9, Carson City: Carson City Rendezvous. This living history weekend features the Pony Express, a mountain man encampment, Civil War volunteers with skirmishes, the Nevada Gunfighters and Native American dancing and crafts. Food court, children's activities and entertainment. 775-687-7410. www.visitrenotahoe.com.
June 8, Zion National Park, Utah: Hanging Gardens. This workshop will teach you about wetland plants such as ferns, orchids, monkeyflowers and primroses that grow in shady cliff recesses in Zion. Reservations needed. Zion Canyon Field Institute. 800-635-3959. www.zionpark.org.
June 12, 16, 19 and 30, Zion National Park, Utah: Zion Narrows Service Project. Join a naturalist to discover the world famous Zion Narrows. This 7-mile hike will include discussion of the geology, plants and wildlife of the area and a short service project while in the canyon. Reservations needed. Zion Canyon Field Institute. 800-635-3959. www.zionpark.org.
June 20-29, Reno: Reno Rodeo. This is called the "Wildest, Richest Rodeo in the West," where participants come from around the world. There will also be a parade, carnival and plenty of children's activities. 800-325-7328. www.renorodeo.com.
June 22, Flagstaff, Ariz.: Made in the Shade Beer Tasting Festival. More than 50 breweries will be represented with more than 100 craft beers for patrons to sample. Adults 21 years of age and older only. Coconino County Fairgrounds. 928-779-1775. www.flagstaff365.com.
June 22, Kingman, Ariz.: Hualapai Mountain Chili Cook-Off. Entertainment, chili tasting and prizes for the best chili cooks. Hualapai Mountain Resort. 928-757-3545. www.gokingman.com.
June 23, Cedar Breaks National Monument, Utah: Full Moon Party. Join park staff and astronomy volunteers for telescope viewing, a constellation tour and night hike. Point Supreme Overlook. 435-586-9451. www.nps.gov/cebr/.
June 24-30, Cedar City, Utah: 11th annual Groovefest American Music Festival. This four-day festival features music, workshops and seminars. Art, food and vendors. Cedar City Main Street Park. 435-867-9800. www.scenicsouthernutah.com.
June 24 through Oct. 19, Cedar City, Utah: Utah Shakespeare Festival. This season's plays include "King John," "Love's Labour's Lost," "The Tempest," "Twelve Angry Men" and "Anything Goes" through Aug. 31, "Peter and the Starcatcher" through Oct. 18 and "Richard III" and "The Marvelous Wonderettes" Sept. 19 through Oct. 19. Matinees and evening performances. Dark Sundays. 800-752-9849. www.bard.org.
July 1-7, Prescott, Ariz.: 126th annual Prescott Frontier Days, World's Oldest Rodeo. This year's theme is Spirit of the Frontiersman. Prescott's biggest event of the year includes rodeo performances, trail rides, parade, fireworks, fine arts and crafts fair, dances and live entertainment. 928-445-3103. www.worldsoldestrodeo.com.