CERCA: Oktoberfest, outdoor thrills, fall colors await at Big Bear, Calif.
September 25, 2011 - 1:02 am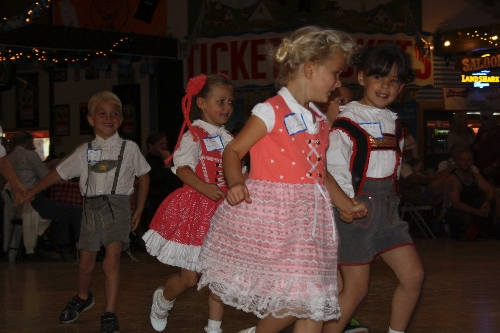 Eins, zwei, drei, g'suffa! One, two, three, drink!
It's Oktoberfest time again in Big Bear Lake, Calif. Now, in its 41st year, this annual festival of hearty food, drink, dance and entertainment continues every weekend through the end of October.
Even without considering Oktoberfest, the next month or so is one of the best times to enjoy Big Bear. Weather is often ideal, with average daily high temperatures in the mid-60s. This is great for enjoying a day on the lake fishing or boating, hitting the trails on foot or by bike or just driving the back roads in search of fine fall foliage.
On my most recent visit, a friend and I drove the less than four-hour drive from Las Vegas to Big Bear Lake to spend the weekend engaging primarily in outdoor activities.
On our first morning, we headed to Big Bear Mountain Resort's Snow Summit for chairlift-accessed mountain biking. Although there are dozens of trails in the National Forest lands that surround the town, we opted to let the Scenic Sky Chair do our uphill labor, before gravity helped us home via downhill terrain. In about 15 minutes, the chairlift took us from the base of the mountain, at about 7,000 feet in elevation, to the summit, at 8,200 feet.
We spent the morning riding along undulating forest service roads and steep single-track trails. We managed to get down without crashing even though we had to dodge small boulders and a few tree limbs and ford some shallow creeks.
Nobody should visit this valley without getting out on Big Bear Lake. Waterskiing, wakeboarding and the like are winding down because of the cooler temperatures, but kayaking, canoeing and paddleboarding continue through fall.
We devoted a couple of hours on the second morning to kayaking, paddling along the north shore and exploring its coves and inlets. We even found a beaver lodge — though no one was home — and saw several waterfowl. Come December, folks on the water have a good chance to see one of the bald eagles that winter here.
For many people, autumn at Big Bear Lake means great fishing. Anglers might hook a largemouth or smallmouth bass, catfish, bluegill or rainbow trout. If you want to show off your fishing skills, the Big Bear Lake Troutfest takes place next weekend. Competition fishing begins Saturday at 6 a.m. and finishes at 3 p.m., then resumes Oct. 22 from 6 a.m. to 1 p.m. Prizes and trophies are awarded for the top five places for adult female and male, junior female and male, and overall largest fish. There are also thousands of dollars worth of raffle prizes and a grand prize raffle of a $12,500 Klamath boat and motor package.
The fall foliage season has begun, and in a couple of weeks, most trees will reach their peak color. Just driving around the area, you can often find colorful patches such as the golden leaves of poplars, black oaks and cottonwoods, the reds of dogwoods and even rust-colored ferns.
One of the region's most popular places to visit this time of year is the Aspen Grove. It is about a 20-minute drive out of Big Bear. After a 1½-mile hike, you will find yourself in a remnant grove of quaking aspens. This grove is one of only two in Southern California outside of the Sierra Nevada Range. The aspens will be golden in October.
Big Bear's first Oktoberfest was celebrated when German immigrant Hans Bandows moved to town from New York City and hosted a small gathering for friends and family. The event was so much fun that people asked him to continue holding the party. Nowadays, everyone's invited.
It wouldn't be a true Oktoberfest without a good stein of beer. Along with some standard American brews, they serve Warsteiner pilsner, dunkel, Oktoberfest and King Ludwig hefeweisen. Traditional German food offered includes bratwurst, knockwurst, other sausages and Bavarian dumplings and apple strudel. Snack foods to go with your beer are landjager, pickled eggs, pretzels and German pickles. You can also get the standard American burgers, hot dogs and such.
This year's lineup of entertainment includes Die Mainfloesser Band, which journeys from Germany for this event. The band plays traditional and contemporary German music as well as American music. For those who can't say no to a couple of more steins, there is a complimentary shuttle home from the convention center every Saturday.
There are contests in sawing logs, holding steins and something called safe slam beer drinking.
The Oktoberfest Queen Stein Carrying Contest is one of the most popular competitions. Bonnie Kelso set the world record for this event, carrying 21 1-liter steins at once; they weighed about 100 pounds. A contestant must pick up her steins, carry them about 20 feet and set them down without spilling more than 3 ounces out of any stein. The strong-armed maiden who wins this contest each year is crowned Oktoberfest Queen. There are also family attractions such as the Budenstrasse, which offers game booths, exhibits and a petting zoo.
Lots of other activities around town should keep your kids busy all weekend. The Moonridge Animal Park is open daily, and on Saturday evenings through October, you can take part in Flashlight Safari. Bring a flashlight and see the zoo's nocturnal creatures when they are up and about. Learn about their feeding behavior and how they see at night.
The Magic Mountain Recreation Area usually tops any child's list of things to do in Big Bear, as it is home of the exciting Alpine Slide. A five-minute chairlift ride takes you to the top of the hill. Then you get on your own sled, or share one with your small child. The sleds have Teflon runners, ball-bearing wheels and, thankfully, brakes. You plunge down one of the two quarter-mile tracks, hurtling through banked turns and straightaways.
Big Bear Discovery Center offers guided nature walks on Saturdays and Sundays. These 30-minute walks include lessons about plants and wildlife and a bit of history about the region's National Forest. It's a scholarly, laid-back daytime activity, perfect for recovering as you gear up for another night of indulgence at Oktoberfest.
GETTING THERE
Location: Big Bear Lake, Calif., about 211 miles from Las Vegas in the San Bernardino Mountains.
Directions: From Las Vegas, take Interstate 15 south for about 155 miles to the Barstow Road exit. Go left onto California Route 247 and drive about 32 miles. Go straight onto California 18 and continue for about 24 miles to Big Bear Lake.
Big Bear Lake Resort Association and Visitor Center: Information on activities, lodging and outdoor adventures in the area. Visitor Center is open daily 9 a.m.- 5 p.m., 630 Bartlett Road, (800) 424-4232, www.bigbear.com.
Lodging: Robinhood Resort, 40797 Big Bear Blvd., www.robinhoodresort.info, (909) 866-4643. Northwoods Resort, 40650 Village Drive, www.northwoodsresort.com, (909) 866-3121. Big Bear Cool Cabins, one- to nine-bedroom cabins, www.bigbearcoolcabins.com, (909) 866-7374.
41st annual Oktoberfest: Saturdays, noon to 12 a.m., and Sundays, noon to 5:30 p.m., through Oct. 29, Big Bear Lake Convention Center, 42900 Big Bear Blvd, (909) 585-3000, www.bigbearevents.com.
San Bernardino National Forest: All vehicles parking in the forest must display an Adventure Pass. They can be purchased at Big Bear Discovery Center, Big Bear Visitor Center and various businesses throughout Big Bear Valley.
Fishing Guides: Cantrell Fishing Guide Service, pontoon boat, fishing equipment included, at Pine Knot Landing, (909) 585-4017, www.bigbearfishing.net. Big Bear Charter Fishing, pontoon or bass boat, at Holloway's Marina, (909) 866-2240, www.bigbearfishing.com.