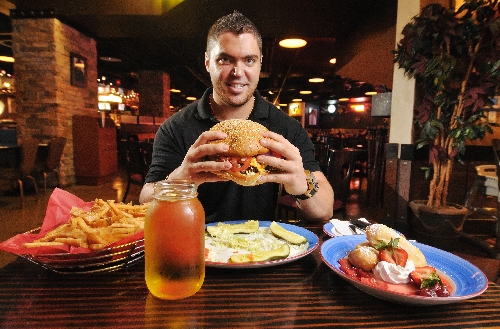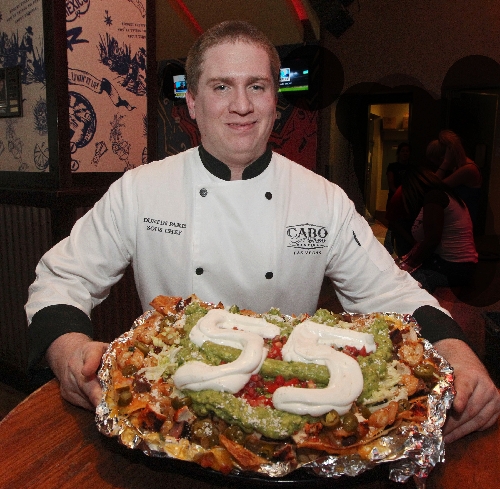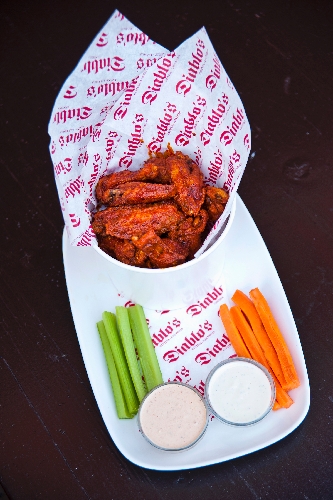 There really isn't a secret to eating an 8-pound hamburger.
Really. You just take one bite after another until it's gone. Mind over matter.
This is the approach that Rich LeFevre, all 128 pounds of him, takes when presented with an 8-pound burger at The Pub in Monte Carlo recently. For the past six months, The Pub has offered the gargantuan burger as a novelty menu item for sharing or as the ultimate challenge: Eat it all in 45 minutes and get it free. Oh, you have to drink a 32-ounce beer, too. And you cannot leave the table until you're done.
Winners, if you can call them that, earn the right to have their name forever recorded in the annals of The Pub's history. They also get a T-shirt.
Before LeFevre sat down to try this gut-busting feat, 102 others had taken the challenge. None finished.
One guy got close, had about two bites of bun left before throwing the napkin in, says Pub chef Tim Radigan. The guy not only failed, he had to pay $29.95 for the mother of all stomachaches.
LeFevre, 68, a semiretired competitive eater, has never failed an eating challenge. He became the first to conquer The Pub's mountainous burger and beer, root beer in his case. And he needed only 24 minutes and 27 seconds to do it.
"The mental focus has a lot more to do with it than you think," he says before demolishing his burger. "You have to convince yourself to do it."
In other words, eating 8 pounds of food in 45 minutes will cause some discomfort. So, knowing this, why would LeFevre, or anyone for that matter, stuff themselves with a week's worth of groceries in one sitting? And, knowing that gluttonous amounts of food can be unappetizing, why would The Pub offer it?
Well, for the same reason any restaurant offers an eat-it-and-get-it-free challenge: publicity.
"Basically, we figured everything is just so big in Vegas – people come here, they gamble big – why not add a big burger challenge?" Radigan says. "We've also got a lot of monkey see, monkey do. If people see it, then they want to try that challenge."
Turns out, that works. Every time someone takes a burger challenge, a couple of other diners order the giant burger, says general manager Doug Martin. And when it's a menu item, the price goes up to $50.
The Pub is not the only Strip restaurant offering a food challenge. Would-be competitors have at least seven to choose from, including a 120-ounce steak at BRAND steakhouse in Monte Carlo. In 2008, LeFevre ate that steak with two side dishes in 40 minutes. His eyes still glaze over when he talks about it. That was one of the best steaks he's ever eaten, he says.
"Originally, we wanted to do something that attracted the man versus food concept," says Ron Lyons, general manager of Cabo Wabo in Miracle Mile Shops at Planet Hollywood Resort.
About 18 months ago, the restaurant began offering the I Can't Drive 55 Dollar Nachos. Weighing in at nearly 12 pounds, the nachos are designed to feed eight. The dish costs $55, obviously. If you take the challenge and eat it alone, you can get it gratis. The catch: You have 55 minutes to down more than 11 pounds of chips, salsa, meat, sour cream, cheese, guacamole and other toppings. There are no substitutions.
To date, more than 30 challenges have been taken. None of the first 20 were able to finish it, Lyons says. That was no fun, so they changed the rules to allow for teams of two to compete. Since then, nine teams have finished and one solo competitor conquered the nachos.
A few women have tried the challenge, Lyons says, but the vast majority of those who compete are men. They're primarily in their 20s and 30s and they've usually had a few drinks before getting up the nerve to eat the nachos.
"People get brave when they get a few drinks in them," Lyons says. "By nature, humans are competitive. We get a challenge set before us, we want to conquer it so it turns into this big deal."
These kinds of challenges are messy affairs. Rarely does a challenger approach the food like a meal. With a time limit on the clock and in the brain – it takes the brain about 20 minutes to register a full feeling – the challenger has to cram as much food in his maw as quickly as possible. This leaves little time for table manners. And it's a given that there will be accidents of gluttony or, as the noncompetitor calls it, "vomiting."
It's happened during the nachos challenge, Lyons says. And even though Toby Keith's I Love This Bar and Grill at Harrah's Las Vegas doesn't impose a time limit on its Big Dog Daddy burger challenge, some competitors have gotten sick.
The Big Dog Daddy was put on the menu four years ago. To date, 3,230 people have tried it and 48 have finished. Their photos are displayed on the winner's wall at the restaurant.
The meal is all in fun, says general manager Kevin Knight. When he was the restaurant's chef, his boss asked him to create a challenge. He came up with a 100-ounce burger, a pound of fries, a 32-ounce drink and two fried Twinkies. It costs $35, but you get it free if you finish it.
"It's definitely an experience," Knight says. "People compare it to the experience of bungee jumping. You know you might embarrass yourself. You're going to feel miserable and full. But when people come to Las Vegas, they're going for an experience. This is an experience. You could eat six Big Macs, which is the equivalent to the burger, but why would you?"
For whatever reason, eating challenges tend to fascinate people, whether they're competing or not.
As LeFevre ate his 8-pound burger, he drew a small crowd, even though it was early by Strip standards, 11:30 a.m. Jennifer Hedgepeth, from Oregon, watched and took pictures to post on Facebook. She wanted to tell her friends, "I was here when this happened."
Hedgepeth once ate 10 bratwurst in 90 seconds.
"It's something that's literally fascinating. You can't look away," she says.
Kiel Bistodeau, visiting from Minnesota, cheered LeFevre on. He was wide-eyed and smiling through the entire competition.
"We just got to Vegas, that was the best way to start our trip," he says. "This is the most amazing thing I've ever seen. I don't have kids, so I can say that."
Contact reporter Sonya Padgett at spadgett@reviewjournal.com or 702-380-4564. Follow @StripSonya on Twitter.
Eating challenges on the Strip
■ Big Dog Daddy challenge: Features a 100-ounce burger served with a pound of fries, two fried Twinkies and a 32-ounce beverage. No time limit. Finish it and get it free and your picture on the wall. You'll also get a T-shirt that says "I Survived the Challenge." Fail and pay $35. (Toby Keith's I Love This Bar and Grill at Harrah's Las Vegas, 3475 Las Vegas Blvd. South)
■ Can't Drive 55 Dollar Nachos: Features nearly 12 pounds of nachos with 20 toppings. Teams of two people can take the challenge. Eat it within 55 minutes, it's free. Winners get a T-shirt and their photo taken. (Cabo Wabo in Miracle Mile Shops at Planet Hollywood Resort, 3663 Las Vegas Blvd. South)
■ Death Wing Challenge: Eat 20 "Death Wings" in 20 minutes, without dying, and you'll get them free. You'll also get your photo on their wall of fame. If you don't finish, your photo will be posted on the wall of shame and you will have to fork over $24.99. (Diablo's Cantina at Monte Carlo, 3770 Las Vegas Blvd. South)
■ Eight-pound burger challenge: Features 4 pounds of ground beef served with a pound of veggies – lettuce, tomato, jalapenos – a 2-pound bun and a pound of cheese. Challengers have to eat the burger and finish a 32-ounce beverage within 45 minutes to get it free. Fail the challenge and pay $29.95. If you order it and eat it leisurely, you pay $50. (The Pub at Monte Carlo)
■ Four-pound burrito challenge: Get your choice of beef, pork, chicken with beans, red rice and cheese. It costs $40. If you eat the whole thing, you get a T-shirt. (Diablo's Cantina at Monte Carlo)
■ The 120-ounce steak challenge: Eat the steak, get it free. Otherwise, you'll pay $267. (BRAND steakhouse at Monte Carlo)
■ Texas 3-pound burger challenge: A barbecue bacon cheeseburger is served with a 3-pound patty, six slices of cheddar cheese and 12 strips of bacon and condiments. Eat it in 30 minutes and it's free (or pay $35). You'll also get a T-shirt and your picture on the wall of fame. (Tequila Bar at Bally's, 3645 Las Vegas Blvd. South)