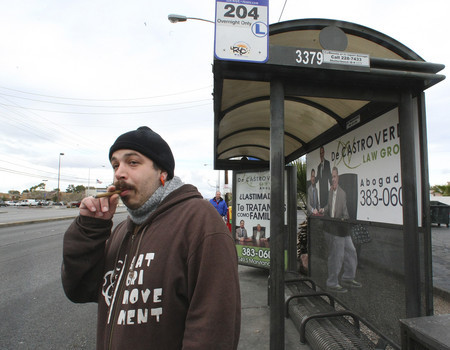 Decent jobs and part-time income continue to elude tens of thousands of formerly comfortable Nevadans, forcing them into a financial situation they never imagined possible (and still might not be willing to admit to themselves).
Living with less is actually a choice, however, for a rare few who find living near the poverty line not only possible, but preferable.
Andre LeMay, 61, worked for 25 years as a schoolteacher in Chicago, Reno and, finally, Las Vegas. In 1972, a religious calling led him to take the lifelong poverty vow required to become a Franciscan friar.
"I dream of winning the lottery, too," LeMay says. "But it's so I can give the money to people who really need it."
LeMay's small east-side apartment, car, food and an emergency cell phone are paid for by the Order of Franciscan Friars. (In exchange, he works as a missionary and in the gift shop at the Shrine of the Most Holy Redeemer on Las Vegas Boulevard.) Everything else he buys — including gasoline — must come from a $200 monthly stipend.
"If I needed more, I would have to ask my superior and he would allocate more," LeMay says. However, in 38 years, that never has happened.
"I work things out," LeMay says. "You make do. You use your head more."
LeMay says he has not entered a mall, for instance, in 10 years. For clothes, he shops Marshall's and T.J. Maxx.
"I don't even buy it at their price," he says. "I wait until that price goes on sale."
As co-manager of the Natural Mystic smoke shop on the Strip, David Del Pozo, 28, scrapes by on $1,500 per month — although he says he has regular offers for better pay.
"I'm happier than ever," he says. "I love my job. I have fun."
Del Pozo — who in the '60s might have been called a hippie — lives in a modest apartment with his girlfriend, who earns minimum wage at a sandwich shop. He shuttles to work via an RTC bus he pays $5 a day for.
"It gets me anywhere I need to go, man," he says. "I love the bus."
Since groceries are difficult to manage without a trunk, food is mostly the convenience-store variety.
"But it's not as expensive as you think," says Del Pozo, who points out that Circle K offers 20 cent apples and a $3 breakfast.
"Coffee and two breakfast muffins," he says. "You can't beat it."
In a fit of self-doubt in 2006, Del Pozo accepted a construction gig on the Palazzo. The fit couldn't have been more wrong.
"I started thinking, 'Why am I breaking my back for someone else's dream?' " Del Pozo says. "My dream is to relax."
Candace Ross, 58, runs the Sekhmet Temple of Goddess Spirituality, shrine for a pagan-inspired religion based on the principles of peace, female leadership and the gift economy.
"We shouldn't be selling everything to each other," Ross explains. "We should be giving to each other."
A decade ago, Ross was a single mom framing art for 50 hours a week to support her two children and their apartment-based lifestyle in San Diego.
"By the time I got done paying for everything," she says, "there was no time to enjoy it."
Now that the kids are grown, Ross resides in a trailer home in Cactus Springs, surrounded by scenery she loves and chickens who lay her breakfast. Her salary for maintaining the temple grounds and conducting free monthly classes and rituals is $1,000 per month — just enough to cover a weekly provisions schlep into Las Vegas.
The Savers thrift chain provides all of Ross' clothes. For food, she starts at Wal-Mart.
"That's a big no-no for a lot of people who think like me," she says, "but they do have good prices."
The rest of her $70 grocery budget goes toward organic and vegetarian items at Whole Foods, while movies are free from the nearby Indian Springs Library. And Ross even vacations thanks to couchsurfing.com, an international network of trusting travelers who offer up their living rooms for free to fellow members.
"The longer I am poor, the more I can appreciate it," Ross says. "I love being surrounded by nature and the simpler things."
The most important tip, all our subjects agree, is a positive attitude.
"Always try to find one thing each day that's positive," LeMay says. "There's always someone worse off than you, and you just make the best of it. I look at the people in Haiti and think how rich am I in so many ways."
Del Pozo suggests a mental trip back to childhood.
"Look back to the one thing that made you really happy," he says. "It wasn't money. It was something else. Find that and bring it back."
To help visualize what's important, Ross prescribes a stroll away from distraction and toward nature — even just a park or a dirt lot.
"You'll realize, 'I don't need that big house. I don't need two cars,' " she says. "And you start to realize that those things really tie you down — because you're supporting them, they're not supporting you."
Contact reporter Corey Levitan at clevitan@ reviewjournal.com or 702-383-0456.